Fox News Analyst Warns Donald Trump That Future Democratic President Could Declare National Emergency Over Gun Violence
As the partial government shutdown nears the longest in U.S. history, President Donald Trump has threatened to declare a national emergency as a way to sidestep Congress and get funding for his border wall.
But conservatives warns the move could set a dangerous precedent for a future Democratic president.
"Lots of things are national emergencies," Fox News analyst and politics editor Chris Stirewalt said Thursday. He explained that if the president defined "national emergency" as "what's killing people, our problems, what's breaking the heart of this great nation, there are lots of things that are emergencies."
Stirewalt said that Republican lawmakers would not let Trump declare a national emergency because "they know that one day there won't be a Republican president."
"They're not going to let him do it because they know that if his successor, if President Kamala Harris says, 'You know what, we have a national emergency on gun crime in the United States so I am going to start abridging the Second Amendment because I think that this is a national emergency because I have deemed it so,'" Stirewalt said.
Eric Erickson, a conservative radio host, also warned of the consequences of Trump declaring a national emergency over border security.
"When the next Democratic President declares a national emergency over gun violence and takes executive actions to curtail gun purchases, you can thank the people urging Donald Trump to do the same with regards to the border," Erickson tweeted on Thursday.
Republican Senator Lindsey Graham supports Trump declaring a national emergency, tweeting that it's "time" and "I hope it works." However, former White House ethics chief Walter Shaub tweeted in response to Graham: "Senator, do you really want to open the door to a future president using emergency powers to take action on healthcare or guns after Congress rejects his or her plans? You are setting a precedent here."
The shutdown entered Day 21 on Friday, with lawmakers and the president locked in a stalemate over border-wall funding. Trump has slammed Democrats for not meeting his demand for $5.7 billion to construct his long-promised wall, calling the situation at the southern border a "humanitarian crisis."
But Democrats have so far refused to give in to Trump's demand, calling the wall "immoral," "wasteful," and "ineffective." After Trump walked out of a meeting with lawmakers on Wednesday, House Speaker Nancy Pelosi said she didn't believe Trump even wanted a wall, and called the bipartisan meeting a "setup."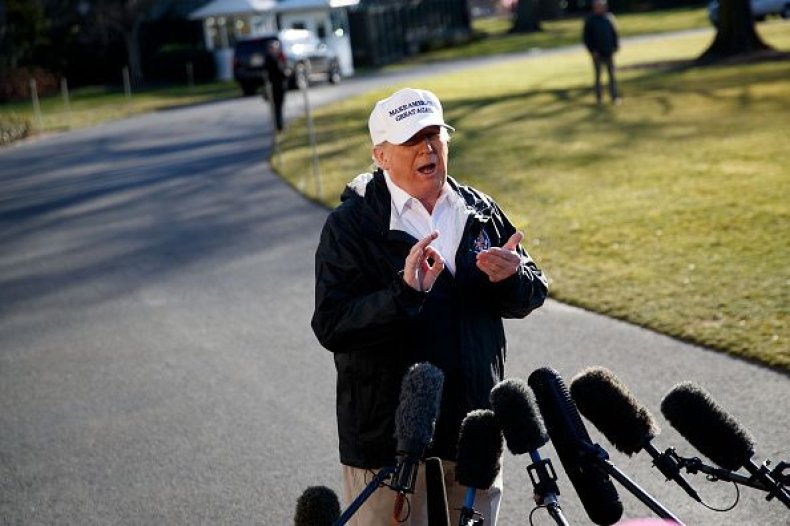 As the deadlock stretches on, Trump has become increasingly vocal about declaring a national emergency at the U.S.-Mexico border. In an interview that aired Thursday night, Trump told Fox News host Sean Hannity that if he couldn't make a deal with Congress he would "most likely" declare an emergency.
"I would actually say I would. I can't imagine any reason why not because I'm allowed to do it. The law is 100 percent on my side," Trump said.
The president's right to declare a national emergency is constitutionally protected under the National Emergencies Act of 1976. But Trump would likely face legal challenges over the source of funding for a border wall. The administration has reportedly been eyeing Department of Defense funds that could be reallocated for the wall.
The president doubled down on his claim that there is a crisis at the southern border in a Friday morning tweet: