Fox News Host, First Lady's Comm Director Claim Melania Trump Is More Popular Than Fox News Poll Shows
Fox News Host Jeanine Pirro and Melania Trump's communications director claimed on Saturday that the first lady's approval stood at about 70 percent, despite the news channel's own recent poll showing her approval rating stood much lower.
"I'm curious as to how she is received," Pirro said during her Saturday evening television program Justice with Judge Jeanine. "I mean, she's got incredible numbers in this country, I mean, her percentages when she polls, isn't she like 70 percent or something?"
Stephanie Grisham, Trump's communications director and press secretary, immediately agreed with Pirro's assessment. "Yes," Grisham replied, "she polls very, very well."
"She's so well received everywhere that we go," the first lady's aide continued. "Everybody loves her, which I don't blame them. She's an amazing first lady," Grisham said. "She's so focused on her job as first lady and I'm very, very proud to work for her."
Pirro then jumped in to describe Trump as "the kind of woman who is not only focused, but you can tell she doesn't let the petty stuff get in the way, she doesn't let it bother her."
Despite the glowing praise from Pirro and Grisham, Fox News own poll published mid February, showed that the first lady was viewed favorably by 47 percent of respondents and disfavorably by 37 percent. A CNN poll published in December showed Trump's popularity slightly lower, with just 43 percent of respondents viewing her favorably. That poll also showed that 36 percent viewed her unfavorably.
An Economist/YouGov poll that was conducted last week showed a slightly higher approval rating for the first lady, but that was still just 51 percent, according to Huff Post. Thirty-six percent who were asked in that survey also said they did approve of Trump, while 13 percent were unsure how they felt about her.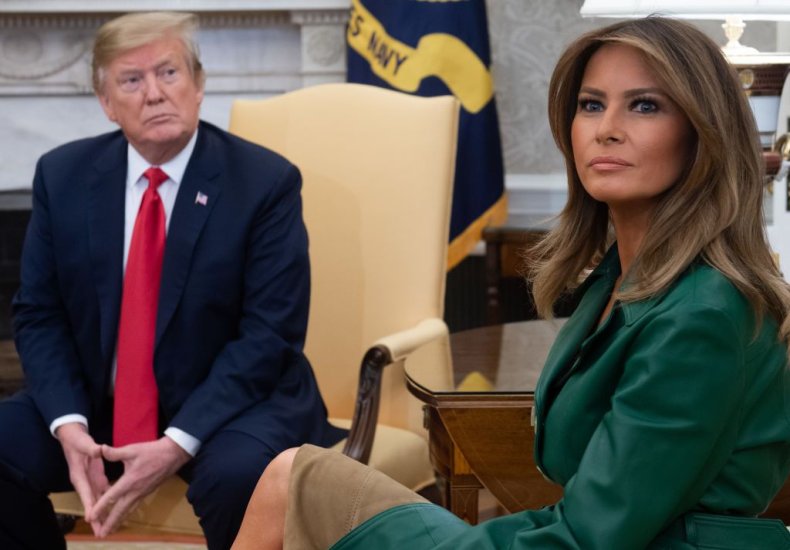 However, that poll did also show that the first lady was the most liked member of the Trump family. President Donald Trump's daughter Ivanka Trump was only viewed favorably by 44 percent of respondents. Eric Trump, the president's son, was favored by just 32 percent. Jared Kushner, Ivanka's husband, was the least popular family member with only 27 percent viewing him favorably.
Melania Trump has occasionally followed her husband's lead and criticized the media for reporting on her and her family negatively.
"I challenge the press to devote as much time to the lives lost and the potential lives that could be saved by dedicating the same amount of coverage that you do to idle gossip or trivial stories," the first lady said last Tuesday during a speech.