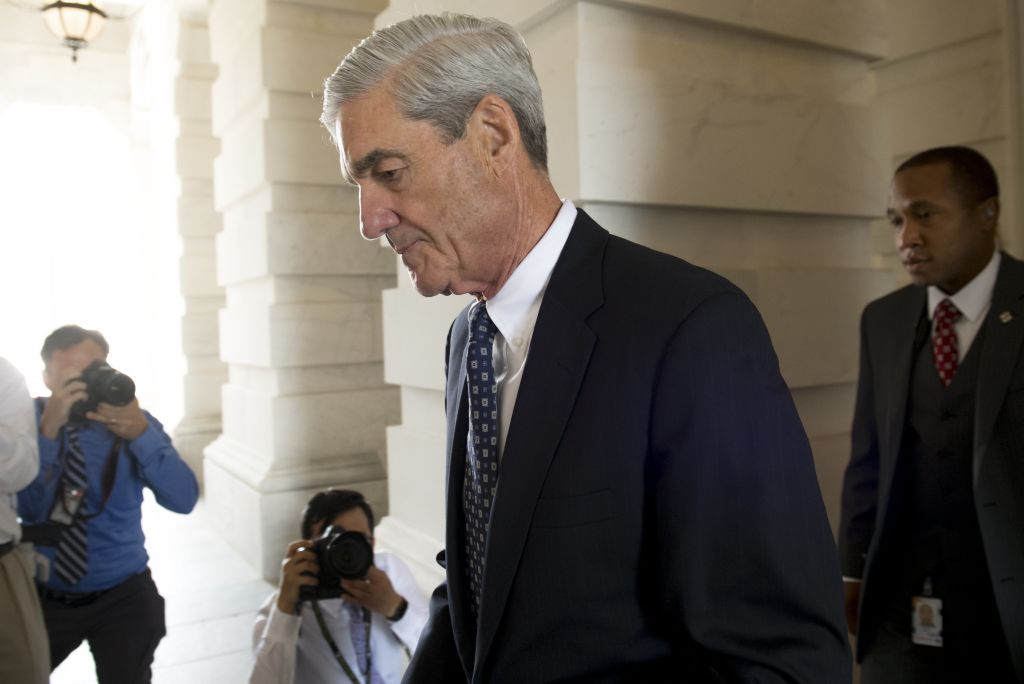 Fox News judicial analyst Andrew Napolitano said on Monday that he believes the full report by special counsel Robert Mueller will be released after a federal judge orders an unredacted version be made public.
Speaking with America's Newsroom host Bill Hemmer about the much-anticipated report, which will be released on Thursday, Napolitano said he believes Attorney General William Barr will redact more than 100 pages of the almost 400-page document. The former New Jersey Superior Court judge argued that Barr would do this in line with legal requirements and that "all the meaty stuff that everyone wants to know about" would be "blacked out."
"Our wish to know about it is not enough for him to fail to black it out," Napolitano explained. "He doesn't have the authority. Only a federal judge can override the requirements of redaction," he pointed out.
The former judge then explained what he believes will unfold after the redacted report is released. "The House Judiciary committee will subpoena it," he said. "The attorney general's not gonna sit on a subpoena, he's going to take it to a federal judge and say 'quash this.' And she'll say: 'I'm not gonna quash it. I'm going to authorize and order you to release it in full.'"
"I honestly think that will happen," Napolitano said confidently.
Justice Department spokesperson Kerri Kupec said Monday that the redacted report would be released on Thursday morning. Mueller submitted the document to the attorney general on March 22. Two days later, Barr released a four-page summary of the report to congressional leaders and the public. "[T]he investigation did not establish that members of the Trump Campaign conspired or coordinated with the Russian government in its election interference activities," Barr quoted Mueller's report as saying. However, on the subject of whether President Donald Trump obstructed justice, Barr quoted another line from the report that said: "While this report does not conclude that the President committed a crime, it also does not exonerate him."
Trump and many of his supporters have largely overlooked the "not exonerate" line, as they have repeatedly said the Mueller report was a "complete exoneration." Despite Barr not making a ruling, Barr said that the evidence was lacking to charge the president with obstruction.
Napolitano, as have other legal analysts, has previously argued that Mueller likely found "some evidence" that Trump and his associates conspired with Russia. He has pointed to the language Mueller used, saying it is legal speak and does not suggest there was no such evidence.
"When he [Barr] said in his four-page letter that the government could not establish the existence of a conspiracy–he meant it could not establish it beyond a reasonable doubt," the judicial analyst argued last month, shortly after Barr's summary was released. "Did they find some evidence of conspiracy? Of course they did! If they didn't, he would have told us," he asserted.
Democrats and critics of the president have demanded that Barr release the full report, but Napolitano and other legal experts have argued the attorney general is not permitted to release an unredacted version.
The redactions "are necessary under the law," Alan Dershowitz, a former Harvard Law School professor who has been critical of the Democrats' response to the investigation into Trump, told Fox News on Monday. Dershowitz asked "why do we have a double standard?" pointing out that he and Democrats were "furious" when former FBI Director James Comey revealed critical information about Hillary Clinton from an investigation into her use of a private email server ahead of the 2016 presidential election despite deciding not to indict the former secretary of state. "Where does that double standard come from?" he asked.