Fox News Guest Dana Loesch Suggests Democrats Might Massacre Gun Owners, Like Troops Did at Wounded Knee
Pro-gun commentator Dana Loesch last week suggested that Democrats might massacre gun owners during an appearance on Fox News.
2020 presidential candidate former Texas congressman Beto O'Rourke received resounding applause during the third Democratic debate in Houston on Thursday evening when he vowed to confiscate semi automatic AR-15 rifles. "Hell yes, we're going to take your AR-15, your AK-47. We're not going to allow it to be used against fellow Americans anymore," O'Rourke said, doubling down on his proposal to ban assault weapons and enforce a mandatory buyback policy.
Following O'Rourke's remarks, Loesch, a former spokesperson for the National Rifle Association (NRA), appeared on Fox News the next day to comment on the candidate's declaration.
"Dana, [O'Rourke] made that statement last night, the T-shirt is ready to go," host Brian Kilmeade said. "You mentioned — Briscoe just mentioned he had flip-flopped. I had forgotten that from his Senate run. Where is this conversation heading?"
Kilmeade was referring to GOP Texas state Rep. Briscoe Cain, who went viral after the debate last week when he tweeted at O'Rourke, "My AR is ready for you Robert Francis." Upon sighting the tweet, O'Rourke's campaign team reported the politician's remarks to the FBI as a threat. Subsequently, Cain rejected allegations he threatened O'Rourke and argued that it was the candidate who had threatened him by vowing to take away legally owned firearms from American citizens if elected.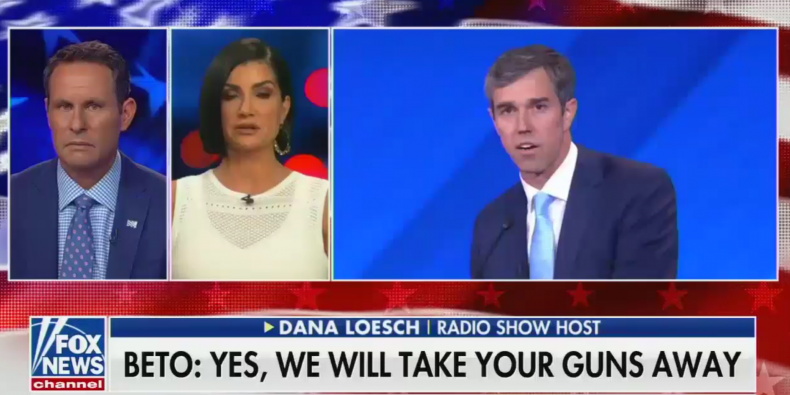 Loesch agreed with Cain's sentiments. "Brian, I'm so glad that you are talking about this. And yeah, everybody knows Briscoe Cain's name now," she said. "The T-shirt, I am absolutely amazed that a lawmaker, that someone running for the highest office in the land, would actually try to raise money off of a threat to the public."
"When you tell law-abiding Americans that you are going to forcibly steal their lawfully owned and responsibly used property, that's a threat," Loesch continued, "and saying that 'No, you are not, I want to be able to defend myself' in return, that is not a threat. I mean, telling someone like Beto O'Rourke has been doing — that's a threat of promised action."
The pro-gun commentator went on to compare O'Rourke's threats to the Wounded Knee massacre. "I want to take everyone back to one of the earliest attempts at mass confiscation of firearms in the United States. And that was Wounded Knee," Loesch said. "So I don't know if that's what Democrats and Beto O'Rourke are trying to move us towards. I sincerely hope not. I hope they respect the law of the land. I hope they respect the Constitution. But I just find this talk reprehensible and I think that the party needs to show where they are with Americans and condemn it."
The Wounded Knee Massacre, also known as the Battle of Wounded Knee, was a massacre of hundreds of Lakota Indians by troops from the U.S. Army on December 29, 1890 in South Dakota after a failed attempt to disarm them. Roughly half of those killed were women and children.