Fox News' Sean Hannity Mentioned Hillary Clinton On 86 Percent of His Show's Episodes Since Trump's Inauguration: Analysis
Fox News host Sean Hannity appears to have a talking point almost as popular as President Donald Trump: former Democratic presidential candidate Hillary Clinton.
According to an analysis by Media Matters for America, Hannity has talked about Clinton on 505 of the 587 episodes of his Fox News show that have aired since Trump's inauguration in January 2017. When the analysis also took into account guests on the show mentioning the former secretary of state and New York senator, the number of mentions on Hannity went up to 536 out of 587 episodes.
Put into percentages, that means Hannity himself talked about Clinton on 86 percent of his program's episodes since Trump's inauguration. In total, the former Democratic presidential candidate was talked about during 91 percent of Hannity's shows since Trump officially took office.
"One one level it's patently absurd that, two years into Trump's presidency, Hannity is still fixated on his opponent – imagine if [MSNBC host] Rachel Maddow or [CNN host] Anderson Cooper had been talking about Mitt Romney every night in 2014," Media Matters senior fellow Matt Gertz, who authored the study, told Newsweek.
"But on another level, Hannity's conspiracy theories have real-world consequences because the president is an avid viewer," he said. "President Trump's worldview is shaped by what Hannity says on his show, and Trump's presidential campaign has credited the Fox host with drumming up a Justice Department investigation into Hannity's narrative."
Hannity is a close ally of Trump and has even participated in a rally for the president, despite Fox News claiming it "does not condone" such behavior from network talent. New York Times TV critic James Poniewozik discussed Trump's relationship with Hannity in his new book Audience of One: Donald Trump, Television, and the Fracturing of America.
"Sean Hannity, who fulminated about conspiracies against Trump nightly on Fox, was the most influential White House counselor," Poniewozik wrote. The author added that an unnamed adviser to the president said that Hannity "basically has a desk in the place [the White House]."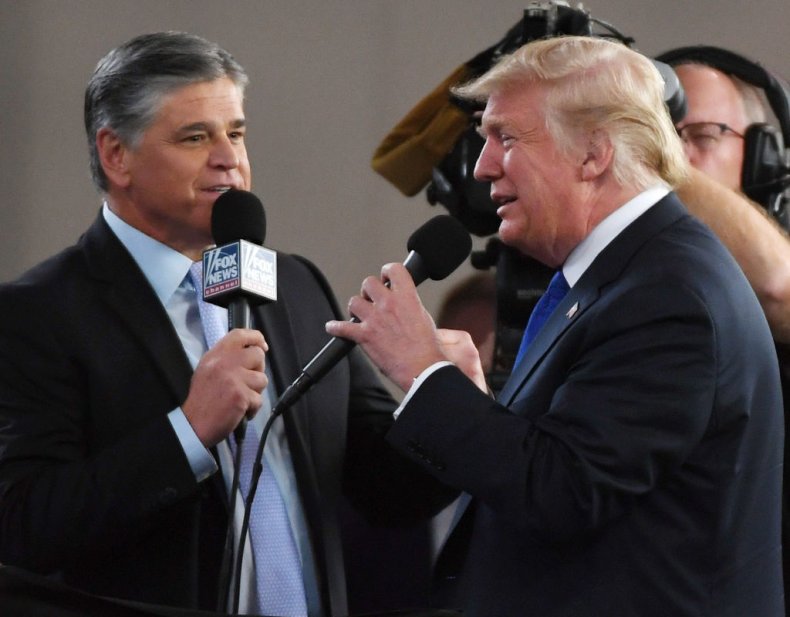 Media Matters is a non-profit that describes itself as "a progressive research and information center dedicated to comprehensively monitoring, analyzing, and correcting conservative misinformation in the U.S. media." The organization's analysis examined transcripts from every episode of Hannity aired between January 20, 2017 through August 31, 2019 for the new report.
"I was expecting to find that Hannity's show was somewhat fixated on her," Gertz said. "I did not expect to discover that he had been talking about her this often – even after doing major studies on his show the past two years, I'm still stunned by these results."