Fox News Host Complains 'Critical' Jefferson Museum Focused on Slavery
Fox hosts have complained that exhibits at Thomas Jefferson's Monticello home leave visitors feeling "ashamed" because they focus too much on his ownership of slaves.
During a segment on Fox & Friends on Sunday, Pete Hegseth said visitors have noticed that the "whole tone" of how Jefferson (one of the nation's founders and the author of the Declaration of Independence) is described at the museum housed in his plantation home near Charlottesville, Virginia, has changed.
"And it's overwhelmingly negative," he said. "You go to visit the legacy of Thomas Jefferson, and you learn about what a terrible person Thomas Jefferson was."
Hegseth then quoted an online review from a visitor that said half of the comments on Jefferson were "critical."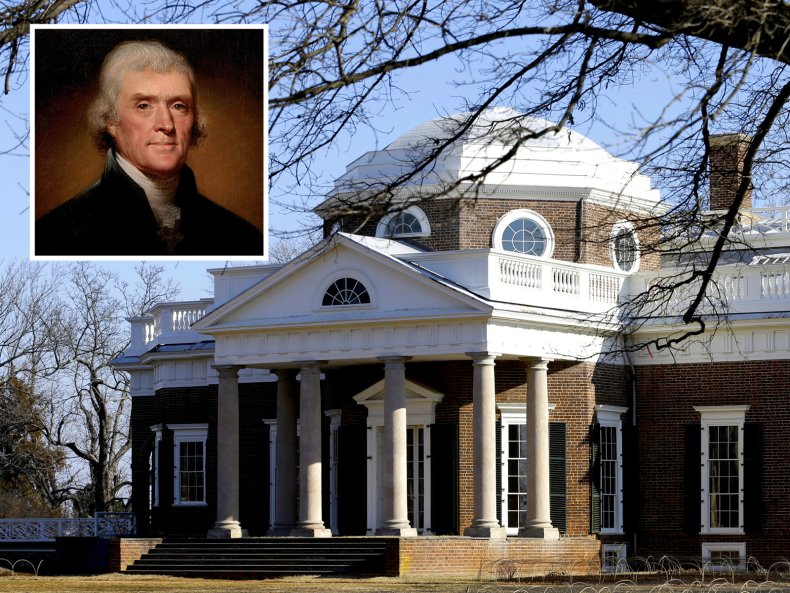 Co-host Rachel Campos-Duffy suggested there has been "a reorienting, reconstructing of the history to basically make sure that the idea that [some founding fathers] had slaves is on the same level as what they did for our country."
Slave ownership has existed "across human history," she argued.
"I get that. It's a terrible history we should talk about but we should not feel guilty or ashamed of our leaders when we go and visit the people who brought us the Constitution, the Declaration of Independence," she said. "You leave feeling that way."
She also noted that books on anti-racism, including by author Ibram X. Kendi, are "prominently displayed" in the gift shop.
Jefferson and George Washington's ownership of slaves gained renewed attention in the summer of 2020 when symbols of the Confederacy and monuments to slave-owners became a flash point during widespread protests against racial injustice.
Now people can't visit Monticello and Washington's Mount Vernon home "without seeing where the slaves lived, and the work they had to do, and the impact they had," co-host Joey Jones said during Sunday's segment.
"These were great men as far as their ideas go, but they were able to build this on the backs of slaves and we honor that and we talk about that."
But he claimed that was different than "rewriting the importance" of Jefferson and Washington.
"Why have Monticello at all if you're only going to use it for grievance?" he said. "Celebrate the little part of these men that was mostly exceptionally good. And understand that none of them were perfect."
Jones then read a statement from a spokesperson for the Thomas Jefferson Foundation, the non-profit that owns and operates Monticello, who said the goal was to "present an honest, inclusive history of Monticello."
Jones added: "That's all good and well, but if you go here to take a tour, and all they tell you is how terrible this person is, people are gonna quit taking tours."
Campos-Duffy added that visitors come away "thinking how terrible this country is."
She went on to claim that the boards of such museums are being taken over by "leftists." "This is a very diabolical plan on the part of the left," she said.
Hegseth agreed, adding: "It's always about inclusivity. It's the buzzword they use and we fall into the trap. Because good earnest historians who take care of Monticello sit there and they go, 'Oh, you're right. You know what? We haven't included enough about the fact that he was a slave owner. So let's include more of that.' And then the ideologues come in with their money and say, 'let's make it all about that!'
"And then pretty soon, good intentions of earnest historians become an agenda that 1776 was no good and we should talk all about 1619. And then you get kids coming through thinking Thomas Jefferson was a bad guy."
Campos-Duffy added that you "don't just walk away thinking that Thomas Jefferson is bad, you also think America's bad by default."
Jennifer Lyon, spokesperson for the Thomas Jefferson Foundation, told Newsweek: "Whether we are educating the public on Thomas Jefferson's leadership and history-defining accomplishments or revealing an honest, inclusive narrative about slavery on this plantation, we have and will continue to receive critiques from different parts of the political spectrum.
"We receive feedback from people who want us to focus on one aspect or the other of Jefferson's life and legacy, but not both. This will not dissuade us from continuing the important work of sharing all aspects of Jefferson and Monticello history."
Fox News has been contacted for further comment.
Update 7/12/22, 6:50 a.m. EDT: This article has been updated with additional comment from the Thomas Jefferson Foundation.