Will the Protesters Turn on Washington and Jefferson?
Speaking about the removal of relics of the Old South, President Donald Trump in 2017 equated Confederate generals with two of America's most revered Founding Fathers—George Washington and Thomas Jefferson.
The president appeared concerned that if Confederate monuments in the South started coming down, it might only be a matter of time before those honoring the nation's first and third presidents face the same fate.
"This week, it is Robert E. Lee. I noticed that Stonewall Jackson is coming down. I wonder, is it George Washington next week? And is it Thomas Jefferson the week after? You know, you really do have to ask yourself, where does it stop?" Trump said.
Almost three years on, with the U.S. facing a reckoning as anti-racism protests sparked by the death of George Floyd continue across the country, will attention turn to America's Founding Fathers due to their association with slavery?
"Monuments to men who advocated cruelty and barbarism"
The legacy of slavery continues to haunt race relations in America and again, lingering symbols of the Confederacy have become a flashpoint. Those arguing for that monuments should be removed say they symbolize racism and oppression, but those arguing for their preservation call them icons of Southern heritage and pride.
House Speaker Nancy Pelosi has decried them as racist symbols honoring men who fought to preserve the institution of slavery.
"Monuments to men who advocated cruelty and barbarism to achieve such a plainly racist end are a grotesque affront to [the country's] ideals," Pelosi said in a letter calling for the removal 11 statues of Confederate leaders from the National Statuary Hall collection at the U.S. Capitol.
As protests continue, some Confederate statues have been defaced and graffitied and torn down. Mayors in some cities responded by removing them from their original locations.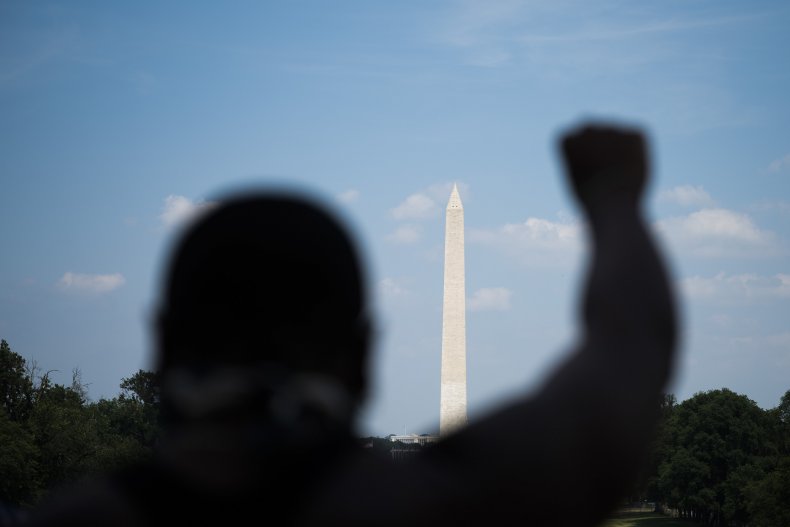 Last week, Virginia Gov. Ralph Northam announced that Richmond's largest Confederate statue would be taken down "as soon as possible." But then a judge issued an order delaying its removal for 10 days after a lawsuit was filed seeking to preserve it.
On Wednesday night, protesters tore down the statue of Confederate President Jefferson Davis along Richmond's prestigious Monument Avenue.
Monuments of Confederates haven't been the only source of anger for protesters. Statues of Christopher Columbus have also been torn down or vandalized across the country in recent days.
Earlier this week, a statue of Columbus in the Virginia capital was torn down by protesters, set on fire and thrown in a lake. On the pedestal where it used to stand, a sign was placed: "Columbus represents genocide." In Boston, a statue of Columbus in a park named for him was beheaded.
Protesters on Wednesday toppled a 10-foot statue of Columbus outside the state Capitol in St. Paul, Minnesota.
The 15th Century explorer's voyages sparked the trans-Atlantic slave trade and many see him as a colonizer who enslaved, killed and forced assimilation of indigenous populations in the Americas.
Native Americans activists have long urged states to stop honoring Columbus with a national day and urged Columbus Day to be renamed Indigenous Peoples Day, saying his expeditions led to the genocide of their ancestors.
While Columbus is often credited as the man who discovered the New World, it is the nation's Founding Fathers who established and maintained the system that is now being railed against.
Huge demonstrations have been held in Washington D.C. since Floyd's death on May 25 and some popular landmarks, including the steps of the Lincoln Memorial, were defaced in the process—and it again raises the prospect of whether protesters could turn their focus to the monuments honoring the men deified by many Americans as symbols of everything the nation stands for, but who also owned slaves their entire lives.
Could the towering Washington Monument or the nearby Jefferson Memorial—a neoclassic shrine encasing a bronze figure of Jefferson—face the same fate as statues of Columbus and Confederate generals? Could the faces on Mount Rushmore be chiselled off or the nation's capital renamed?
Some have already started voicing their fears that the removal of Confederate states is a slippery slope that will lead to monuments to Washington and Jefferson being taken down.
"What happens when they demand, under threat of violence, that the Washington Monument be taken down? The Jefferson Memorial?" Fox News host Laura Ingraham wrote in a post on Twitter last week.
Former Vermont Gov. Howard Dean also questioned "how far" things could go.
"Columbus was terrible to indigenous people. A question worth examining is, how far do we go. No problem with Confederates, slave traders, plunderers. What do we do about Jefferson, Washington, Jackson, What about FDR who denied entry to persecuted European Jews for a time?" he tweeted.
At a news briefing Wednesday defending Trump's decision not to rename military U.S. military bases that are named for Confederate leaders, White House spokeswoman Kayleigh McEnany asked: "Where do you draw the line? Should George Washington and Thomas Jefferson be erased from history?"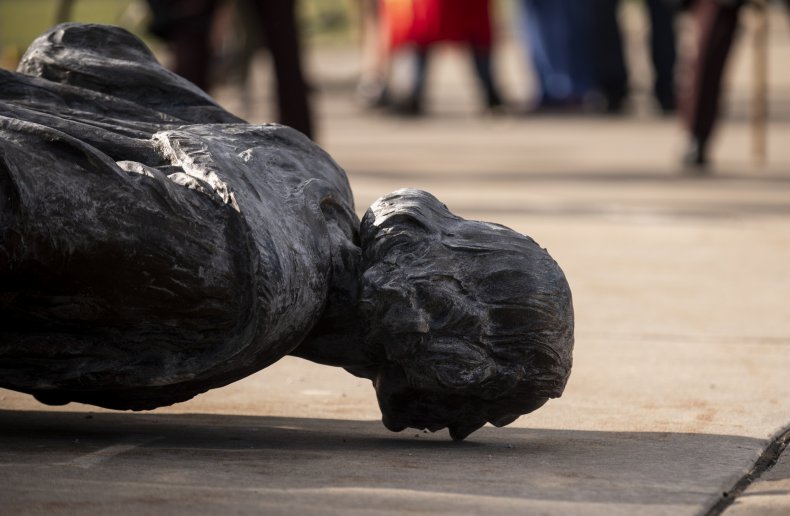 "Is it truly fair to judge a man based on our 21st century understanding of morality?"
Some believe that if America is to successfully dismantle systemic racism, it needs to confront the reality of the nation's dark history—and accept that even the nation's Founding Fathers need to be taken off their pedestals.
Student Roman Leaphart started a petition last week, urging the University of Missouri to remove a statue of Jefferson from the campus quad due to his ties to slavery. It has since collected more than 3,000 signatures.
"Mizzou has no room for a racist slave owner on our campus... where thousands of black students pass by everyday, forced to deal with imagery of the past in the future where we should be promoting equality, diversity and inclusion," the petition says. "A memorial of a racist has no place on [our] campus."
Leaphart told KOMU that a similar petition had been started in 2015, but didn't gain much traction. "I think now is the right time to bring this back up because this is one of the first, easiest steps," he told the station.
Since his petition started gaining traction, a counter-petition has been launched, apparently by an anonymous student, to save the Jefferson statue. "Is it truly fair to judge a man based on our 21st century understanding of morality, when the man we are judging lived in a time where slavery was the norm?" it asks.
A petition to remove a Jefferson statue outside the student center at Hofstra University in Hempstead, New York was started by Jaloni Owens two years ago, but has been gathering steam in recent days.
Owens wrote on the page that Jefferson's values "aided in the construction of institutionalized racism and justified the subjugation of black people in the United States."
But historian Annette Gordon-Reed, who was the first African American to win the Pulitzer Prize for history for her work on Jefferson, says the Founding Fathers should not be lumped together with Confederate generals.
"Members of the Founding generation should occupy a different place in our minds than the Confederates," she told Newsweek. "There is a big difference between being a person who helped create the United States, and being a person who worked to destroy the United States."
Dr Clarence Jones—who helped Martin Luther King Jr. write his "I Have A Dream" speech—has taken a similar stance. Neither Washington nor Jefferson should be judged as harshly as Confederate figures because they devoted their lives to "saving and founding this country," he told the BBC in 2017.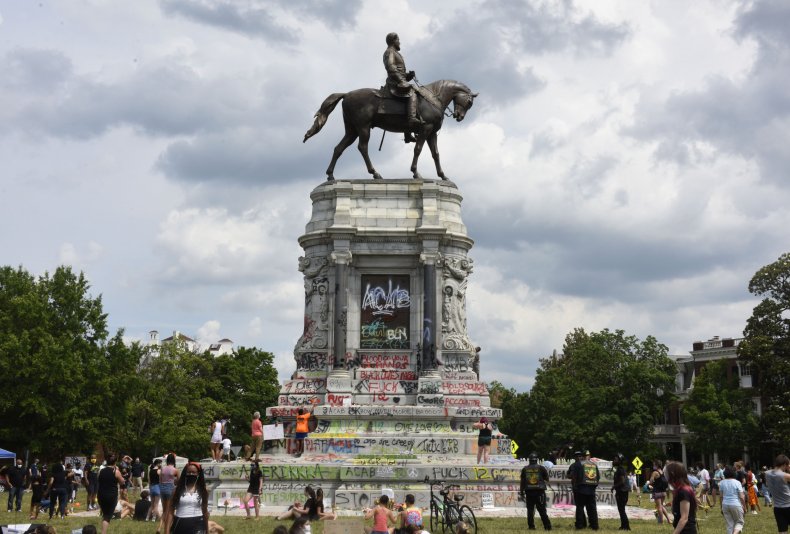 "Sure, George Washington and Thomas Jefferson owned slaves," he said. There was no question, he added, that they were "morally compromised" in their efforts to build a nation based on the principles enshrined in the Declaration of Independence.
"But neither of those two persons led the nation in treasonous insurrection to overthrow the government they had formed in order to preserve the institution of slavery. Period."
"He did not live up to the ideals of the Declaration."
It was Jefferson who penned the famed words in the Declaration of Independence—ones that most Americans know by heart: "We hold these truths to be self-evident, that all men are created equal, that they are endowed by their Creator with certain unalienable rights, that among these are life, liberty, and the pursuit of happiness."
But those rights weren't extended to all and Jefferson certainly didn't believe all men were equal—and that is something that is rarely touched on in classrooms.
"There is no question that those words are incompatible with slavery and he knew it," Pulitzer Prize-winning historian Joseph J. Ellis told Newsweek.
"Washington is the only one of the Virginia aristocracy during the Revolutionary era to actually free his slaves. He freed them in his will," Ellis, who has written several books on the Founding Fathers including American Sphinx: The Character of Thomas Jefferson and His Excellency: George Washington, said.
"Jefferson is complicated because he straddles the racial divide. He was a slaveowner in Monticello, he never freed his slaves, but he was also the author of those magic words of American history.
"He straddles the racial divide in a way that nobody else does because he is spokesman for the values that are central to the liberal tradition in American history but also he believed [black people] are inferior and they can never become equal."
Jefferson publicly opposed slavery—referring to it as a "moral depravity" and a "hideous blot"—yet over the course of his life, he enslaved more than 600 people, according to the Thomas Jefferson Foundation.
He also embraced eugenics, writing about how he believed black people to be inferior to white people in Notes on the State of Virginia. Jefferson told a friend, a French duke, in a letter that he believed the only way slaves could be emancipated is if it was done "all at once" and they were then all expelled to a far off land.
That view, the duke wrote, was based on Jefferson's conviction of the "certain danger" of "seeing blood mixed without means of preventing it."
Yet Jefferson also fathered several children with one of his slaves—a mixed-race woman named Sally Hemings—and those children were also his property.
Hemings became "Mr. Jefferson's concubine," according to her son Madison, when she accompanied the family on a trip to France in the 1780s. While pregnant at 16, she refused to return to America, and only did so after negotiating freedom for her future children.
It wasn't until decades after that pact that Jefferson freed his own children. Two left Monticello in the 1820s, according to Thomas Jefferson Foundation. Madison and another son, Esten, were only freed in Jefferson's will in 1826.
But the sexual relationship between Jefferson and one of his slaves was contested for centuries, with most historians—including Ellis—denying the rumors until DNA analysis proved Jefferson fathered some or all of Hemings' six children.
Gordon-Reed's groundbreaking book Thomas Jefferson and Sally Hemings: An American Controversy, challenged the long-held perceptions of both Jefferson and Hemings in 1997.
But it wasn't until the opening of a 2018 exhibit at Monticello, Jefferson's palatial plantation in Virginia, that was presented as Hemings' living quarters that dealt a "final blow to two centuries of ignoring, playing down or covering up what amounted to an open secret during Jefferson's life: his relationship with a slave that spanned nearly four decades," The New York Times reported at the time.
Gordon-Reed told Newsweek she doesn't have a problem with preserving statues of Jefferson "as long as his complicated history is told."
She added: "Jefferson's contributions to the country and his life as a slaveholder put the duality of the American story in sharp relief, and have been the basis of educating citizens about the reality of the country's origins and how we can move forward.
"Unlike the Confederates, [Jefferson] championed ideas that we still regard as important: the separation of Church and State, freedom of religion, the necessity of a public education system, support for science and, most importantly of all, the Declaration of Independence. He did not live up to the ideals of the Declaration, but his words have taken on meaning for generations in the United States and throughout the world."
Ellis told Newsweek that after DNA testing in the late 1990s confirmed that Hemings' children had been fathered by Jefferson, there had been calls for the Jefferson Memorial to be torn down. "Nothing ever came of it," he said.
He believes a compromise could be to change plaques at monuments like the Jefferson Memorial to better reflect the truth of the Founding Father's life—but notes that it may not be enough when it comes to Confederate monuments.
"There are some Southern states that are trying to retain the monuments, but with new signage and descriptive language about them that allows them to remain as monuments to a misguided policy like the Civil War. I sort of support that. We're remembering but we're not memorializing it," he said.
"But in a moment like now, that argument won't seem credible. People are angry and understandably so."
"If you do that, there won't be anybody left."
In Ron Chernow's definitive biography Washington: A Life, the author outlines Washington's growing unease with slavery while still profiting from it. Washington seldom uttered the word slavery "as if it grated on his conscience," Chernow writes, preferring instead to use euphemisms for the men, women and children he owned such as "servants," "my people" and "my family."
Like Jefferson, Washington owned hundreds of slaves, but he was the only slave-owning Founding Father to liberate his slaves when he died. His opposition to slavery, however, "took the form of a gradual awakening over many decades," Chernow wrote.
Washington spoke about slaves just as he would any other property, Chernow wrote, and frequently wrote in his diary of being "at home all day alone" despite being surrounded by slaves.
He was "cold-blooded" when giving instructions on purchasing slaves and favored adolescent females "who could maximize the number of slave children," Chernow added.
Washington considered himself a kind master, but he also felt entitled to the maximum amount of work from his slaves, often complaining about slaves he considered lazy or who stole in letters. Referring to a slave named Betty, Washington wrote in one letter that "a more lazy, deceitful and impudent hussy is not to be found in the United States."
"He never regarded such behavior as a rational response to bondage," Chernow noted. His wife, Martha Washington, treated the slaves well, but also refused to tolerate shirkers and expected loyalty and affection from her favorite slaves.
Ellis has said that the Founding Fathers—wrongly—assumed that slavery would "die a natural death." He has argued for the Founding Fathers to be humanized, saying they were flawed men who are too often put on a pedestal.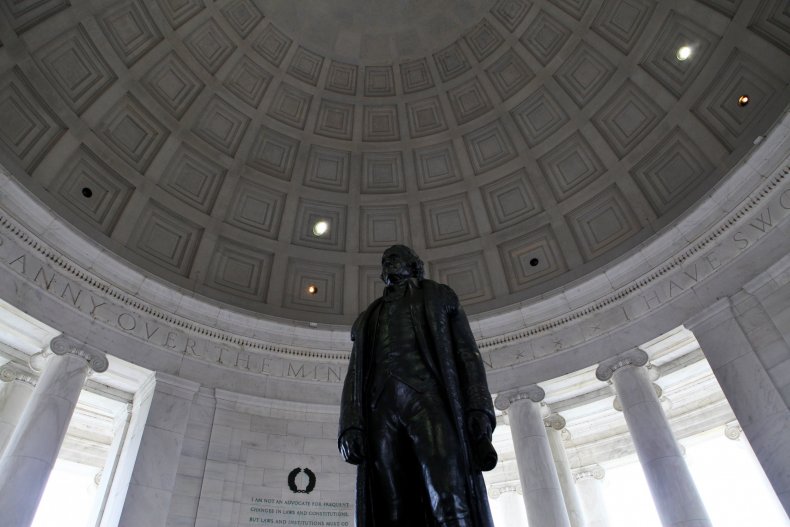 "To be sure, the founders thought they knew that slavery was incompatible with the values on which the American Revolution was based. Nobody disagreed with that... nobody said slavery was a positive good. Nobody," Ellis said in a 2017 speech. In another speech, he noted that although the founders were incredibly imaginative, one thing they could never picture was America as a "biracial society."
But the argument that Washington and Jefferson were mere products of their time may ring hollow for some—their contemporary John Adams, who served as the nation's second President, didn't own slaves. He also declined to use slave labor on principle, although he spoke out against a bill to emancipate slaves in Massachusetts in 1777, saying the matter was too divisive at the time.
And while contemporaries such as British politician William Wilberforce led the abolitionist movement to end slavery, Washington and Jefferson continued to profit off slave labor while decrying slavery as abhorrent.
In an article for Smithsonian magazine in 2002, the late historian Stephen E. Ambrose laid bare the contradictions in both Washington and Jefferson's lives.
Both were visionaries who championed liberty, but "failed to rise above their time and place" when it came to slavery, Ambrose wrote. But he insisted that they should not be disavowed and judged solely on that.
"The Washington Monument and the Jefferson and Lincoln memorials remind us that greatness comes in different forms and at a price. Jefferson, by his words, gave us aspirations. Washington, through his actions, showed us what was possible. Lincoln's courage turned both into reality," he wrote.
"Slavery and discrimination cloud our minds in the most extraordinary ways, including a blanket judgment today against American slave owners in the 18th and 19th centuries," he said. "That the masters should be judged as lacking in the scope of their minds and hearts is fair, indeed must be insisted upon, but that doesn't mean we should judge the whole of them only by this part."
Ellis noted that many historical figures including the Founding Fathers wouldn't come off well when judged by modern standards. "If you do that, there won't be anybody left," he said.
America has been a nation of paradoxes from its inception, he said. "America is set on a group of ideals that are quite oppressive," he said. "The society that saved the West and Western Civilization in the 1940s and against the Russians in the Cold War is the same society that's responsible for Indian removal and black slavery."
But while he understands why some protesters are yearning for contentious monuments to be torn down, Ellis doesn't believe it will help end racism in the country.
"Anybody in America who believes racism is going away, that we can expunge it by knocking down monuments, is naive. It's a cancer. It's never going away. Never," he said. "We can take steps forward, but everybody time you do, there is a permanent pool of racism beneath American society."
"The ideals are there, we've acted on them in many ways, ending slavery was one step, the Civil Rights movement was another step. But each step in American history forward produces a half-step backward. For every 10 Americans that thought Martin Luther King had a dream, there's another three that thought it was a nightmare."