Fox News host Bret Baier confronted Senator Rick Scott, a Florida Republican, after he objected to supporting legislation raising the national debt further—pointing out that GOP lawmakers had largely disregarded this position under former President Donald Trump.
During Trump's four years in the White House, the U.S. debt increased by about 33 percent. Under the Trump administration, the debt surged by about $6.7 trillion to $26.9 trillion at the end of 2020. Although much of this was due to the extraordinary circumstances of the COVID-19 pandemic, the signature Trump tax cuts of 2017—which largely benefited the wealthiest Americans and corporations—also contributed substantially to deficit spending, according to the Congressional Budget Office (CBO).
In an interview with Fox News Sunday, Scott argued that he was opposed to the approximately $1 trillion bipartisan infrastructure legislation nearing passage in the Senate because the CBO estimated that it will add more than $250 billion to the national debt.
But Fox News host Bret Baier responded by pointing out the massive growth in the national debt under Trump, when Republicans also controlled the Senate for all four years and the House of Representatives for the first two years of the former president's term.
"Senator, you're talking a lot about the deficit and debt, other Republicans are. But it wasn't that way under the Trump administration," Baier pointed out. "In fact, if you look at the numbers, the debt went up at the end of 2020, $26.9 trillion. The Trump administration and Republicans added $6.7 trillion to the debt—that was since [former] President [Barack] Obama's last budget, 33 percent increase," the Fox News host pointed out.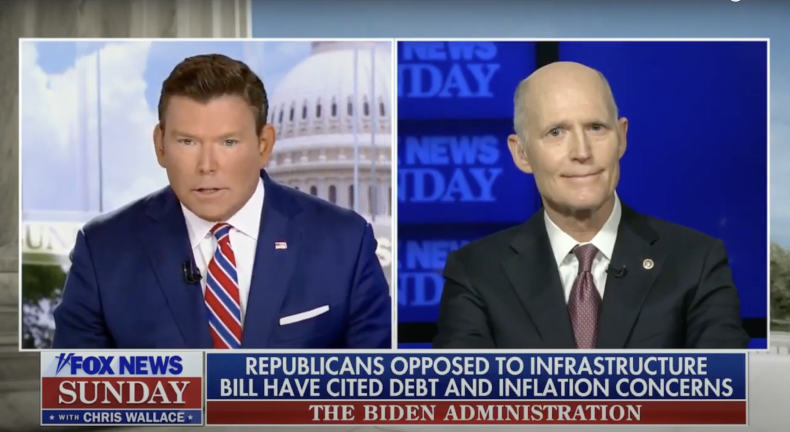 "I understand COVID had a big role in that, but there's not a great track record of Republicans recently to tout themselves as deficit/debt hawks and now to be doing it here," Baier said.
Scott responded by pointing to his record as governor of Florida between 2011 and 2019.
"I walked in as governor of Florida in 2011 with a $4 billion budget deficit. A state that had increased its debt every year by over a billion dollars. In eight years, working with the legislature growing our economy, we paid off a third of the state debt. Since I've been up here, I've been talking about the debt, how debt, excessive debt, excessive spending costs your family, and the poorest families the most money," the Republican senator said.
"It's causing inflation. It's causing ridiculous inflation right now," Scott added.
Baier then jumped in, saying: "You're kind of a lone voice aren't you. Or one of them."
Scott responded that the Senate's Republican Caucus plans to oppose any increase of the debt ceiling without "structural change."
"But my point is that you [Republicans] did under the Trump administration with no strings attached," Baier said, pushing back against Scott's response.
The Florida senator then pointed out that he's only been serving in the Senate a relatively short time. He was first elected to the Senate in 2018 and took office in January 2019.
"I've been working my tail off. I'm fed up with a government that can't live within their means," Scott asserted.
Trump signed a bipartisan budget deal in August 2019 that suspended the debt ceiling until July 2021. Although the legislation passed with significant bipartisan support, Scott voted against the measure.
"I'm worried about the staggering debt we're leaving for our children and grandchildren," the Republican senator said at the time, The Washington Post reported. "Too often in Washington, compromise means both sides get everything they want so that no one has to make a tough choice. I can't support that."
Newsweek reached out to Scott's press secretary for further comment, but did not immediately receive a response.