Fox News Host Confronts Rick Scott Over Proposed Tax Hike in Election Year
Fox News host John Roberts confronted Senator Rick Scott, a Florida Republican, over his proposed GOP tax hike—pushing back when the congressman claimed that the assessment was a "Democrat talking point."
In February, Scott, who chairs the National Republican Senatorial Committee, released an "11-Point Plan to Rescue America," which proposed that, "all Americans should pay some income tax to have skin in the game, even if a small amount," noting that, "currently over half of Americans pay no income tax." The plan also proposed that, "all federal legislation sunsets in five years."
The plan drew swift criticism from Democrats as well as Republican Senate Minority Leader Mitch McConnell of Kentucky. The GOP Senate leader assessed that Scott's plan "raises taxes on half the American people and sunsets Social Security and Medicare within five years." McConnell asserted that the Senate Republicans "will not have" such a plan "as part of our agenda" if the GOP retakes the majority in this year's midterms.
During an interview with Fox News Sunday, Roberts asked the Florida senator about his controversial proposal.
"So, that would raise taxes on half of Americans, and potentially sunset programs like Medicare, Medicaid and Social Security," the Fox News host pointed out. "Why would you propose something like that in an election year?"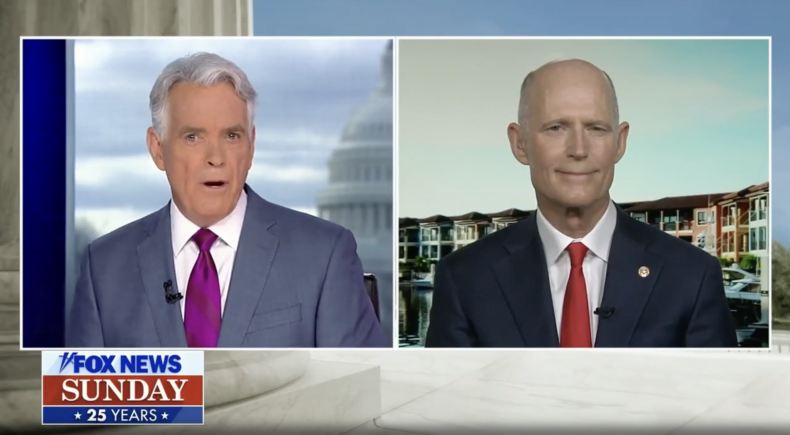 Scott tried to dismiss the assessment as a "Democrat talking point," but Roberts refused to accept that response.
"No, no, it's in the plan," the Fox News host interjected. "It's in the plan," he said incredulously. As Scott tried to continue, Roberts emphasized his point further. "But senator, it's not a Democratic talking point—it's in the plan."
Scott pivoted, saying that "also in the plan it says every year we ought to talk about exactly how we're going to fix Medicare and Social Security." The GOP lawmaker said that "no one" wants to sunset the popular social programs. "But what we're doing is—we don't even talk about it."
Scott warned that Medicare "goes bankrupt in four years" and that Social Security "goes bankrupt in 12 years." The Republican said he wants to "figure out how we preserve those programs." He then touted his record with cutting taxes while he was governor of Florida from 2011 to 2019.
"Here's what's unfair. We have people that could go to work and have figured out how to have government pay their way. That's not right," Scott said. "They out to have some skin in the game. I don't care if it's a dollar. We ought to all be in this together."
Roberts then referenced McConnell's remarks, noting that the top Senate Republican "doesn't agree" with Scott's plan. He then played a clip of the Kentucky senator pushing back against the proposals. "That will not be part of the Republican Senate majority agenda," McConnell asserted on March 1.
The Fox News host then pointed to a Wall Street Journal opinion article Scott wrote days later, entitled: "Why I'm defying beltway cowardice," defending his 11-point plan. "Are you calling Mitch McConnell a coward?" Roberts asked.
"What I'm saying is—I've been in D.C. for three years," Scott replied. "I want to get something done. I went to D.C. to change this country." The GOP senator then claimed that the "woke left" now controls the federal government, academia and Hollywood. He said, "we've got to change this."
Scott said his plan is open for input, urging viewers to send their ideas. "Let's come up with the best ideas out there," he said.
Chris Hartline, communications director for the NRSC led by Scott, told FactCheck.org in February that the Republican senator believes "there are too many people who are benefiting from government services without contributing to the system. That obviously would not include retirees who have paid plenty in taxes or working Americans who are paying into the system through either income tax or payroll tax. He believes there are too many able-bodied Americans who are choosing not to work, partly due to policies from Joe Biden and the Democrats, that have expanded the welfare state and paid people more to not work than to work."
In a March 1 statement after McConnell's pushback, Scott said: "Republicans should talk about a plan for turning this country around."
"I'm a business guy and I've always believed in making plans in order to get things done. Republicans, and really all Americans outside of Washington, are demanding it," he said.