Fox News Host Confronts Trump Adviser Over Flouting of Mask Rules at Debate
Fox News anchor Chris Wallace questioned senior adviser to President Donald Trump's reelection campaign Steve Cortes in a Sunday interview over the first family's and other administration officials' refusal to wear masks during the first presidential debate last week.
Although the first family and several other Trump aides entered the Cleveland debate on September 29 wearing masks, they removed them after being seated. This was against the pre-established rules for the event, which only allowed for Wallace—who moderated it—the president and Democratic presidential nominee Joe Biden to remain without face coverings. Days later, the president and several other administration officials tested positive for COVID-19.
"The rules from the Cleveland Clinic could not have been more clear. Everyone—everyone in the audience—was to wear a mask. The president and the former vice president and I were the only ones exempt from that. We've got a picture up on the screen. After the first family came in, they all took off their masks. So did the White House Chief of Staff Mark Meadows," Wallace told Cortes during an interview on Fox News Sunday.
"Do they think that the health and safety rules for everybody else do not apply to them?" Wallace asked.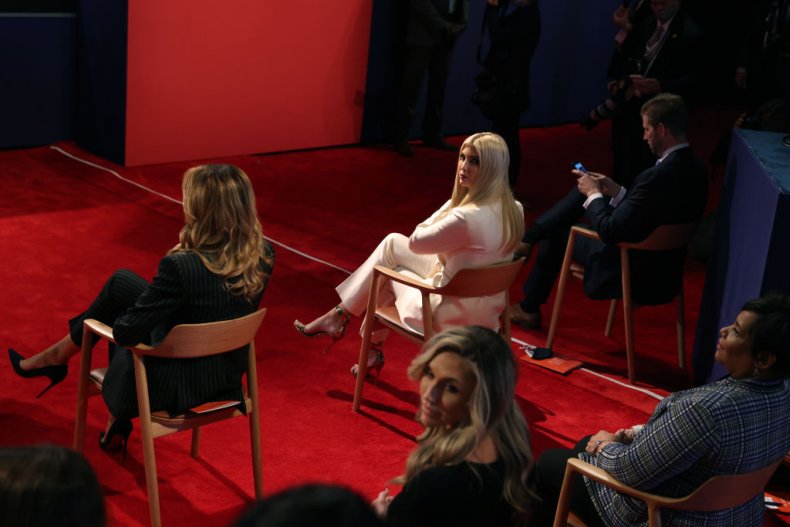 Cortes responded by pointing out that everyone in Trump's entourage had already been tested. But Wallace cut in, asserting that this did not make any difference, because everyone at the event was required to be tested.
"People from the Cleveland Clinic came over and offered the first family masks, thinking they did not have them. They were waved away," Wallace said. The Fox News anchor continued, saying: "Forget this question of being tested beforehand. Everybody was tested beforehand."
"Everybody was told to wear a mask. Why did the first family and the chief of staff feel that the rules for everybody else didn't apply to them?" the journalist asked.
"We believe that masks are very useful," Cortes responded. "The president has worn them on many occasions, including visiting the hospital where he's now a patient ... So we believe in masks. We also believe in some element of individual choice."
A tense back and forth ensued, with Wallace again pressing the question while Cortes complained, suggesting that the prominent Fox News journalist was working for the opposition.
Newsweek reached out to the Trump campaign for further comment, but did not receive a response by the time of publication.
Frank Fahrenkopf, head of the Commission on Presidential Debates, told The Washington Post that "everyone" was required to wear masks.
"The first family came in wearing masks, but they took them off. The rules said you had to wear a mask," Fahrenkopf said. "Everyone in that hall was supposed to keep the mask on, other than the president, Biden and Chris Wallace."
During the debate, Trump mocked Biden for routinely wearing masks when he is out in public. "Every time you see him, he's got a mask. He could be speaking 200 feet away from him and he shows up with the biggest mask I've ever seen," the president said. Biden has tested negative for COVID-19 following Trump's diagnosis.
The president has previously expressed significant skepticism about masks, although he sent an email to supporters in early August urging them to comply with the recommendations put forward by his own government regarding face coverings. He has appeared in public multiple times wearing a mask, but has also held several events in which he and others did not cover their faces.
Polling published Sunday by ABC News/Ipsos showed that the vast majority of Americans believe Trump did not take appropriate precautions to prevent contracting the novel coronavirus. The survey results showed that 72 percent said that the president did not take the "risk of contracting the virus seriously enough" and did not take "the appropriate precautions when it came to his personal health."
Fox News Host Confronts Trump Adviser Over Flouting of Mask Rules at Debate | U.S.