Trump's Support Falls Below 40 Percent Against Biden Following Debate, Poll Shows
President Donald Trump's support dropped substantially to less than 40 percent following the first presidential debate against Democratic presidential nominee Joe Biden on September 29, new polling shows.
The poll by NBC News and The Wall Street Journal, which was published Sunday and conducted in the two days following the debate, showed Biden leading Trump by double digits—or 14 percentage points. While the incumbent Republican president was backed by just 39 percent of registered voters, the Democratic candidate was supported by 53 percent. That marks Biden's largest lead over Trump in a poll conducted by NBC/WSJ.
"The clear loser from the debate was Donald Trump," Democratic pollster Jeff Horwitt of Hart Research Associates, who helped conduct the poll along with GOP pollster Bill McInturff, told NBC News. "And at least for the short term, this has damaged his standing against Joe Biden," he said.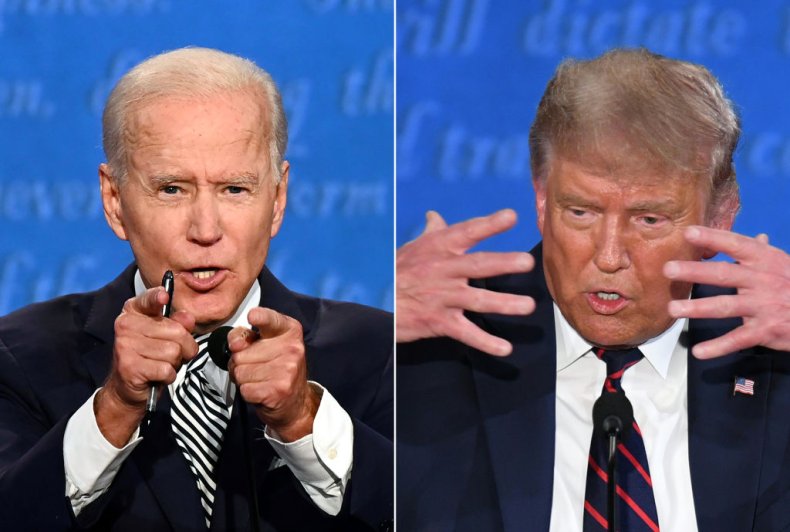 The debate—and particularly Trump's performance—was widely panned by analysts and viewers. Many described it as the "worst" debate they'd ever seen, as Trump repeatedly interrupted and disregarded the rules. Although Biden also broke in and ignored the prearranged protocols, Fox News anchor and moderator Chris Wallace noted during the debate that the president was interrupting much more often.
Polls following the debate showed that more viewers saw Biden as the winner. A survey carried out by CNN showed that 6 in 10 viewers saw Biden as the winner, while less than 3 in 10 viewed Trump as having come out ahead. A separate poll by Data for Progress showed Biden as the winner by a margin of 52 percent to 39 percent. CBS News and YouGov showed less of a disparity however, with 48 percent of respondents saying Biden had won compared to 41 percent who backed Trump.
Nearly every recent national poll ahead of last week's debate already showed Biden as the clear frontrunner. Polling out of key battleground states also showed the Democratic nominee as favored to win the November election.
The RealClearPolitics average of national polls shows Biden leading Trump by about 8.1 percentage points—or with 50.6 percent support compared to the president's 42.5 percent. The average compiled by FiveThirtyEight is similar, showing Biden with 50.8 percent and Trump with 42.9 percent.
Within the key battleground states of Arizona, Florida, Michigan, North Carolina, Pennsylvania and Wisconsin, Biden appears to be favored to win as well. The Democrat leads Trump by an average of more than 5 percentage points in Michigan, Wisconsin and Pennsylvania, according to RealClearPolitics. The race is tight in North Carolina and Florida, although Biden still appears to have a slight advantage. In Arizona, Trump trails his Democratic challenger by about 3.1 percentage points.