Fox News Host Confronts Trump Over Attacks On Network: 'Our Channel Prides Itself On Diversity'
Fox News host Brian Kilmeade confronted President Donald Trump over recent attacks on his network during a Thursday interview, saying: "It never used to bother you like this."
"I know you were critical of Fox yesterday," Kilmeade told Trump during a segment of his Fox News Radio program The Brian Kilmeade Show. He then read a tweet posted by Trump, which accused his formerly favored network of "heavily promoting Democrats."
"So, you were very upset," Kilmeade said.
"No, I'm not happy," the president asserted. "I'm not happy with Fox. You know people say Fox is for me, Fox is — look Sean [Hannity] and Laura [Ingraham] and Tucker [Carlson] have really been good — well, Tucker is a little tricky but that's ok. But he's been very good."
Hannity and Ingraham, who are opinion show hosts, have consistently backed Trump, with Hannity even joining the president at a rally last November.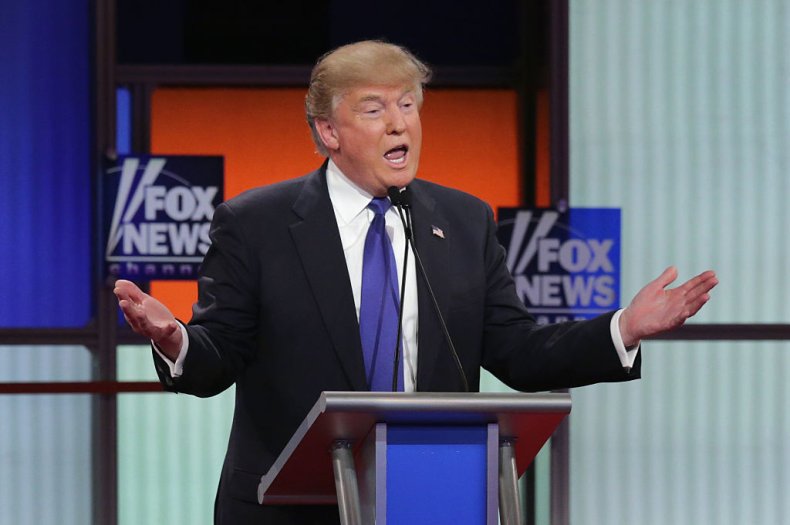 The president also suggested in the Thursday interview that he was more or less pleased with the performance of the Fox News morning show Fox & Friends, on which Kilmeade is a co-host. Although the show's co-hosts sometimes push back against some of the president's policies, they are largely seen to voice support for his agenda.
"You guys in the morning, Ainsley, and Steve and you — I used to say you, you were a solid 6, maybe a 7," Trump assessed. "But you're getting much better."
Kilmeade then pointed out that Fox News, as well as him personally, have disagreed with Trump in the past with less objection from the president.
"So I don't understand," the host said. "If Fox comes on and if somebody comes on and they're critical of one thing about you. It never used to bother you like this."
"Now yesterday I read those tweets," he continued. "I thought to myself, what's bothering you about it? Because our channel prides itself on diversity and getting everybody in so you don't have to flip around."
The president then explained that he still thinks CNN and MSNBC are worse than Fox News. He claimed that CNN is currently "begging" him to do an interview. However, Trump said he thought doing the interview would be "disloyal" to his followers. Kilmeade appeared to agree to that sentiment, saying: "I don't think you should do an interview over there either."
Critics of Fox News have long referred to the so-called "feedback loop" between the network and the president. They have pointed to instances when opinion hosts and journalists said something favorable about Trump or negative about his opponents, which was then repeated or tweeted by the president. The networks opinion hosts – and some journalists – have also been criticized for appearing to give the president cover by defending him instead of looking at his policies and statements through a neutral lens.
That now has changed, with Trump repeatedly attacking the network and some of its journalists and contributors.
"The New @FoxNews is letting millions of GREAT people down! We have to start looking for a new News Outlet. Fox isn't working for us anymore!" the president tweeted on Wednesday.
"Just watched @FoxNews heavily promoting the Democrats through their DNC Communications Director, spewing out whatever she wanted with zero pushback by anchor, @SandraSmithFox. Terrible considering that Fox couldn't even land a debate, the Dems give them NOTHING!," he wrote in another Thursday tweet, while also attacking the network for having former Democratic National Committee (DNC) chair Donna Brazile as a contributor.
The president also referred to journalists Juan Williams and Shepard Smith as "HOPELESS & CLUELESS!"
Earlier this year, the president attacked Fox News senior judicial analyst Andrew Napolitano.
"When you look at the continuous incorrect statements by Napolitano over the past 2 years, it is fair to ask FNC why they allow him to have national air time. The man has been significantly wrong on at least 8 major occasions," Trump tweeted in May. "Unacceptable! Take him off the air!"
Trump also attacked Fox News Sunday anchor Chris Wallace in May, arguing that Fox News "is moving more and more to the losing (wrong) side in covering the Dems," after the journalist interviewed 2020 Democratic presidential candidate Mayor Pete Buttigieg of South Bend, Indiana. "They got dumped from the Democrats boring debates, and they just want in. They forgot the people who got them there," he added.
As Trump pointed out, the DNC officially decided to boycott hosting any primary debates on Fox News during this election season. When the decision was announced, Democrats cited the "inappropriate relationship" the network has with the president.