Fox News Host Grills Satanic Temple Co-Founder in Bonkers Interview
Fox News aired an uncomfortable interview with a leader of The Satanic Temple on Thursday night, which ended with host Jesse Watters saying he thought his guest "wanted to go to Hell."
Watters opened the segment by discussing the announcement of an "after-school Satan club" at a primary school in Virginia. Some angry parents have recently railed against the proposal, with one mom telling Fox News that it indicates that "we are failing our children."
Watters then welcomed on Lucien Greaves, co-founder of The Satanic Temple. The pair's conversation quickly got a little awkward, however, as Watters asked Greaves increasingly personal questions.
"If Satan's evil, why should kids be in an evil club?" Watters asked.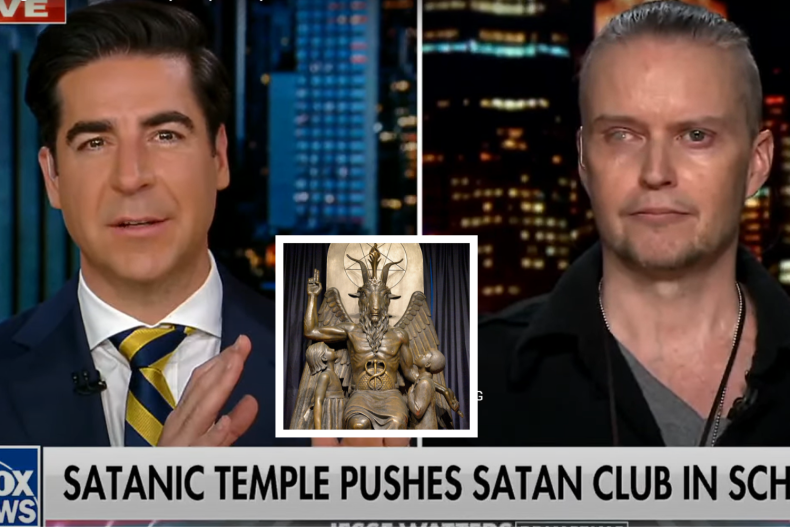 "Well, obviously we don't view Satan as evil, and it really doesn't matter to us what your mythology is surrounding Satan," Greaves replied. "You need to ask yourself if your distaste over us identifying as Satanists is strong enough that you would abandon the principles of free speech and religious liberty."
Watters then talked about how he thinks of Satan.
"I always thought Satan was like, sex," he said. "Like, when you're 18: Satan, sex, do your thing. But I don't know if I would want Satan in schools. You understand how parents feel, right?"
Greaves said that many parents feel the same way about the idea of evangelical after-school clubs. Those who don't want to send their kid to an after-school Satan club don't have to, he said.
"I think the controversy just evades the issue as to whether or not we're willing to allow government functionaries at school boards or whatever to simply shut down somebody's religious liberty or free speech because they don't like it," Greaves continued.
Watters then pressed his guest to "enlighten" him about some of The Satanic Temple's tenets. Greaves explained that the tenets are "very pro-social," including one that states people should "strive to act with compassion and empathy to all creatures within reason."
Shortly after, Watters asked: "Are you married by the way?" Greaves said he wasn't.
Next, Watters inquired, "So, you're probably gonna go to Hell, right?"
Greaves pushed back on the question, stating that The Satanic Temple is a non-theistic religious group and that he doesn't believe in Hell.
"All right, I thought maybe you wanted to go to Hell. What do I know?" Watters offered.
"It sounds like it would be a better party than Heaven," Greaves said. "You have one place where all the sexless kind of go after they live a celibate, non-interesting life. Hell might be OK."
As Watters set out to end the interview, Greaves added: "Have a happy and gay holiday..." before Fox News cut away.
The Satanic Temple states on its website that its members do not believe in or worship the entity known as Satan, nor do they believe in the supernatural. Rather, they promote reason, justice, empathy, the pursuit of knowledge and the separation of church and state.
Earlier this month, the Satanic Temple of Illinois erected a display next to a menorah and Nativity scene in the Illinois Capitol building, local news station WCIA reported.
Meanwhile, Greaves told Newsweek on Friday that he was "confused" following the Fox News taping. He'd been expecting a hostile interview and some sort of debate, but said that the pushback to his argument never really came.
"And then, you know, the whole subplot there: Jesse Watters asking me if I'm married, apropos of nothing, and then stating that Satan makes him think of sex," he said. "And then me signing off with a 'happy and gay holiday season'—I think it went in a direction that nobody could have anticipated."
Greaves hopes to shine a light on the issues underscoring the after-school club controversy unfolding in Virginia and beyond. He said it highlights the fact that some public officials lack understanding of what "the basic principles of religious liberty and free speech mean."
Greaves continued: "We find ourselves now in an environment where school boards feel emboldened to actually try to harass people who don't identify with the religion that they approve of out of their community, and I just hope to draw attention more to that."
Newsweek reached out to The Satanic Temple and Fox News for additional comment.