Fox News Host Sean Hannity Claims Over 100,000 Trump Supporters Were Waiting to Get Into 7,400-Seat Venue Hosting Rally
Fox News host Sean Hannity claimed that more than 100,000 people attended President Donald Trump's New Jersey rally on Tuesday, but that appears to be a significant exaggeration.
"Now, the president had over 100,000 people wanting to get into the stadium tonight," Hannity said on his Tuesday evening show. "Well, over," he insisted.
Trump held the rally alongside Jeff Van Drew, who represents New Jersey's 2nd District in the House and switched his party affiliation from Democrat to Republican in December over his objections to the House's impeachment vote. Ahead of the event, Van Drew told Fox News that more than 100,000 tickets had been requested for the event, but this number has not been independently verified.
During the rally, Trump also said that there were "tens of thousands" of supporters outside who could not get in. Local media have reported that the Wildwood Convention Center, where the event took place, could hold about 7,400 people, and the center's website says it can accommodate "groups as small as 100 or as large as 10,000."
Ben Rose, director of marketing and public relations for the Greater Wildwoods Tourism Authority, provided Newsweek with estimates significantly lower than those shared by the president and Hannity.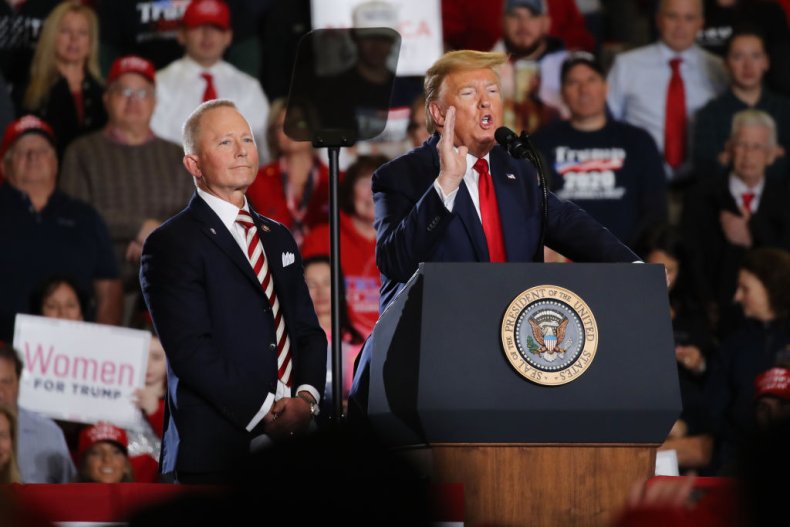 "We were at full capacity of 7,400 attendees [inside]," Rose noted in an email. He added that his conservative estimates of those outside were about 6,000 to 8,000 in the facilities main parking lot, as well as 3,000 across the street in Fox Park.
"Both areas had large JumboTrons broadcasting the rally live and was serviced with food trucks, food stands, merchandise vendors and lots of Port-a-Potties," Rose said. "It was a very festive atmosphere."
Local media in New Jersey consistently reported that "thousands," not "tens of thousands," were outside the rally.
"NJ Advance Media reporters outside the convention center estimated several thousand watching a video screen at Fox Park and another few thousand at the video screen closer to the entrance," NJ.com reported Tuesday, fact-checking the president's claim.
Newsweek reached out to the Wildwood Police Department for their estimate of the number of attendees but did not hear back before publication.
Pete Byron, mayor of Wildwood, said last week he had heard that about 40,000 tickets were issued for the event. He said it was possible that 10,000 people would come in from outside the city to attend the rally.
"The president brings out the people who support him as well as who oppose them, or both," Byron told NJ.com. "There is no in-between, and they are all very passionate. You are going to have protesters as well. You have to factor all of that into the equation, but there's going to be a lot of people out on the street."
Trump and his supporters have a history of overestimating crowd sizes. The most infamous example is the president's inauguration in January 2017. In remarks to the CIA shortly after his inauguration, Trump insisted that the media had lied about the event's crowd size, suggesting that about 1.5 million people attended.
Later, press secretary Sean Spicer inaccurately claimed that it was "the largest audience to ever witness an inauguration, period, both in person and around the globe."
According to PolitiFact, as many as 720,000 people could have been present during the president's swearing-in ceremony. But that's less than half of the 1.5 million who attended former President Barack Obama's inauguration in 2009, which is considered to be the highest attendance ever.
This article has been updated with information provided by the Greater Wildwoods Tourism Authority.