Fox News' Jeanine Pirro Accuses Mueller of Working For Democrats, Compares Him to Comey: 'You Either Indict Or You Don't'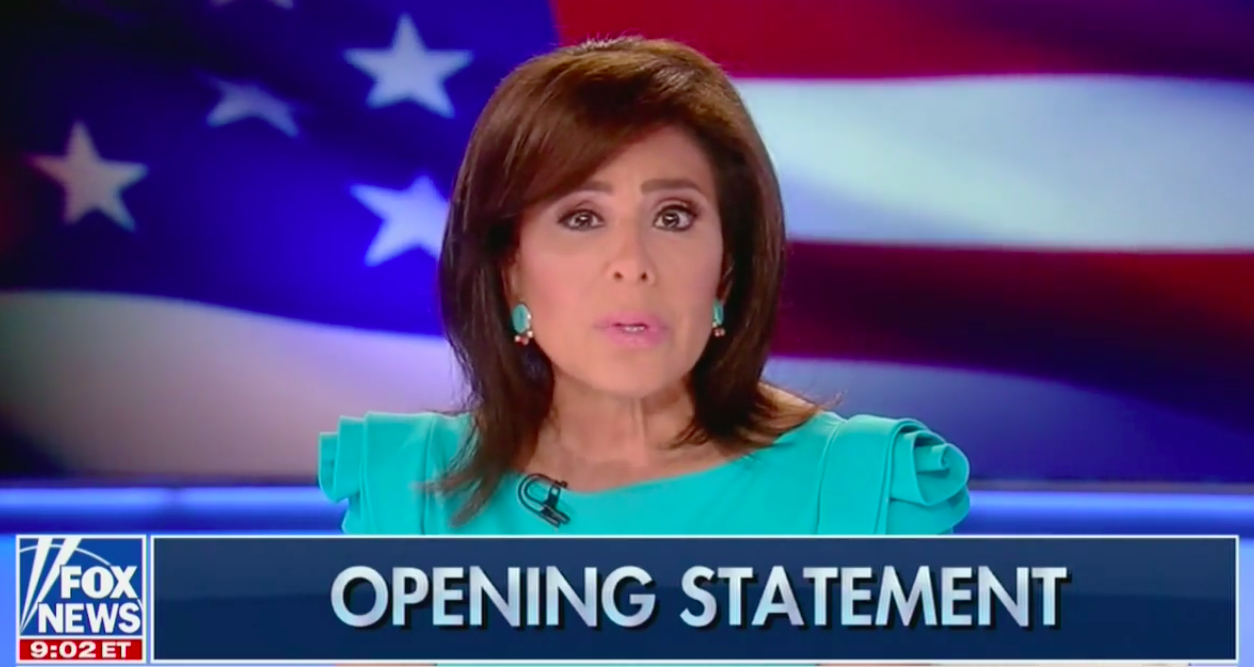 Fox News host Jeanine Pirro this weekend accused Robert Mueller of working for the Democrats and compared the special counsel to former FBI director James Comey.
Pirro dedicated her opening statement on Saturday's Justice With Judge Jeanine to condemning Mueller over comments he made while speaking publicly for the first time on Wednesday since beginning the Russia investigation in 2017.
Mueller reiterated during a press conference that he would have stated if the evidence collected during his 22-month-long probe cleared Trump of any criminal wrongdoing, but he didn't. The statement is expected to be Mueller's last — to Congress or otherwise — on the matter as he will be resigning from his post at the Department of Justice (DOJ).
Pirro on Saturday condemned Mueller for his comments, questioned his impartiality and compared the special counsel's conduct to that of Comey's. "Why after ten weeks — after the special counsel report is submitted — does Mueller unilaterally decide to hold a press conference to say he's closing shop? And why does Mueller do a Jim Comey and say, 'I didn't charge but only because dot dot dot.' Why?," the Fox News host said.
"He does it to rally the left because the Mueller report didn't hurt enough."
The conservative commentator then accuses Mueller of jumping "into the political fray, just like his pal Jim Comey did."
"Mueller, I'd imagine, at the behest of the left gives them what they need to jumpstart the calls for impeachment," she continued, adding that the special counsel intended to "muddy up the waters and charge up the left."
"You either indict or you don't… every prosecutor knows if you don't indict someone, you stop there," Pirro added.
The special counsel revealed on Wednesday that charging Trump with obstruction of justice was "not an option" available to him as DOJ guidelines prohibit a sitting president from being charged with a federal crime.
"You had two years to think about that one and he did not, instead he punted and now Mueller wants to come out and say, 'Look, we never said he didn't. We simply couldn't make a decision because he's a sitting president,'" Pirro said. "Folks, that's baloney."
The Fox News host went on to accuse Mueller of colluding with Democratic lawmakers. "The Democrats don't have an independent thought other than their hatred of Donald Trump. The Mueller report didn't accomplish their goal. The Democrats are desperate, they need Mueller to shake things up so they can rally their troops around impeachment. Think about it," she said.
"When did you know there was no collusion?" Pirro added, apparently speaking directly to Mueller. "Did you know that before the midterms? You could have shut the whole thing down. But then again, it was a major help to the Democrats now wasn't it? And you're helping them yet again."
Mueller's 448-page redacted report, released in April, resulted in 199 criminal charges, indicting 34 individuals, including six ex-Trump associates and three Russian companies. Although the special counsel did not accuse the president of a crime, it did reveal ample evidence of wrongdoing by the president and his associates from his 2016 presidential campaign to current day.
"The president's efforts to influence the investigation were mostly unsuccessful, but that is largely because the persons who surrounded the president declined to carry out orders or accede to his requests," the report stated. "While this report does not conclude that the president committed a crime, it also does not exonerate him."