Fox News host Jeanine Pirro on Thursday peddled a white supremacy conspiracy theory, accusing Democrats of plotting to "replace American citizens with illegals."
During a radio appearance with Fox Nation's Todd Starnes earlier today, Pirro promoted the so-called "great replacement theory," a conspiracy that warns of white genocide.
"They hate Donald Trump," Pirro said, referring to Democrats. "He's the one they want to get rid of."
"Their plan and their plot to remake America is to bring in the illegals, change the way the voting occurs in this country, give them licenses, they get to vote maybe once, maybe twice, maybe three times," Pirro continued. "You've got motor voter registration on the day of the election, we've got voter rolls that haven't been purged of dead people in years, where the Democrats have resisted that."
She added: "Think about that, it is a plot to remake America. To replace American citizens with illegals who will vote for the Democrats."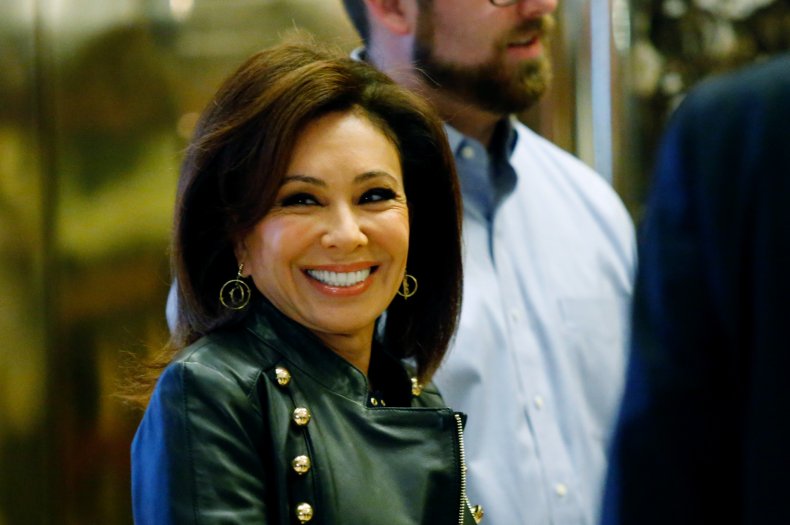 The replacement theory, popularized by French writer Renaud Camus, is an extension of the colonialist theory, based on the idea that mass migration, demographic changes and the rise of white women choosing to remain childless will lead to falling birth rates — and ultimately white people being replaced by nonwhites around the globe. The white nationalist right-wing conspiracy theory was the theme of Camus' 2011 book, The Great Replacement, which linked the growth of Muslims in France to the fall of French culture.
A gunman opened fire at a Walmart near the Cielo Vista Mall in El Paso, Texas earlier this month, causing multiple fatalities. Later, 21-year-old Patrick Crusius was identified as the shooter. Authorities said Crusius penned an anti-immigrant manifesto, which appeared on 8chan prior to the deadly massacre, that included sympathy for the Christchurch shooter, an Australian gunman involved in attacks on New Zealand mosques earlier this year that left 49 people dead.
Crusius also reportedly referenced the "great replacement."
Pirro's remarks comes just one day after she claimed that "radicals" want "revenge" on Trump and his supporters during an interview with Fox & Friends on Wednesday.
"We've got people on the left, the socialists, the progressives," Pirro said, "and I talk about the Democrat clown car, I mean I go through every one of them in this book and what they're standing for."
Pirro recently took a brief break from her weekly Fox News show Justice With Judge Jeanine after facing enormous backlash for making controversial statements about congresswoman Ilhan Omar.