Fox News Host Jeanine Pirro Says 'Democrat Clown Car' Wants 'Revenge' Against Donald Trump
Fox News host Jeanine Pirro claimed that "radicals" in the U.S. want "revenge" on President Donald Trump and his supporters, slamming what she referred to as the "Democrat clown car" and "socialists" during a Wednesday interview with Fox & Friends.
Pirro, who took a brief hiatus from her weekly Fox News show Justice With Judge Jeanine due to backlash over controversial comments she made about Congresswoman Ilhan Omar earlier this year, appeared on the Fox News morning show to discuss the release of her new book entitled: Radicals, Resistance and Revenge. During the interview, Pirro argued that those on the political left don't care about the good of the country.
"We've got people on the left, the socialists, the progressives," Pirro said, "and I talk about the Democrat clown car, I mean I go through every one of them in this book and what they're standing for."
Continuing, she said that the so-called "radicals" are "so angry that the Democrats didn't win and that we've got a president who is out there, who is showing us what America could do, that American can be first."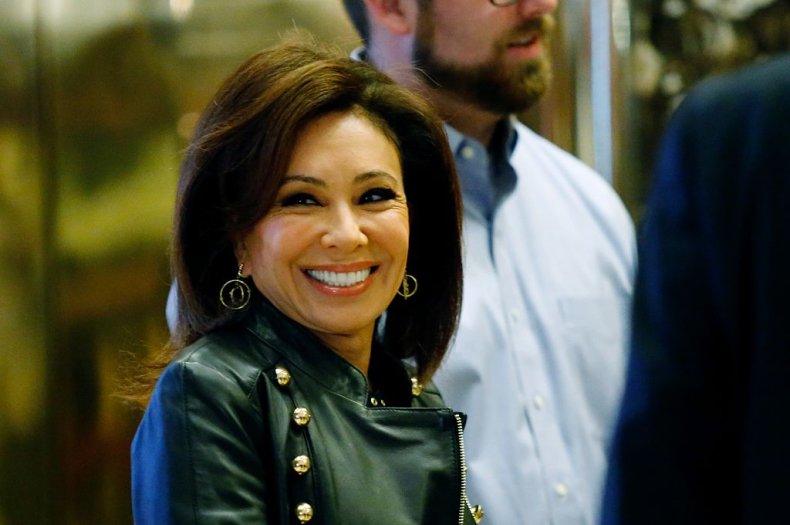 Other right-wing commentators and politicians have referred to the large field of Democratic 2020 presidential contenders as a "clown car." Back in June, Republican Senator Ted Cruz of Texas said "the clown car is broken" during an interview with Fox News host Sean Hannity following the first Democratic primary debates.
"There is no brake and it only steers left. It was scary last night," Cruz said. "It was scary to see the Democrats – every one of them – falling all over each other to get further and further and further left."
Pirro, a former county judge and district attorney, routinely attacks Democrats while heaping praise on Trump and his administration. Last November, she, along with Hannity, even appeared with Trump at a rally, despite Fox News later claiming it "does not condone any talent participating in campaign events." According to Media Matters, Pirro plans to headline two events put on by Trump Team 2020 Florida, and has earned more than $230,000 for speeches to Republican groups over the past few years.
The controversial Fox News host drew significant backlash back in March after she suggested that Representative Omar's decision to wear the Islamic hijab could mean she was disloyal to the U.S. In a rare move, the cable network condemned Pirro and she took a break from her show for several weeks.
"We strongly condemn Jeanine Pirro's comments about Rep. Ilhan Omar," Fox News said in a statement at the time. "They do not reflect those of the network and we have addressed the matter with her directly."
But in July, Pirro singled out Omar again, along with Democratic Representatives Alexandria Ocasio-Cortez, Rashida Tlaib and Ayanna Pressley, calling them "radical socialists who want to punish success and destroy capitalism."
"They know how to weaponize their hate," she argued. In line with narrative of her new book, the former judge claimed: "there is a plot to remake America by those who hate America."