Fox News Judge Says He Believes Trump Called Veterans 'Losers' and 'Suckers' Because He Knows Him as 'a Friend'
Fox News senior judicial analyst Andrew Napolitano cited his decades of friendship with President Donald Trump in an op-ed published Thursday, writing that he believes the president likely referred to military veterans as "losers" and "suckers" as alleged by anonymous sources in a controversial report by The Atlantic.
"I have been a friend of Donald Trump since 1987 through the New Jersey legal community in which his sister and I were active as judges. Trump and I have also known each other through my on-air television work at Fox News. Trump enjoys a personal familiarity with many of my Fox colleagues and me," Napolitano, a former New Jersey Superior Court judge, explained in the article published by Fox News. "To this day, he and I speak on the phone from time to time over matters public and private."
Napolitano, who was highly critical of Trump throughout his impeachment inquiry and the investigation into Russian interference led by special counsel Robert Mueller, wrote that he sees himself a "loyal" friend but that he is "foremost" loyal to the truth.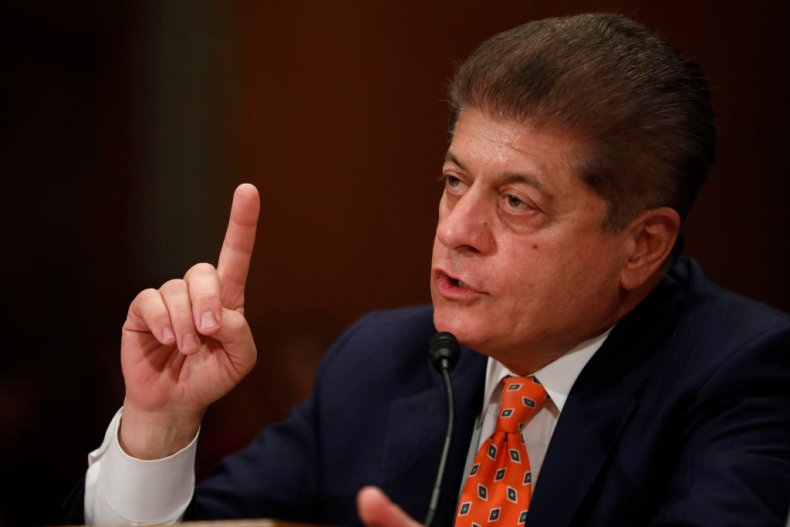 "Donald Trump is unfiltered. He often says what first comes to his mind without thinking of the likely consequences—including the hurt—his words could produce. And he believes he can repair any hurt with more words," the former judge said. Napolitano went on to say that he personally believed that the president had made the disparaging remarks alleged in The Atlantic article.
"Trump's denials have been both ferocious and frivolous. He has attacked media figures who are merely reporting what credible sources have told them. He also denied calling the late Sen. John McCain 'a loser' because he was captured, confined and tortured by the North Vietnamese," he wrote. "Many networks—including Fox—then ran clips of Trump calling McCain a loser, and Trump stopped denying it."
Newsweek reached out to the White House for comment, but it did not respond by the time of publication.
The president, the White House and multiple current and former Trump administration officials have completely dismissed the reporting from The Atlantic. The White House has described it as "false," while former administration officials have said they were involved in the reported conversations and the president did not make the remarks. But journalists with Fox News and the Associated Press reported that they had confirmed at least some of the reporting from The Atlantic, citing high-level sources.
Critics of the president have pointed out that the reported remarks aligned with previous statements disparaging the late GOP Senator John McCain of Arizona. In 2015, Trump referred to McCain as a "loser" and criticized him for being captured while serving in the military during the Vietnam War.
"He's not a war hero," Trump said at the time. "He was a war hero because he was captured. I like people who weren't captured."