Fox News Host Laura Ingraham 'Teases' Sean Hannity for Complaining About Cutting Trump Rally Coverage: 'Is That the White House Speaking?'
Fox News hosts Sean Hannity and Laura Ingraham got into a minor spat on Tuesday evening, with Hannity complaining that Ingraham had cut off the end of President Donald Trump's speech at a New Mexico rally on Monday evening.
Pushing back, Ingraham wondered if the complaint was from Hannity himself, or perhaps directly from the president.
"Can I lodge a complaint, am I allowed?" Hannity asked on his Fox News show Hannity on Tuesday evening. Ingraham, who was a guest on his show, responded: "Sure."
"I'm watching the president's speech in New Mexico last night. I wanted to see the ending. You cut to your debate early!" Hannity lamented.
Pushing back, Ingraham asked: "Is that the White House speaking or is that you?"
Hannity insisted the complaint came from "Sean Hanity." Ingraham replied: "I couldn't tell." She then laughed, saying: "I'm just teasing you. I'm just teasing you."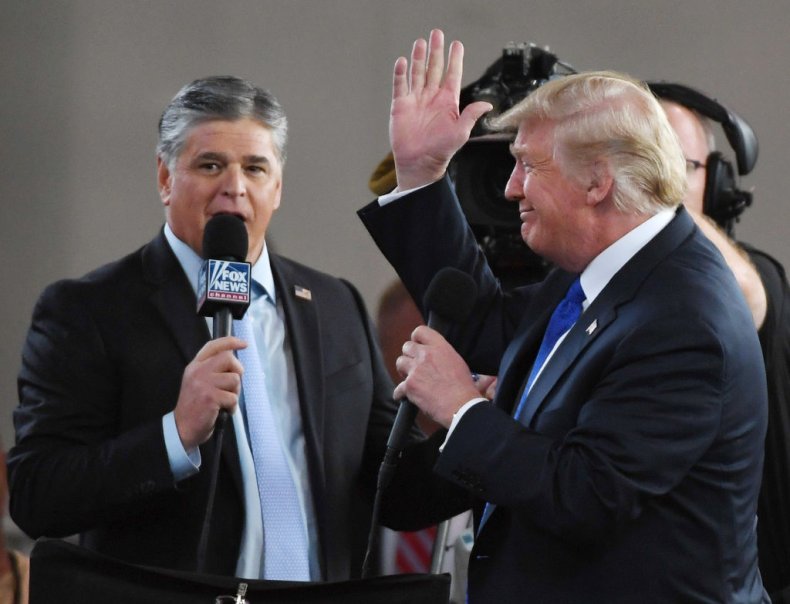 Hannity continued to complain however, comparing Trump's rally speech to "a great work of Bach or Mozart," arguing that it shouldn't be simply cut off before it's finished. Ingraham, smiling, said she'd "take that under advisement." She then mockingly said: "you handle your hour, I'll handle my hour."
The close relationship between Fox News, Hannity and the president has faced significant scrutiny and criticism since Trump's presidential campaign back in 2016. Hannity, as well as Ingraham and other right-wing hosts on the network, have maintained close ties to the president. Some media critics have described the relationship as the "Trump-Fox feedback loop," with the president often parroting the remarks of the network's right-wing hosts and the hosts giving him praise and support on their programs.
In New York Times television critic James Poniewozik's new book "Audience of One: Donald Trump, Television, and the Fracturing of America," an unidentified source told the author that Hannity "basically has a desk" at the White House. "Sean Hannity, who fulminated about conspiracies against Trump nightly on Fox, was the most influential White House counselor," Poniewozik wrote.
"President Trump's worldview is shaped by what Hannity says on his show," Matt Gertz, a senior fellow at Media Matters for America, a non-profit that monitors and analyzes conservative U.S. media, recently told Newsweek.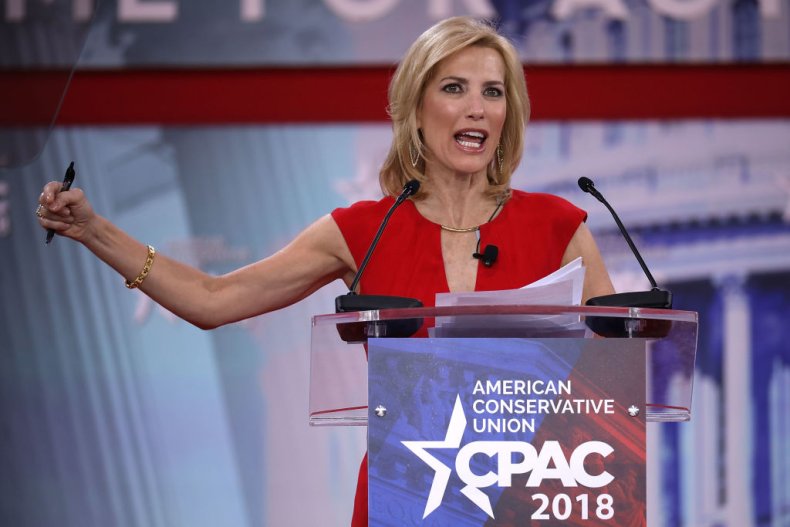 Hannity participated in a rally for the president last year, despite Fox News claiming it "does not condone" such behavior from network talent. Ingraham is also a close Trump ally. Her podcast, The Laura Ingraham Show Podcast, since May has been sponsored directly by the Make America Great Committee, a combined fundraising effort between the Republican National Committee and the Trump campaign to promote the president's reelection.
Although Trump maintains close ties with numerous Fox News hosts, he has also become increasingly critical of the network's less supportive coverage. In tweets and public remarks over the last few months, the president has attacked various Fox News journalists, contributors and experts when they have appeared critical of him or his policies.
The president said he wasn't happy with Fox News in an interview with the network's radio program The Brian Kilmeade Show, hosted by Brian Kilmeade, at the end of August. But he also voiced his satisfaction with Hannity and Ingraham.
"I'm not happy with Fox. You know people say Fox is for me, Fox is—look Sean [Hannity] and Laura [Ingraham] and Tucker [Carlson] have really been good—well, Tucker is a little tricky but that's OK," Trump said.