Fox News' Laura Ingraham, Tucker Carlson Take Aim At Pete Buttigieg: 'Treat Him As The Be-All And End-All Moral Authority'
A day after 2020 Democratic presidential candidate Pete Buttigieg slammed Fox News' hosts Tucker Carlson and Laura Ingraham, the two media personalities responded in kind on their respective programs.
While neither television host referred directly to comments the South Bend, Indiana mayor said during his Fox News Town Hall on Sunday night, both Tucker Carlson Tonight and The Ingraham Angle included comments on Buttigieg, his 2020 campaign and his stance on abortion in their Monday broadcasts.
Carlson, whose show was partially interrupted by President Donald Trump's re-election campaign rally in Pennslyvania, referred to Buttigieg as a "demagogue" following a brief segment based around the Democrats statement regarding abortion limits from the Fox News Town Hall.
"We should note the Democratic presidential candidates are not just running to be the chief executive of the country; they're also running to be the high priest, America's supreme moral authority. In the new religion of American liberalism, no sacrament is holier than abortion. It's so holy, in fact, that any restrictions on any limits at all are a moral sin," Carlson said before playing a clip of Fox News host Chris Wallace questioning Buttigieg about abortion.
"Do you believe at any point in pregnancy, whether it's six weeks, or eight weeks, or 24 weeks, or whenever, that there should be any limit on a woman's right to have an abortion?," Wallace asked Buttigieg.
"I think the dialogue has got so caught up on where you draw the line that we've gotten away from the fundamental question of who gets to draw the line, and I trust women to draw the line," Buttigieg replied.
"Well, obviously, he is a slippery demagogue but the point is the same," Carlson said after the clip aired. "No, no limits whatsoever, to the moment of birth."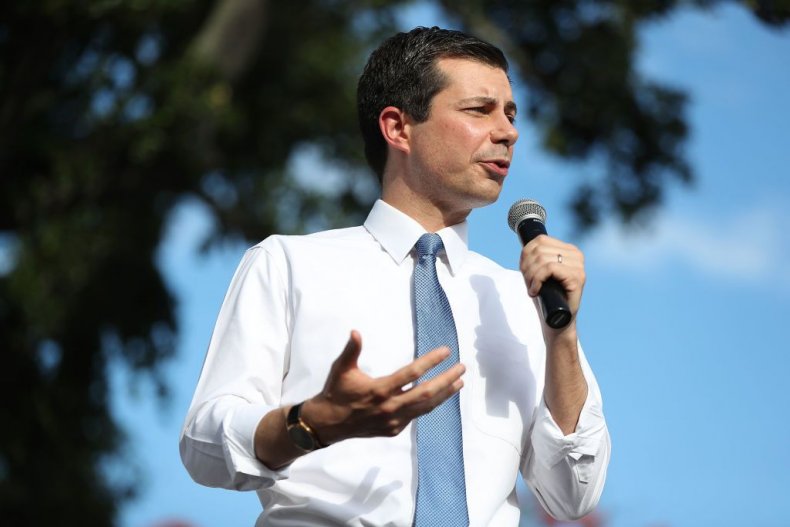 Ingraham, who slammed Buttigieg for being absent from his mayoral duties in South Bend, opened her show by critiquing Democratic candidates Beto O'Rourke, and Sens. Kamala Harris, Cory Booker and Kirsten Gillibrand for retooling their respective campaigns. Ingraham then turned to the Indiana politician who, she said, "desperately needs a re-Buttigieg."
"Of course, he's oblivious about his own deficiencies as a candidate because he glides through interviews, rarely facing tough questions," Ingraham said before referring to the network's town hall with Buttigieg. "Now when he wasn't pushing for tax increases or lobbying lame cheap shots, he was trying to pass off political pabulum as some type of high-minded oratory."
Ingraham went on to compare some of Buttigieg's remarks to "political cotton candy."
"(Buttigieg) showed this unattractive strain last night," Ingraham added. "But it's hard to patronize and condescend your way to winning the nomination. You can't do it, you've got to treat the people like they deserve to be treated... Forget Mayor Pete, maybe we should call him Pope Pete, because don't you love how he, you know, because he attends church we're supposed to treat him as the be-all and end-all moral authority or the arbiter of who is and who is not operating in good faith."
"So he finds conservative media objectionable, but the third-trimester abortion? They are perfectly moral," Ingraham said before playing the same clip broadcast on Carlson's show two hours prior.
"Well is that an example of good faith. Is that what you actually call that?" Ingraham asked after the clip. "Good faith towards the unborn, innocent child? He or she probably doesn't feel the good faith."
"I think we need a papal proclamation," Ingraham continued. "This eager beaver mayor has perfected the art of mild-mannered extremism." She then listed the moderate speaking tone and "cool cat exterior" that Buttigieg allegedly projects are meant to make the "extreme seem down right pedestrian."
Ingraham later invited Buttigieg to appear on her show, but said she would not "let him traffic in the generalities of complex issues" and would ask tough questions, including about Buttigieg's parents and his father's "Marxist pedigree."
Ingraham's final talking point was built around a South Bend Tribune report that stated Buttigieg has been absent from office for half the month recently.
"If you can't show up for the city you are pledged to serve, what confidence can the American people have that you are going to show up for them?," Ingraham asked before closing the segment.