Fox News host Laura Ingraham took aim at Pete Buttigieg, Mayor of South Bend, Indiana, and 2020 presidential candidate, after he ridiculed her on her own network's town hall Sunday night.
The Ingraham Angle accused Buttigieg of rarely showing up for work at city hall while he campaigned and claimed he wanted to remove Thomas Jefferson's name from the title of an honorary event as she called him an "anti-history" member of the Democratic Party. Buttigieg's Fox News town hall appearance on Sunday, while well-received overall, naturally drew criticism from President Donald Trump and the Monday Fox & Friends hosts after he called out controversial past comments by Ingraham and Tucker Carlson, saying they were allowed to "uncritically amplify hate" on-air.
Ingraham shared a Monday South Bend Tribune article saying Buttigieg had been truant from his Indiana mayor's office as he campaigned in California, Texas and New Hampshire since February. The report noted Buttigieg had been out of town for 39 of 86 weekdays, or about 45 percent of the time.
"Always operating in 'good faith,' Ingraham tweeted Monday morning. "South Bend Mayor Buttigieg out of town for nearly half the days in recent months.'" She went on to mock him as "Mr. Transparent" for offering his hometown newspaper a largely redacted calendar of his schedule.
At the Sunday night town hall, hosted by Ingraham's network, Buttigieg ridiculed several of Fox News' right-wing opinion hosts. "I mean, when you've got Tucker Carlson saying that immigrants make America dirty. Then you've got Laura Ingraham comparing detention centers with children in cages to summer camps.There is a reason why anybody has to swallow hard and think twice before participating in this media ecosystem," he said.
Ingraham did compare the detention camps for undocumented migrants and children at the border to "summer camps" and "boarding schools" last June.
"As more illegal immigrants are rushing the border, more kids are being separated from their parents," she said on The Ingraham Angle. "And temporarily housed at what are, essentially, summer camps."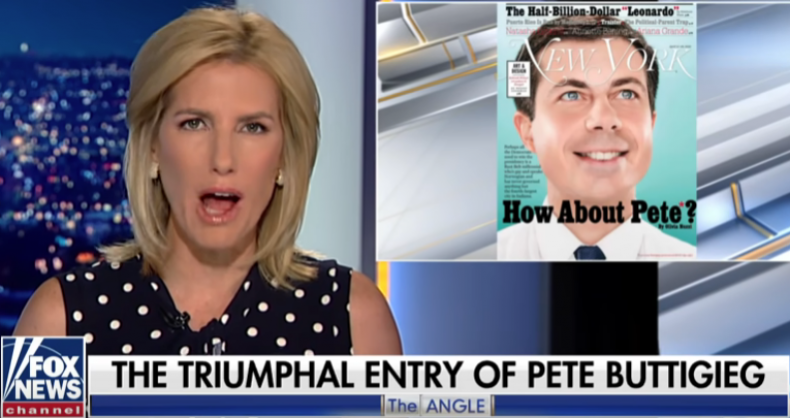 This week, Ingraham took aim at comments Buttigieg made to radio host Hugh Hewitt Friday in which he said he would support renaming events named in honor of U.S. Founding Father Thomas Jefferson, because "he knew slavery was wrong. And yet he did it." Buttigieg also said he "admires" a lot about Jefferson's writings, and that his name should be left in history books—but not on the titles of honorific events.
"Every 2020 Dem shd be pressed on whether they agree with @PeteButtigieg on removing Thomas Jefferson's name from streets, schools, etc. #antihistoryparty," Ingraham tweeted Monday morning, continuing her shots at the Indiana Democrat.
"Things that @PeteButtigieg never said for $1,000... Easy to spread lies like this on Twitter, harder to do it on air tonight when @PeteButtigieg is on stage. But then again, Chris Wallace is actually a journalist..." shot back Lis Smith, Buttigieg's communications adviser.
Ingraham had lashed out at Buttigieg even before he officially announced his 2020 presidential candidacy on April 14. During an early April show, Ingraham called him a phony "creation of a media apparatus desperate to oust Trump."
She lamented what she said was a carefully crafted image of the 37-year-old Christian, a married gay man and military veteran.
"Beyond his Boy Scout demeanor and Mayor Pete shtick, Buttigieg is but another creation of the media apparatus desperate to oust Trump," Ingraham said on her April 2 show. "The media wants to 'whip up the Democrat base, keep them excited and keep them engaged. Anything to divert voters attention from the growing 401(k)s, bigger paychecks and all that good news that happened because of Trump's policies.
"He would upend the Constitution to ensure that California and New York trump the views of heartland Indianans every time," Ingraham said, obviously not knowing that Indiana's U.S. Senators had petitioned the U.S. Government Printing Office to have the word "Hoosiers" used to describe Indiana natives.