Fox News Contributor Says Nipsey Hussle, Who Performed 'F*** Donald Trump,' Would Support President if Still Alive
A Fox News contributor claimed late rapper Nipsey Hussle, who was fatally shot in Los Angeles in March, would support Donald Trump's efforts to reach out to the black community because of the president's past as a businessman.
Lawrence Jones, editor-in-chief of Campus Reform, weighed in on a Monday Fox & Friends segment about the "Road to 2020," which touted all the ways the Republican Party has the best interests of black Americans in mind. Jones, who tells the story of how he is a former 2008 Obama supporter-turned-Republican-turned libertarian, said he wants to see Trump reach out to black celebrities and icons before the next election.
But one of the several rappers he says would help Trump talk to black Americans about "financial literacy," Nipsey Hussle, released a song entitled "F**k Donald Trump" alongside fellow California rapper YG on his April 2016 album, Still Krazy.
"Donald Trump has a great opportunity he's been around black folks for a long time when it comes to the people that we consider culture icons and I think that it's time for the president to have a conversation," Jones said on Fox News Monday morning. "If Nipsey Hussle were still alive, I would say 'President, talk to Nipsey,' because he's the one that's talked about financial literacy."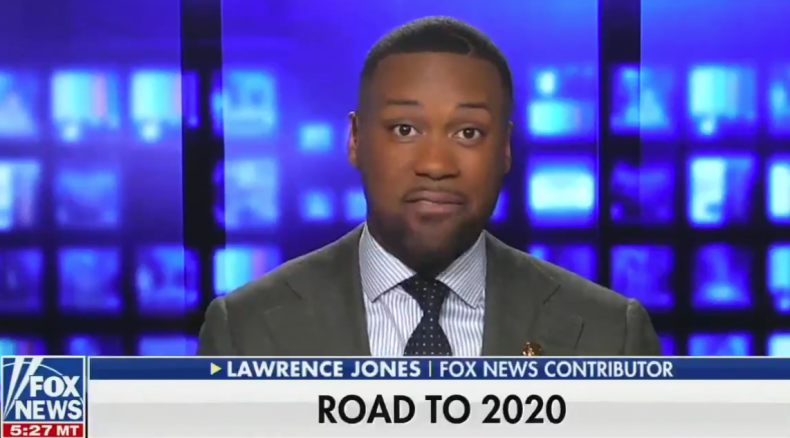 Jones expressed he and other black voters' desire to see "Trump the businessman" reappear on the campaign trail after having fallen too comfortably into the role of a typical Republican politician since entering the Oval Office. Jones' comment doesn't address the recent report in The New York Times finding Trump actually recorded billions of dollars of losses during his seemingly successful real estate career.
"I don't think the black community wants the president, the politician, I think more black folks want Donald Trump the businessman, I think that's the person they admire," Jones continued. "And I think once the president got elected he went more into the typical Republican."
"But if the president were to sit down with someone like Ice Cube, T.I. or Jay-Z and talk about the finances and the real issues that affect black America, I think you could see a change in the electorate," Jones added.
But Jones' suggestion that rapper T.I. would meet with Trump or any Republican seems unlikely, given that last month, he was one of several celebrities and hip-hop figures who labeled Fox news host Laura Ingraham a "vile despicable, poor excuse" for a person after she appeared to mock the shooting death of Nipsey Hussle outside his own South Los Angeles clothing store just a week before.
Police have charged 29-year-old Eric Holder with one count of murder and two counts of attempted murder and possession of a firearm by a felon after the shooting of the L.A. community activist whose birth name was Ermias Joseph Asghedom.
Jones went on to claim that "90 percent of the time black voters vote for the same candidate." But he conceded that "the Democratic Party shows up in the community," which is something he hopes Republicans will do heading toward the 2020 election.
"I once campaigned for Obama when I was a young man back in 2008 and after constant inaction, I switched over the other party system, now I consider myself more of a libertarian," Jones said. "And because the left is so progressive, that leaves me no choice but to vote for Republicans most of the time."
Setting Jones up for one of Fox News' favorite softball questions, Fox & Friends host Ainsley Earhardt asked, "What didn't you like about the Democratic Party?"
Jones said he and other black voters aren't necessarily for Republicans, but rather are fed up with Democratic Party policies.
"Is it a bit of an insult to think that the black voter can be labeled as 'the black voter?'" asked Fox & Friends co-host Brian Kilmeade. "I mean, 'What education do you have? What, uh, are you working class are you upper class, are you middle class, uh what is your situation are you suburban are you urban?' People are just trying to blanket say 'black voters vote x, y and z' I find that insulting," said an increasingly indignant Kilmeade, who is white.
At the beginning of the segment, host Brian Kilmeade read off statistics from a Pew Research Poll from September 2017, which found that 40 percent of African-American voters considered their political views "moderate," while 30 percent leaned conservative and only 28 percent leaned liberal.