Fox News Host Sean Hannity Reacts to Michael Flynn Sentencing Memo by Calling for Hillary Clinton to Face Justice
Fox News host, and informal adviser to President Donald Trump, Sean Hannity, took to air Tuesday evening just minutes after special counsel Robert Mueller dropped a sentencing memo for former national security adviser Michael Flynn.
Predictably, Hannity did not explore the minutiae of the memo and its possible legal consequences for President Trump as part of the ongoing investigation into Russian interference in the 2016 election and possible collusion with the Trump Campaign. Instead, Hannity called for Trump's 2016 opponent, Hillary Clinton, and the man the president fired to create a special counsel investigation in the first place, former FBI Director James Comey, to face justice.
"This is a disgrace, and this is what we've been telling you. This is a glaring example of a two-tier justice system in America," Hannity said in his opening monologue after lamenting the alleged hardships Flynn has suffered over the previous year. Flynn pleaded guilty to lying to the FBI about his contacts with Russian officials while a member of the Trump transition team. In the memo, the Mueller team recommended that Flynn face no prison time because of his "substantial assistance" to the investigation.
"Senior government leaders should be held to the highest standards," Hannity said quoting from the memo, before adding, "err can we start with Hillary Clinton and James Comey because we have a long list of Democrats and Trump haters who have lied under oath before Congress and have faced no consequences."
Hannity's claim that Clinton and Comey lied to investigators have been made similarly by Trump but have not been supported by facts. While Hannity was correct in stating that former CIA Director John Brennan lied to Congress over surveillance, many of the other claims the Fox News host made were baseless.
Still Hannity concluded by asking: "Where are the federal cases against any of these people?"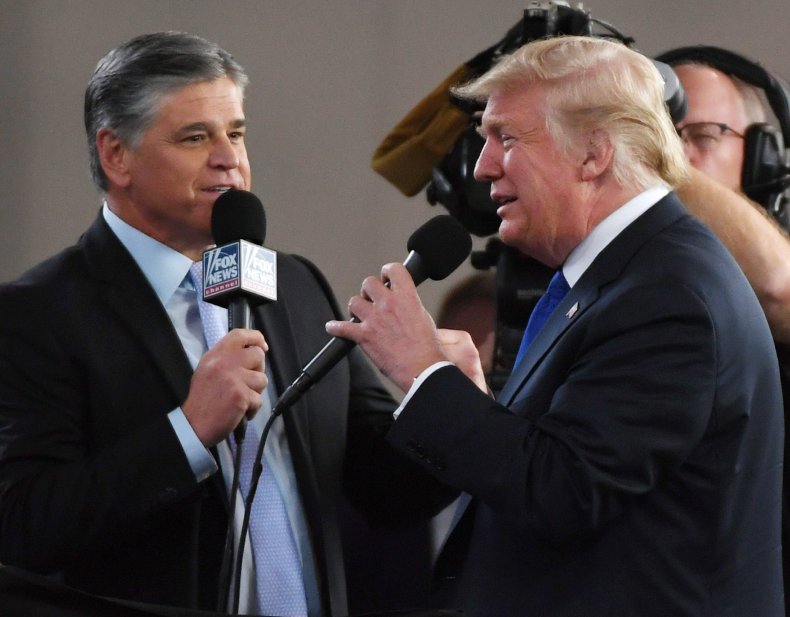 Trump has repeatedly sought to lash out at the Mueller probe by angrily questioning why his political rivals and critics have not been investigated and even imprisoned, despite failing to provide evidence that there are any crimes to bring them to justice over.
As well as regularly tuning in to his nightly Fox News show, Trump reportedly speaks to Hannity on a daily basis. Indeed, the pair's relationship is so close that Hannity has been labeled by some White House aides as the "unofficial chief of staff," according to The Washington Post.
Ahead of last month's midterm elections, Hannity, along with fellow Fox News host Jeanine Pirro, even appeared on stage with Trump during a campaign rally. Fox News, which had insisted beforehand that Hannity would not be a part of the rally, later handed their top-rated host a slap on the wrist.