Fox News Show Erupts After Juan Williams Appears to Accuse Gutfeld of Regurgitating GOP Talking Points
A Fox News segment on Wednesday descended into chaos after host Juan Williams appeared to accuse his colleague Greg Gutfeld of peddling Republican talking points during his defense of President Donald Trump.
House Speaker Nancy Pelosi on Tuesday announced a formal impeachment inquiry into Trump after the president was alleged to have pressured the newly-elected Ukrainian president, Volodymyr Zelensky, to investigate his 2020 political rival former Vice President Joe Biden's son, Hunter Biden.
The White House earlier on Wednesday released a transcript of a phone call between Trump and Zelensky, which proved that the U.S. president had asked his Ukrainian counterpart to investigate Biden's family.
During discussions about whether Trump committed an impeachable offense on Fox News' The Five on Wednesday, Gutfeld argued that it's the president's "job" to ask about corruption. "It's the media vs. you. And they hate you," he said to viewers.
Williams appeared to call Gutfeld out for peddling GOP talking points.
"Today apparently the White House talking points got leaked to Democrats," he said, in reference to an incident where the Trump administration accidentally emailed their talking points to Democrats in Congress. "Just listening here, boy, those talking points, they have made the rounds because the reality is..."
"What does that mean?" Gutfeld interrupted loudly. "Whoa, whoa, whoa. What does that mean!? Are you saying I got talking points, Juan? You've got to answer! You've got to answer to the accusation!"
"I'm saying they're all around," Williams said.
"You had the whole day to talk!" Gutfeld continued. "Let's get Katie in, at least she has something to say that's original. Unbelievable."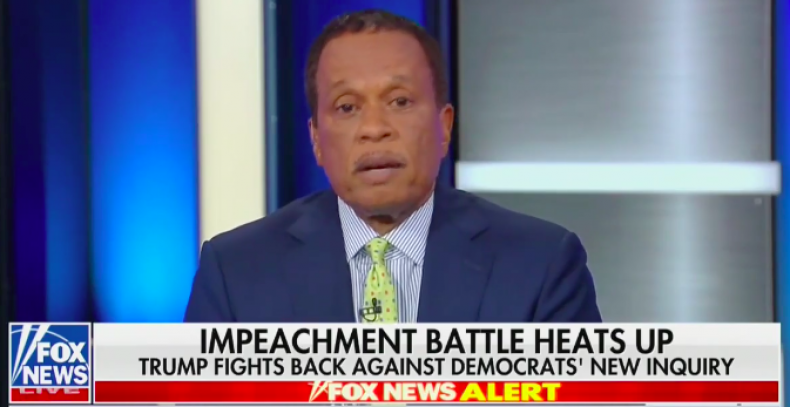 Gutfeld was referring to conservative commentator Katie Pavlich, who argued that Trump's actions are not much different to when Democrats in the Senate urged Ukraine to cooperate with former special counsel Robert Mueller's Russia probe.
"Asking a foreign government to investigate a political rival is illegal. It's a violation of the Constitution," Williams said, in an attempt to steer the conversation back on track.
"Did you get that from Media Matters, Juan?!" Gutfeld said. Media Matters is a nonprofit American progressive media watchdog organization.
"The president should protect and defend the Constitution of the United States," Williams continued, "Can I..."
"No you can't because you accused us of reading talking points," Gutfeld shot back.
"Judge Napolitano, who's our senior analyst, he says you don't need a quid pro quo, you just need a foreign government to..." Williams continued again, ignoring Gutfeld.
"Did you get Napolitano's talking points? Huh Juan?" host Jesse Watters interrupted.