Fox News Texts, Emails 'Nightmare Fuel' for Lawyers: Legal Expert
According to multiple legal experts who spoke to Newsweek on Friday, "there is a very good chance" that Dominion Voting Systems met the high bar of proving actual malice against Fox News as part of a $1.6 billion defamation lawsuit.
Court filings in the lawsuit against the conservative network allege that multiple on-air editorial talent, executives, and Executive Chairman Rupert Murdoch were very skeptical about former President Donald Trump and his allies peddling 2020 election lies and conspiracies.
The redacted summary from a judgment brief filed on Thursday by attorneys for Dominion Voting Systems revealed alleged statements from Murdoch, Tucker Carlson, Laura Ingraham, and others casting doubt on election-based statements espoused on their very network.
"The text messages and emails that are being widely quoted—they are absolute nightmare fuel for a media defense lawyer," tweeted Jeff Kosseff on Friday. "I shouldn't have read this brief right before bed."
Kosseff, a lawyer and associate professor of cybersecurity law at the United States Naval Academy, also tweeted that "it can be a real problem if discovery in a standard defamation case reveals emails from an editor or producer asking for more substantiation or raising other concerns."
This...is a whole other level," he added.
Kosseff told Newsweek on Friday that in general it's very hard to show actual malice as a plaintiff in a defamation case. Prior to academia, he said it was quite difficult to come up with realistic hypothetical scenarios because courts have set the bar so high.
"This is actually real and it's not what you want as a defense lawyer to show there was not actual malice because there's so many instances of people saying some pretty damning things," he said.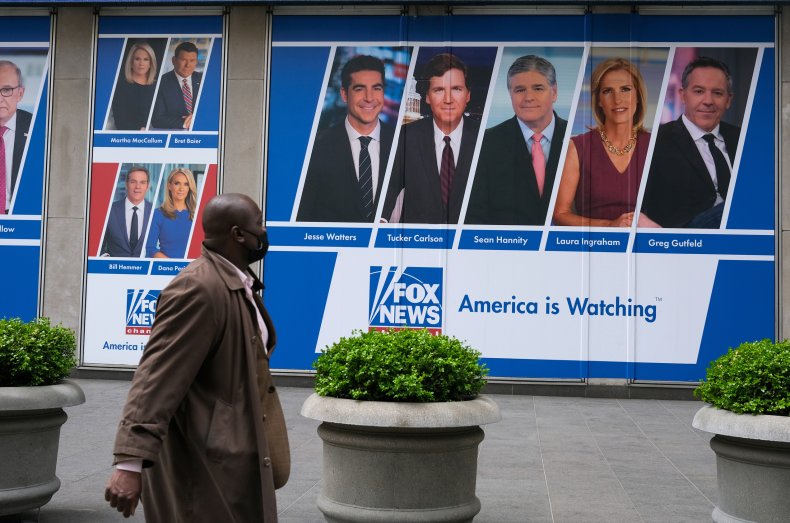 When asked if there are specifically damning statements, Kosseff said it's the totality of them mentioned in the brief—including "the barrage of text messages"—that come from high-level talent.
"It definitely makes it much tougher for the defense," he said, unsure if the case will go to trial, lead to a settlement or summary judgment.
Newsweek reached out to Dominion for comment.
'GOP conspiracy theorists in her ear'
One excerpt from the filing includes Carlson telling a producer on November 16, 2020, that Trump attorney "Sidney Powell is lying" in regard to supposed election fraud.
He also called her "dangerous as hell" in a text.
In addition, Ingraham called Powell "a complete nut," saying that "no one will work with her. Ditto with Rudy," in reference to Trump attorney Rudy Giuliani.
Other excerpts claimed that host Maria Bartiromo "was saying crazy s*** online" and "has GOP conspiracy theorists in her ear."
In a statement provided to Newsweek on Friday by Fox, the company said Dominion's motion for summary judgment "takes an extreme and unsupported view of defamation law and rests on an accounting of the facts that has no basis in the record."
The company said that Dominion refused to agree to allow Fox to make its response to that motion public until February 27.
It also accused Dominion of mischaracterizing the record and using "cherry-picked quotes stripped of key context." The facts in the brief "are irrelevant under black-letter principles of defamation law," Fox added.
"There will be a lot of noise and confusion generated by Dominion and their opportunistic private equity owners, but the core of this case remains about freedom of the press and freedom of speech, which are fundamental rights afforded by the Constitution and protected by New York Times v. Sullivan," the official statement reads.
'Jaw-dropping' evidence of defamation
"This smoking gun evidence, it doesn't get better than this," former federal prosecutor Neama Rahmani told Newsweek on Friday.
While it's hard to get inside someone's head to prove intent, he said texts and email communication "shows actual knowledge of the falsity of the statements" made by corporate defendants that include managers, hosts, and high-level executives—and that claims continued to air on TV even while they allegedly knew it was false and that "the election isn't rigged."
Rahmani said the legal definition of defamation has changed in the law, with a recent high-profile case involving actor Johnny Depp and his ex-wife Amber Heard.
The former federal prosecutor "can easily" see this going to trial, he said, adding that it offers liberals the opportunity to be aggressive as it pertains to Fox News.
"I think judges, juries and the American public are more receptive to these types of things," Rahmani said. "A lot of First Amendment things have been chipped way, ironically by conservatives and the Supreme Court....This is the type of case that may be about more than money."
Meanwhile, New York-based attorney Andrew Lieb called the case "jaw dropping."
"It's wild how intentionally misleading Fox News was to its viewers about Dominion with knowingly false claims of vote rigging," Lieb told Newsweek on Friday. "Stated otherwise, Dominion's application to the court to win as a matter of law claims with evidence that Fox knew that their statements were false; they published them anyway; and that they did it in a way that caused tremendous harm to Dominion."
He added: "I can only say that, on this evidence alone, unless there is something out there that changes the facts, Fox is going to lose this case and the only question remaining is going to be how much Dominion will be awarded in damages."