Fox News' Tucker Carlson Calls Stanford Professor Pamela Karlan a 'Moron,' Says She Needs a 'Shrink'
Fox News pundit Tucker Carlson called Stanford University law professor Pamela S. Karlan a "moron" Wednesday night, after the legal expert testified in the House Judiciary Committee impeachment inquiry against President Donald Trump.
Carlson said Karlan "needs a shrink" on the Wednesday edition of Tucker Carlson Tonight in response to the constitutional law expert's testimony earlier in the day, where she argued in support of the constitutional basis for Trump's impeachment and claimed that the founders of the United States would be "horrified" by Trump's alleged "quid pro quo" scheme.
As a graphic on the screen read "Karlan Has Long Been Biased & 'Woke,'" Carlson complained about the content of Karlan's testimony, taking aim at her "bizarre" use of an analogy to explain the claims against Trump.
"She made it very clear that she was incapable of clear thinking or wise judgements," said Carlson. "Instead she made bizarre claims. She claimed that delaying military aid to Ukraine was just like cutting off rescue services to Americans after a hurricane. What? It's just insane. And dumb, by the way."
Carlson was referencing Karlan's use of a hypothetical disaster occurring in a U.S. state in order to illustrate why Trump allegedly withholding aid in exchange for attacks on political opponents is an abuse of office.
"What would you think if you lived there, and your governor asked for a meeting with the president to discuss getting disaster aid that Congress has provided for? What would you think if that president said, 'I would like you to do us a favor? I'll meet with you, and send the disaster relief, once you brand my opponent a criminal,'" said Karlan in her testimony.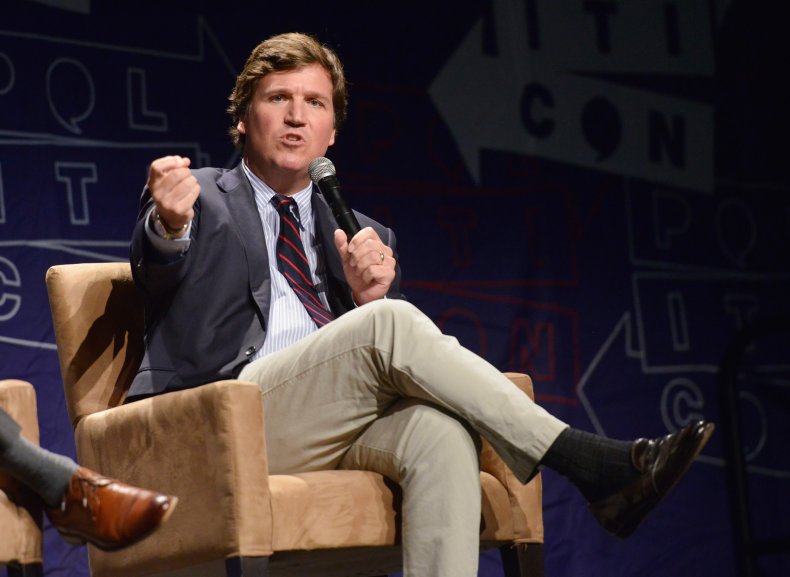 In the most heated part of the segment, Carlson took issue at a 13-year-old video clip of the professor speaking about how minorities should take back "the high ground on patriotism."
"We have to seize back the high ground on patriotism and on love of our country, because we have more reason than they do to love America," said Karlan at the 2006 American Constitution Society National Convention. "The rich, pampered, prodigal, sanctimonious, incurious, white, straight sons of the powerful do pretty well everywhere in the world, and they always have."
After the clip aired, Carlson exploded in a rant that seemed to be based on the idea that Karlan's position as a Stanford law professor makes her more powerful than the hypothetical men she referenced in the speech.
"This lady needs a shrink," said Carlson. "The sons of the powerful? Really? You're a law professor at Stanford and you're lecturing other people how they are powerful? Right."
"This is the legendary scholar coming down from on high to tell us who is good and who is evil," he continued. "Please. What a mediocrity, what a moron."
The pundit also accused the legal expert of "ridiculing" the president's young son Barron Trump, due to Karlan using his name to explain the difference between a president and a king in her testimony, saying that "while the president can name his son Barron, he can't make him a baron." The mention of Trump's son sparked outrage among Republicans and Karlan later apologized for the remark.
Newsweek reached out to Karlan for comment but did not receive a response in time for publication.