Fox News anchor Tucker Carlson has issued another broadside against the chairman of joint chiefs, Gen. Mark Milley, as the debate surrounding Critical Race Theory seeps into the military.
Carlson had criticized Milley for House Armed Services Committee testimony in which he defended reading about the theory which outlines how race and racism intersect with politics, culture, and law.
He said it was key for U.S. military members to be "open-minded" and "widely read." Milley also said he wanted to find out what caused "thousands of people to assault this building and try to overturn the constitution of the United States of America," referring to the U.S. Capitol riots.
"I want to understand white rage," Milley added in the testimony that was widely viewed online.
But in a segment on Thursday, the Fox anchor appeared to take exception to the general's evidence in the hearing, saying that Milley was "not just a pig, he's stupid."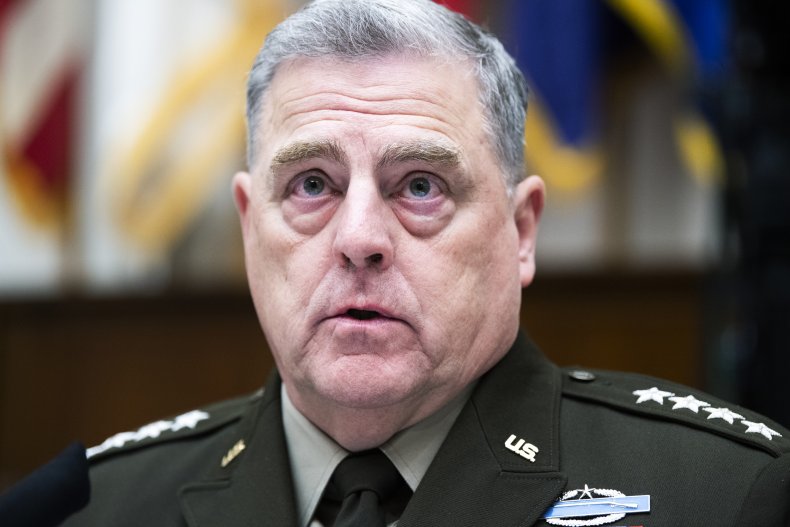 Carlson's comments were criticized by CNN host Brianna Keilar who referred to Milley's 10 stripes on his sleeve, each of which represented five years, which she said was "more time than Tucker Carlson spent at his probably third-choice boarding school."
But in his show on Friday, Carlson doubled down on his condemnation of Milley, a four-star general who has served in the U.S. Army since 1980.
"Let's be really clear, white rage is not a medical condition, it's not even a legitimate academic theory, it doesn't exist," Carlson said, "white rage is a racial attack, it's an attack against people on the basis of their skin color.
"So here you have the chairman of the joint chiefs of staff, in a congressional hearing, leveling a race attack against American citizens. The guy is supposed to be protecting our country."
The Tucker Carlson Tonight host said Milley's comments were "disgraceful" as well as "disqualifying," adding "we shouldn't have a chairman of the joint chiefs of staff who attacks Americans based on their skin color, it's disgusting."
Carlson is stepping up his criticism of Critical Race Theory, which has been used as a key issue among some Republicans and other critics who claim that it promotes divisions between ethnic groups.
In a speech in California this week, former Vice President Mike Pence called the theory "state-sponsored and state-sanctioned racism" and appealed to the GOP to ensure that it is "expelled from our schools, our military, and our public institutions."
Newsweek has contacted the Department of Defense for comment.
Update, 6,26/21 10.15 a.m. ET: This article has been updated to correct spelling of Milley in the fifth paragraph.