Fox News Host Suggests Race War in America Could Be Coming After Brett Kavanaugh Hearing
Fox News host Tucker Carlson said Friday that there was a danger of a racial conflict in America emerging following what he observed from a hearing the previous day into sexual assault allegations against Supreme Court nominee Brett Kavanaugh.
According to Carlson, the reaction to Kavanaugh, who has been accused of sexual misconduct by three women, demonstrated "the left's war on old white men." Carlson ran a whole segment on his show devoted to race, with one of the chyrons on-screen reading: "Left makes Kavanaugh hearing about race." He also called out cable news networks CNN and MSNBC for what he claimed was the media's "race obsession."
Carlson began by playing a selection of comments from guests on cable news shows referencing the fact that all 11 of the Republican members of the Senate Judiciary Committee are white men. At Thursday's hearing, the Republicans sidestepped the chance to question Kavanaugh's accuser, Christine Blasey Ford, instead allowing prosecutor Rachel Mitchell to probe the California professor's claims that Kavanaugh sexually assaulted her at a high school party in 1982.
But Republicans began speaking for themselves after Kavanaugh followed Ford into the Committee room and delivered a fiery rebuke of the allegations and against what he suggested was a liberal conspiracy against him.
Senator Lindsey Graham was similarly rage-fueled as he assailed Democrats, beginning by saying: "I know I'm a single white male from South Carolina and I've been told to shut up, but I will not shut up."
It is not clear what Graham was referring to. A week earlier, Democratic Senator Mazie Hirono, who sits alongside Graham on the Senate Judiciary Committee, had delivered a message to men. "And I just want to say to the men in this country: Just shut up and step up. Do the right thing for a change," she said. However, she made no mention of race.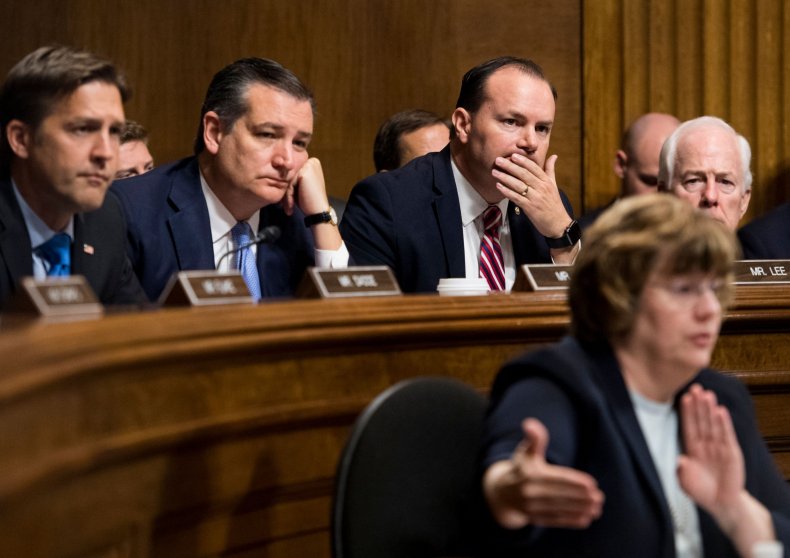 "What the hell does race have to do with it?" Carlson asked one of his guests during the segment, civil rights attorney and Republican Party official Harmeet Dhillon.
Carlson then went on to suggest that a race war could arrive in the United States.
"Are you worried that if dumb people like [CNN senior political analyst] David Gergen or the rest at CNN keep up with the race hatred that that will actually encourage some kind of conflict? You see this in a lot of different countries. We really don't want it here. But could we get there if they don't stop?" he asked Dhillon.
Dhillon responded by claiming that "we have it, we have it, Tucker."
"I hate that," Carlson replied.
Dhillon then claimed that there were places on the campus of the University of California, Berkley, where whites are not supposed to go. There is no evidence to support this claim, only reports in 2016 of protesters at the university calling for "spaces of color" on campus.
Still, Carlson allowed Dhillon to continue.
"I mean that is apartheid," she said. "It's apartheid on our college campuses. It's outrageous. But on a higher level, stepping back from the cultural disintegration of the phenomenon, the Democrats are seizing on any kind of club that they have handy. So if you have a white man in front of you let's beat up on him for being a white man."