Fox News' Tucker Carlson Accused of Being 'Russian Stooge' for Questioning Assad Role in Syria Gas Attack
Fox News' Tucker Carlson, whose rhetoric about the conflict in Syria has mirrored certain aspects of what has been said on neo-Nazi and white nationalist conspiracy websites, is now taking heat from other conservatives over his views.
Carlson, who reaches millions of viewers every night with his show, and has also found at least a modicum of common ground with some left-leaning antiwar pundits, was accused of misleading his audience by conservative writer Noah Rothman in the Commentary Magazine editorial, "Inception of a Russian Stooge."
Related: Syria Gas Attack Conspiracies Fueled by Tucker Carlson and Far-Right Fringe
The editorial was written in response to a segment the Fox News host ran on Monday wherein he spoke critically of Assad, but also accused those who have tied the attack to him for building their case without evidence.
"We should be skeptical of this, starting with the poison gas attack itself," Carlson said then.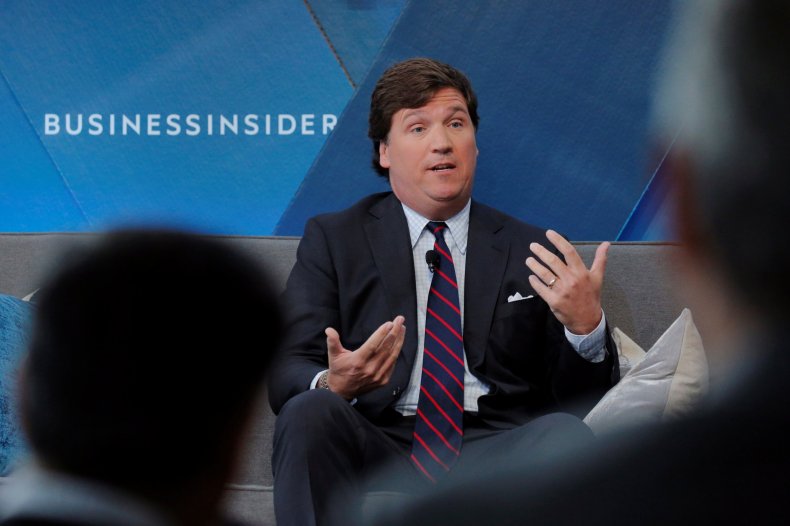 Carlson had Rothman on his show and their heated exchange was reminiscent of some of the clashes that took place between Trump, his base, and the neoconservative wing of the Republican Party during the 2016 campaign.
"Whether you know it or not, you are advancing pro-Assad narratives and you should check out Iran TV, PressTV, and the Kremlin-funded network RT to see the favorable coverage you are receiving," Rothman argued to Carlson, who on Monday accused those blaming Assad for Syrian chemical weapons attacks of "making it up."
Carlson, who has earned a reputation for being extremely aggressive with his guests, took a condescending tone with Rothman.
"I don't want to be mean to you and I know you're new at this," he said, before arguing, misleadingly, that Secretary of Defense James Mattis shared his skepticism about the origins of apparent Syrian chemical attacks.
Carlson's embrace of pro-Trump populism has won him fans on the conspiracy-addled far right. The neo-Nazi trolling website Daily Stormer, which has promoted a number of demonstrably false conspiracies about Jewish people, posted a link to the clip under the headline, "Tucker GASSES Lying Journalist Calling Him a Russian Puppet with a REPURPOSED SOVIET ENGINE."
The anti-Semitic website also referred to Carlson as, "The man who will be President one day."