France vs. Uruguay: Expert Predictions, Betting Odds, Preview for World Cup Quarterfinal Match
After a thrilling Round of 16, just eight teams remain now in the 2018 World Cup. The pressure is only going to grow for the squads that are left.
A matchup of France vs. Uruguay is set to kick off the quarterfinal round of play on Friday. The match is scheduled to begin at 10 a.m. ET.
Both squads are immensely talented and seem up to the task of performing on the world's biggest stage. France's Kylian Mbappé has burst onto the world scene. At just 19, he's played wonderfully and sparked the imagination of soccer fans picturing what lies ahead for his career. In the Round of 16, Mbappé scored twice to lead France to a 4-3 victory over the Lionel Messi-led Argentina. He's garnered comparisons to both Messi and Portugal's Cristiano Ronaldo—two of the best to ever play—as well as other greats.
"He has qualities similar to Ronaldo, the Brazilian, but he's also something different," teammate Raphael Varane said after France topped Argentina, according to ESPN. "He likes dribbling, he's learning and we're happy to have a player like him."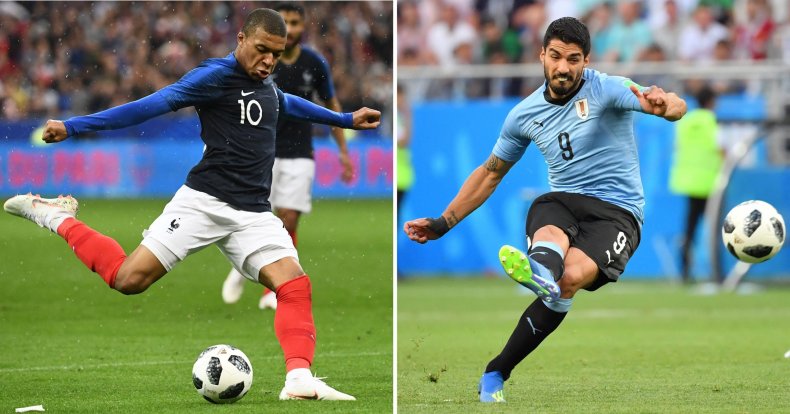 Uruguay, meanwhile, has been led by forwards Luis Suarez and Edinson Cavani, both of whom are deadly finishers—and they've also played stellar defense. France's keeper said they'll have to also play well at the back in order to win on Friday.
"It's a game that is going to be settled on the small details," Hugo Lloris said in a press conference, via Reuters. "We cannot afford to give away cheap corners or free kicks or anything that close to our penalty box because they are so dangerous there."
He added, "France will have to be at its best, we know that in the end there is little to choose between these two teams. It's going to be a very different match to the one you saw against Argentina."
France is considered one of the top remaining sides in the World Cup, with only Brazil having shorter odds to win the whole thing. It makes sense, then, that they're considered the favorites against Uruguay. Odds Shark pegged their money-line odds in the match at -105 while it had Uruguay at +333.
Experts seemed to think France would come out on top as well. BBC Sports' Mark Lawrenson predicted they would win by a score of 1-0. The model from data-centric website FiveThirtyEight gave France a 62 percent chance of winning ahead of the match, while it gave Uruguay a 38 percent chance of pulling off the upset. Sports Illustrated's Planet Fútbol predicted a convincing 3-1 win for France. The Telegraph, however, went against the prevailing thought and predicted a 1-0 win for Uruguay.