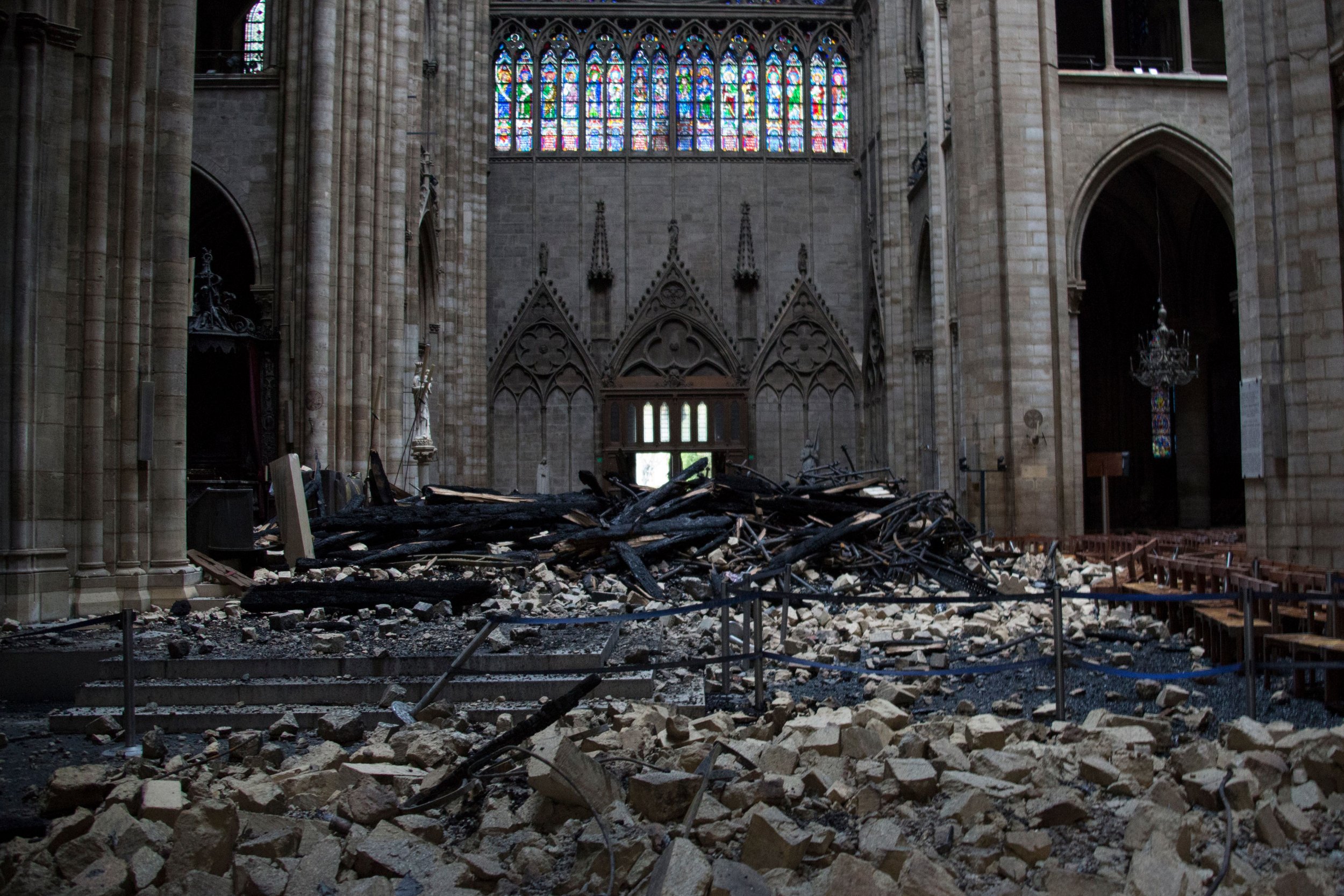 French authorities on Thursday said the tragic Notre Dame Cathedral fire was "likely caused" by an electrical short circuit after investigators spent days rigorously probing the origins of the blaze, which resulted in the collapse of the historic building's main spire and roof.
Due to ongoing safety concerns, Paris investigators made the determination based on an initial assessment of the structure done on Wednesday, a judicial police official told the Associated Press. The official asked not to be named because he isn't authorized to comment on an ongoing investigation.
At around 6.50 p.m. local time on Monday, minutes after the 850-year-old cathedral closed to the general public, a fire broke out inside, according to the Paris fire department. "Everything is burning, nothing will remain from the frame," Notre Dame spokesperson Andre Finot said at the time, as roughly 400 firefighters fought to control the flames.
Later that evening, officials confirmed that the landmark's two main towers and much of the invaluable artwork stored inside the building had been salvaged, although it would still take firefighters another three to four hours to completely extinguish the blaze. The welcome news came after a French Interior Ministry official warned citizens earlier in the day that emergency responders might not be able to save the building.
After interviewing roughly 40 cathedral employees and renovation workers, the Paris prosecutor's office believes that the fire was accidental, although it noted that its conclusion may change as more of the church opens to investigators.
"All leads must be explored," the police official told AP.
French President Emmanuel Macron on Thursday thanked the numerous firefighters who risked their lives to contain the blaze at a ceremony held at the Élysée Palace. "We've seen before our eyes the right things perfectly organized in a few moments, with responsibility, courage, solidarity and a meticulous organization," he said. "The worst has been avoided."
Two days earlier, Macron had vowed to rebuild the landmark and expressed his hope the task could be achieved within the next five years to coincide with the 2024 Summer Olympics. "We will rebuild Notre Dame Cathedral. We will make it even more beautiful than before," Macron said. "I want to accomplish this reconstruction within the next five years."
He added: "We will mobilize ourselves for this experience. After the trial, we have to think and then take action. I really believe that it is our duty to turn this catastrophe into a coming together [experience].... We will act, and we will succeed."
On Tuesday, U.S. White House press secretary Sarah Huckabee Sanders said, "The cathedral has served as a spiritual home for almost a millennium, and we are saddened to witness the damage to this architectural masterpiece. Notre Dame will continue to serve as a symbol of France, including its freedom of religion and democracy."