Frank James, Suspected Subway Shooter, Will Get Psych 'Attention': Judge
Frank James, the suspect in Tuesday's New York City subway shooting in Brooklyn, will be held in jail without bail.
A judge also said that she would ask the Federal Bureau of Prisons to give James "psychiatric attention," the Associated Press reported.
James made his first appearance in federal court on Thursday after authorities arrested him Wednesday afternoon following a manhunt that lasted more than 24 hours, according to NBC.
James is accused of setting off smoke bombs and opening fire in a train full of commuters during rush hour Tuesday morning, ultimately shooting 10 people. All are expected to survive.
James was charged with a federal terrorism offense that applies to an attack on a mass transit system. Authorities said no evidence shows that he has any ties to terror groups, the Associated Press reported.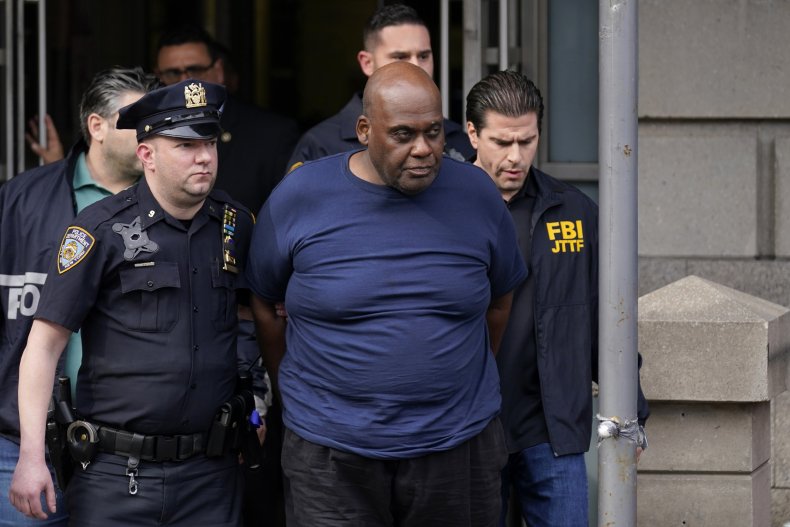 Since James was named a person of interest in the case and later a suspect, disturbing information about him has emerged.
James ran a YouTube channel, which since has been taken down, and made threats and derogatory statements against various racial groups in several videos. In a video uploaded on April 11, the day before the subway attack, he said he has wanted to watch people die.
During Thursday's federal court proceeding in Brooklyn, Assistant U.S. Attorney Sara Winik said that James "terrifyingly opened fire on passengers on a crowded subway train, interrupting their morning commute in a way the city hasn't seen in more than 20 years," according to AP.
"The defendant's attack was premeditated, was carefully planned, and it caused terror among the victims and our entire city," Winik added.
During the court appearance, James spoke only to respond to standard questions with "yes," NBC reported.
The U.S. Attorney's Office for the Eastern District of New York sent a memo to U.S. Magistrate Judge Roanne Mann ahead of the court proceeding on Thursday saying that James' alleged attack "was entirely premeditated."
The memo said that James drove to Pennsylvania the day before the shooting to pick up a U-Haul, then drove it to Brooklyn in the early morning hours of April 12. He came to Brooklyn with "all of the weapons and tools he needed to carry out the mass attack," the memo said.
That included a Glock 17 pistol that he purchased, a container of gasoline, a torch and fireworks with explosive powder, the memo said.
It added that law enforcement officers recovered a "stockpile" of weapons and ammunition from other locations controlled by James.
"The defendant presents a severe and ongoing danger to the community, as well as a serious risk of flight, that no set of release conditions can mitigate," the memo read. "For these reasons, including the legal presumption that there is no set of conditions that will reasonably assure the defendant's appearance or the safety of the community, the government respectfully submits that the Court should enter a permanent order of detention pending trial."
Newsweek reached out to James' lawyer for comment.
Update 4/14/22, 2:52 p.m. ET: This story was updated with additional information and background.