Fraternal Order of Police President Calls Out Right and Left Over 1/6 Riots: 'We're Just Cops'
Patrick Yoes, the president of the National Fraternal Order of Police (FOP) released a heated statement Wednesday calling out a Newsmax host for his political comments about injured Capitol police officer Mike Fanone.
"The fact is that we're just cops," Yoes wrote.
Fanone, who was beaten and injured by insurrectionists on January 6, and later suffered a heart attack, has recently been a target of far-right Newsmax host, Greg Kelly, who called him a "drama queen of a cop" and the "spokesman for January 6 hysteria" in a segment this week where he seemed to generally attempt to discredit the seriousness of Fanone's experience.
"I was sickened and disgusted by the recent attacks on cops staged by Greg Kelly," Yoes wrote in his statement, lamenting that Kelly undermined the officer's experience by "suggest[ing] that Officer Fanone responded to a full-blown attack on the U.S. Capitol and Members of Congress and then allowed himself to be viciously beaten and repeatedly tasered by a violent mob, in order to trigger a heart attack...so he could ...give Democrats a political talking point."
Yoes disagreed with Kelly's further suggestions via tweet that rioters may have thought he was part of Antifa since he was in riot gear, and that might justify their violent attacks on him.
"Meanwhile, the right is accusing us of being Antifa or traitors to our nation because our officers did not step aside and allow for the occupation of the U.S. Capitol and leave Members of Congress and their staff to the mercy of a violent mob," Yoes wrote. "The fact is that we're just cops."
However, Yoes also had harsh words for "the political left," citing the organization's endorsement of former President Donald Trump. He said the left used the endorsement to imply "that we are now willing to ignore the violence, the injuries to our officers—including the deaths of four officers connected to the events of January 6th—and the widespread, despicable, criminal activity to advance a right-wing political agenda."
"Despite this unfair and untrue criticism, our members put on their uniform every day in every community in our country because of their unwavering commitment to serve the public—service they perform because of their sense of duty and dedication, not political affiliation," he added.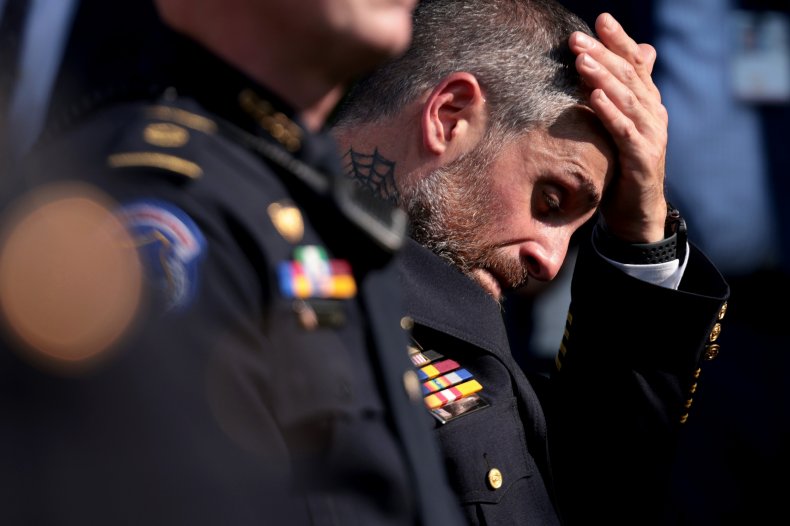 Fanone told CNN's Don Lemon in April, "I experienced the most brutal, savage hand-to-hand combat of my entire life."
"Let alone my policing career, which spans almost two decades. It was nothing that I had ever thought would be a part of my law enforcement career, nor was I prepared to experience," Fanone continued.
Additional police injuries during the Capitol Riots include a broken spine, brain damage, a lost eye, lost finger and multiple cases of Post Traumatic Stress Disorder. Multiple Capitol Police officers have committed suicide since January 6.
"The left and right would have you believe that the events of January 6th were a battle between the forces of good and evil," Yoes wrote, in what seemed to be an attempt to draw attention away from the political motivations behind that day.
"We reported for work that day and were confronted with rioters who planned for and intended to attack people inside the U.S. Capitol...The officers on that day did what they had to do to protect the Capitol and its occupants," Yoe said.
Newsweek reached out to Kelly for comment.