'Freak Storm' Headed for Texas Could Dump Entire Season of Snow Overnight
The Texas panhandle could see an entire season's worth of snow starting on Thanksgiving and continuing into Friday as a southeastward-bound storm progresses from the Pacific Northwest.
Northern Texas averages 17 inches of snow throughout the winter season, according to the National Weather Service. Excessive bouts of snow have already hit the northeastern part of the country last week, and another large accumulation of snow is set for Texas beginning on Thanksgiving and continuing overnight into Friday.
One forecast model shows the storm dumping as much as 24 inches of snow on Amarillo and 12 to 18 inches in the surrounding areas. Meteorologists expect the storm to impede Thanksgiving travel for a day or two after the holiday.
AccuWeather Senior Meteorologist Joe Lundberg told Newsweek that the massive snowfall by Texas standards is "unusual". However, the season's average snowfall usually accumulates in one storm at any time during the winter season. The earliest accumulated snowfall has been documented as early as late September and as late as early May in the Texas panhandle, but the typical season for potential snowfall is November to March, according to the National Weather Service.
"It's one freak storm and it happens, they don't get 1 or 2 inches here or there," he said.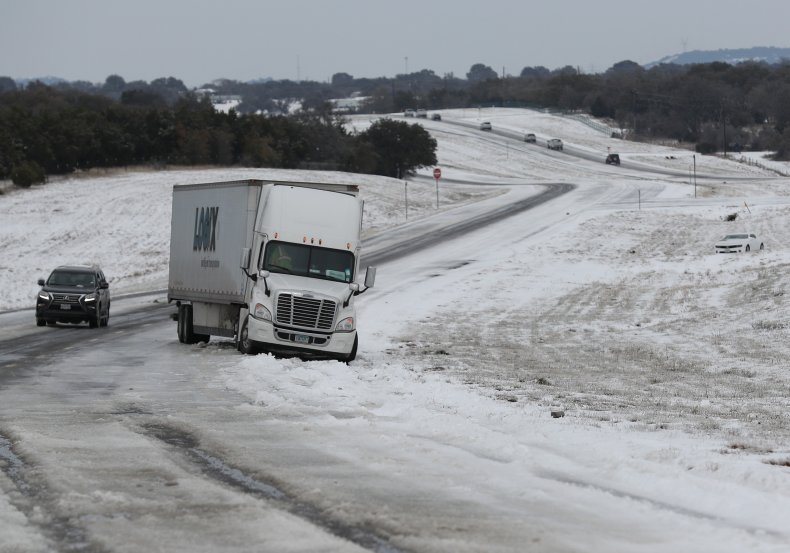 The incoming storm has the potential to cover the Texas panhandle in snow as temperatures drop just enough to freeze the precipitation. Further southeastern communities, like Dallas, will be warm enough that rain doesn't freeze.
Despite the potential snowfall, Lundberg said it's "nothing like we saw" during February 2021 when the Lone Star State suffered a major power outage after three severe storms caused an infrastructure failure that led to a shortage of food, water and energy, killing hundreds. The upcoming storm will be localized in the Texas panhandle.
However, Lundberg suggests Thanksgiving travelers delay, if possible, their trip home if driving until Saturday afternoon or evening.
Lundberg expects the local street departments to be adequately prepared to handle the storm. But if they struggle to clear the snowfall, it should melt over the weekend as temperatures return to above freezing.
"They do get these storms, but they don't get them often," he said. "It could be a couple of days before everything is completely cleared off."
The Weather Channel meteorologist Alex Wallace tweeted a few forecast models predicting the path and severity of the storm on Tuesday morning.
"Potential for some big snow in the Panhandle of TX over the Thanksgiving holiday," Wallace tweeted. "For perspective, Amarillo averages about 17 inches of snow for the entire season. Could they see that in one event??? We'll be tracking it on the @weatherchannel."