Texas Snow Pictures and Videos Show State Hit by Unprecedented Winter Storm
Texans have flooded social media with pictures and videos of heavy snowfall after the state was hit by an unprecedented winter storm.
The storm ravaging Texas and other southern states has led to icy roads, traffic deaths, power outages, frozen pipes and circumstances most southerners have never seen in their lifetime.
Pictures and videos shared on Twitter show cities like Houston, Austin, Dallas, San Antonio, El Paso and Del Rio covered in a blanket of snow. Some even joked that they moved to Texas to avoid this kind of winter weather while others shared memes to poke fun at the hysteria surrounding the rarely-seen weather in the state.
It comes after President Joe Biden approved Texas Governor Greg Abbott's request for a disaster declaration in the state.
Temperatures began dropping on Thursday and have continued falling over the last three days. The heavy sleet and snow started Sunday and has been getting heavier throughout the night as the storm intensifies and moves north and east toward Oklahoma, Arkansas, Louisiana and then the other neighboring states.
The state has already seen wintry conditions this year but none of the preceding winter storms brought cold air, snow and ice of this magnitude, according to AccuWeather.
The forecaster has described the storm as a "once in a generation" event, adding that many Southern cities, not accustomed to such conditions, will lie within the storm's bull's-eye and face some of its worst impacts through Monday.
The bitterly cold temperatures are also expected to last, meaning the snow and ice will not thaw for at least several days, the forecasters added.
As of early Monday morning, more than 163,000 customers were already without power in Texas, according to Poweroutage.us.
It comes after the governor issued a state of emergency ahead of the arrival of the storm. All 254 Texas counties under a winter storm warning for the first time ever, according to CBS.
Abbott said in a statement: "Every part of the state will face freezing conditions over the coming days, and I urge all Texans to remain vigilant against the extremely harsh weather that is coming.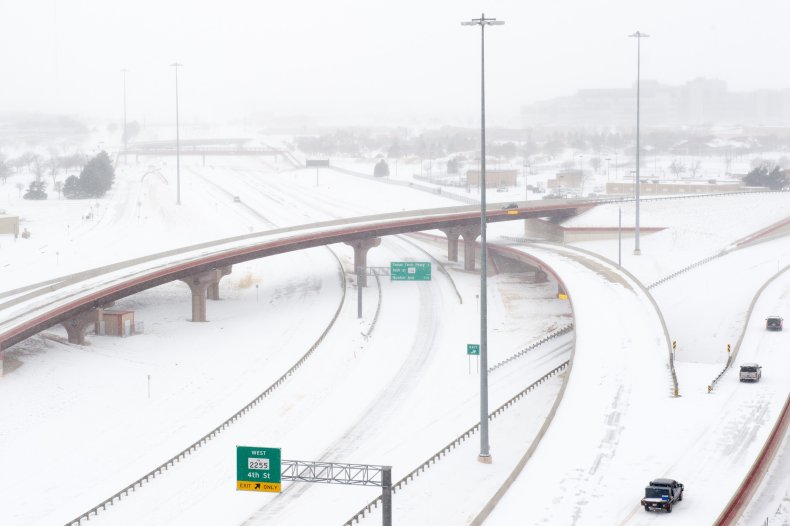 "Stay off the roads, take conscious steps to conserve energy, and avoid dangerous practices like bringing generators indoors or heating homes with ovens or stovetops."
He also requested a federal emergency declaration from the White House in order to make additional resources available for communities impacted by this weather event.
Texas Republican senators Ted Cruz and John Cornyn then urged Biden to approve Abbott's request.
"It is our understanding that the State of Texas, through the Office of the Governor, has made a formal request for an emergency disaster declaration as a result of severe winter weather that began on February 11, 2021 and will continue throughout the entirety of the state for several days," Cornyn and Cruz wrote in a letter to Biden.
On Sunday night, not long after the Texas senators sent their letter, the White House responded.
"Today, President Joseph R. Biden, Jr. declared that an emergency exists in the State of Texas and ordered federal assistance to supplement state and local response efforts due to the emergency conditions resulting from a severe winter storm beginning on February 11, 2021, and continuing."
The White House went on to say that funding measures will include mass care and sheltering, and FEMA is authorized to use necessary equipment and resources to help ease the impacts of the winter weather emergency.