Man Finds Secret Rooms Behind His Bookshelf
Hidden rooms and creepy corridors may have been explored for the first time in decades in a video that has gone viral on TikTok.
The TikTok clips, some of which have been viewed more than 4.5 million times, see U.K.-based TikToker Freddy Goodall exploring the forgotten alcoves, accompanied only by his friend Matt.
The video series starts with the property developer, 23, removing books from shelves lining the wall of a large room, before unscrewing a hidden hatch behind them.
Peering into the gloom with the help of hand-held flashlights, Goodall is heard saying: "This looks creepy, but I think we are going to go down there."
In the first of the videos, Goodall, who Newsweek has contacted for comment, explained how he stumbled upon his discovery, thought to have taken place in the U.K county of Sussex.
He said: "My house was built about 500 years ago. A little while back we were clearing these bookshelves and I noticed the wall behind is actually hollow."
In an old photograph, Goodall spied a doorway in the library, which was added in the 19th century, but he could not find the same doorway in the modern-day room.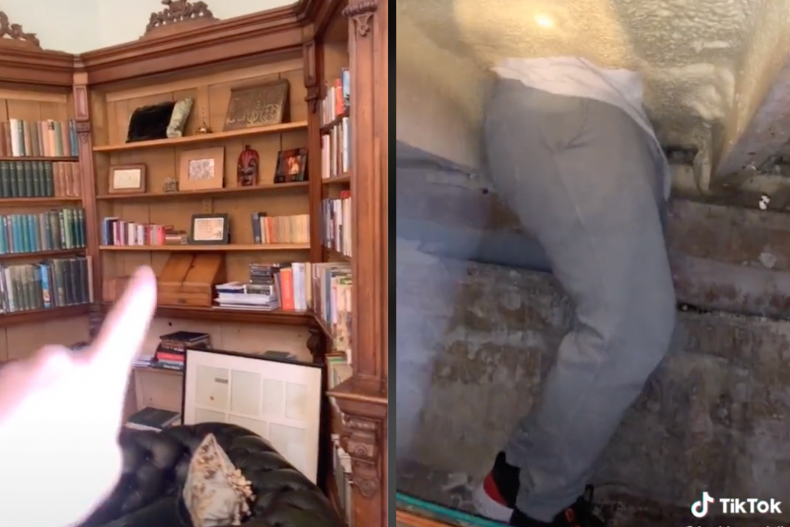 One intriguing clip of the strange underground site shows the discovery of a safe scrawled with Do Not Open in chalk on the side. Despite the warning, the two men attempt to crack open by drilling through the keyhole and the help of a blow torch.
He is seen eventually finding a ladder leading to another room and after ascending this he finds an even larger space empty except for cobwebs, dust and a wasp nest.
He later explores a long corridor ending with stairs leading up to a blocked exit.
Among other highlights was a brick wall with mysterious names and dates written in chalk and some dusty desks.
Among a pile of old books, described as looking "pretty destroyed," is a copy of Charles Dickens' David Copperfield.
Goodall then discovers what appears to be another room hidden behind a wall of dusty bricks, but the explorers are unable to investigate further due to the gap's small size.
He later says: "I have no idea where I am now."
The series of clips inspired thousands of comments on TikTok, with many views detailing how disturbed they were by the discovery.
User Alice write: "My claustrophobia is screaming," while Dilara Kiic agreed, posting: "How are you not scared of demons not jumping out at you! It looks like a sequel to [2014 horror movie] As Above So Below?"
The bizarre find is only the latest in series of hidden rooms unearthed and explored in a TikTok video.
A user discussed the discovery of a room hidden inside her home on TikTok in January, stating: "So this is when my husband and I found a room inside of our house."
The clip, which has been seen 2.9 million times, shows the demolished wall, leading into a dark windowless room inside the property.
And a couple in May publicized their shock upon discovering a secret windowless room in a house they bought over the internet, without viewing it in person beforehand.
User Sissyhankshaw is heard saying at one point: "We're finally entering our attic, or secret room."