As the news of pro player Ng "blitzchung" Wai Chung being banned by Activision Blizzard for pro-Hong Kong statements continues to send shockwaves through the web, other Hearthstone players are standing up to support the alleged offender. The Collegiate Hearthstone Championship is a weekly tournament in which teams of three players compete to earn scholarships and pride for their schools. In Tuesday's match between Worcester Poly and American University, AU players held up a sign saying "Free Hong Kong, Boycott Blizzard." The camera quickly panned away from the players and tried to move past the scene, but the internet rarely forgets.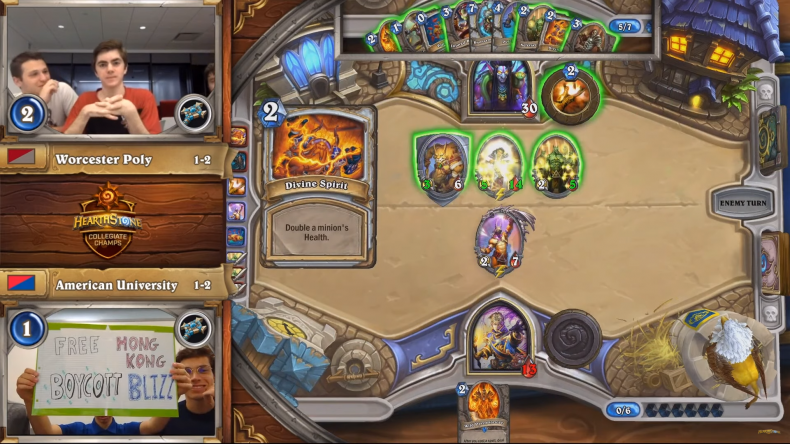 For the rest of the night's matches, no player interviews or webcams were shown on stream.
Casey Chambers, the American University student who held up the sign, has been vocal on Twitter about Blitzchung's ban and wrote that his team " discussed this in the afternoon and unanimously agreed to do it together."
"I can't imagine they'll let us continue after what they did to Blitzchung," Chambers wrote. "If they do, though, I'll raise holy hell cuz our statement was a million times more aggressive.
TESPA, the main esports collegiate governing body owned by Activision Blizzard, has chapters established at hundreds of colleges across the United States. Chambers mentions that his team is "expecting" AU to lose their TESPA spot after this recent show of support. The TESPA college chapters website does not seem to have AU listed anywhere on the current online directory, however, which could be a bug or an old edition.
Online support for the team has quickly taken off, with words of solidarity appearing all over Twitter and reddit. As #boycottBlizzard continues to grow on social media platforms, it's likely this incident won't be getting smaller anytime soon. It's unclear if future Blizzard Hearthstone or Overwatch events might be impacted by the recent fervor.
With Blizzcon, the largest convention dedicated to Blizzard games only one month away, many fans are wondering if the corporation will take a stance on the Chinese censorship. Fans on reddit have mentioned they might bring their own "Free Hong Kong" signs to the event, trying to capture the sweeping camera on the audience before the ire of security guards. The schedule for Blizzcon has not yet been announced, but the Overwatch World Cup has players and teams flying in from all over the world to Anaheim to participate.
Newsweek has reached out to TESPA for further comment and will update if responses become available.
(Update: 10/10 3:00 p.m. EST.) A spokesperson for AU said the students will receive no reprimands for holding up the sign and shared this statement.
"At American University, we defend the right to free expression and dissent, which is integral to our mission of creating, discovering, and sharing knowledge. We support and encourage civil discourse and the free exchange of diverse ideas across our community and around the world. As an institution, we strive to maintain the balance between learning and scholarship and the responsibility that comes with free speech as our students engage on the most pressing issues of the day."