Hearthstone Grandmasters Bans Blitzchung After Pro-Hong Kong Statement
On Tuesday morning, Blizzard Activision released a blog post announcing that Ng "blitzchung" Wai Chung would be removed from the Hearthstone Grandmasters tournament. On Sunday, Wai Chung appeared in a pair of goggles and a gas mask in a post-game interview to say "Liberate Hong Kong, revolution of our age." The stream ended shortly after and all VODs or clips of the day's games were scrubbed from the Vietnamese Hearthstone Twitch page.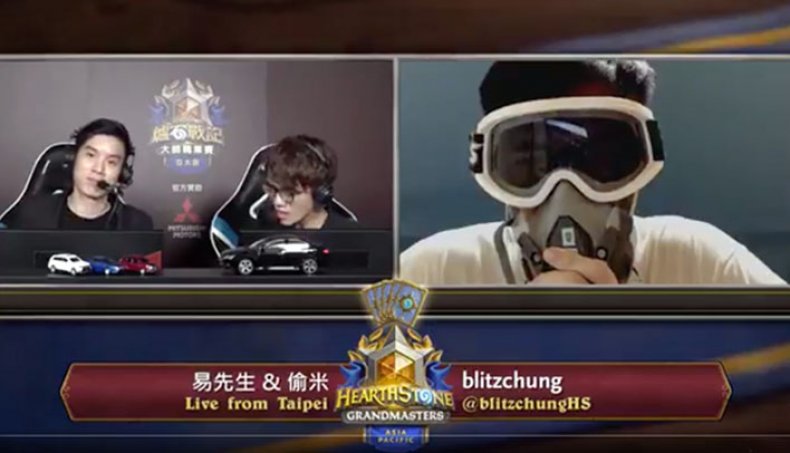 The company claims that Wai Chung broke the tournament's rules against "individual behavior which does not represent Blizzard or Hearthstone Esports" according to a blog post. (When asked for comment by Newsweek, a Blizzard Activision representative shared said post.) 2019 Hearthstone Grandmasters Official Competition Rules section 6.1 (o) states:
"Engaging in any act that, in Blizzard's sole discretion, brings you into public disrepute, offends a portion or group of the public, or otherwise damages Blizzard image will result in removal from Grandmasters and reduction of the player's prize total to $0 USD, in addition to other remedies which may be provided for under the Handbook and Blizzard's Website Terms."
All the winnings that Wai Chung had earned from Season 2 of the Grandmasters event have been taken away, and he will be banned from all Hearthstone competition until October 5, 2020. The casters, who ducked under their desks during the interview, will also not be working with Blizzard Activision again. The comments on the blog post have been disabled.
Supporters have been quick to rally around Wai Chung and what they view as deeming harsh action on behalf of Activison Blizzard. A post about the ruling on the Hearthstone subreddit has garnered more than 34,000 upvotes in eight hours, with other posts appearing on r/HongKong and r/esports. "It would be good if more people saw this and could boycott Blizzard," one user wrote. "Corporations and businesses have no nation. They don't have morals, they don't have loyalty, they don't care about lives or the well-being of people except for when it aligns with making them money," wrote another.
This stance in favor of the Chinese government arrives after a week of American companies making similar PR moves. The NBA released a statement apologizing for the actions of Houston Rockets' General Manager Daryl Morey after he recently lent his support to the Hong Kong rioters. Both organizations sided in favor of the Chinese government, which many analysts see as a response to the country's massive market implications.
Wai Chung did not return a request for comment from Newsweek.
What are your thoughts on the situation with blitzchung? Did Activision offer a correct response to the situation? Tell us in the comments section!