With a little more than two weeks to go before his planned execution, there is continuing pressure for Texas Governor Greg Abbott to release death row inmate Rodney Reed following mounting claims and evidence suggesting his innocence.
Reed, 51, has spent the past two decades on death row after he was convicted of the rape and murder of Stacey Stites, a 19-year-old who was found strangled with a belt in Bastrop, Texas, in 1996.
Police originally suspected Stites' fiancé Jimmy Fennell, a Bastrop Sheriff's police officer at the time, as being the prime suspect in the murder. However, Reed was arrested after his sperm was found inside Stites' body.
His lawyers argued that Reed's semen was in the victim's body because the pair were having a consensual sexual relationship. The murder weapon was never tested for DNA evidence, and Reed's fingerprints were not found at the scene of the crime.
Ahead of his planned execution on November 20, Reed's case has been getting more and more attention as campaigners say there is strong evidence and discrepancies in the original investigation to suggest that Reed did not commit the crime.
Celebrities including, Rihanna, Gigi Hadid and Busta Rhymes are among the growing chorus of people urging the execution of Reed be stopped. A host of celebrities are also encouraging people to sign an online petition which has since attracted more than 850,000 signatures.
"Please @GovAbbott How can you execute a man when since his trial, substantial evidence that would exonerate Rodney Reed has come forward and even implicates the other person of interest. I URGE YOU TO DO THE RIGHT THING," Kim Kardashian tweeted to her 62 million followers last month.
On October 30, the Innocence Project, a non-profit organization campaigning for Reed's release, filed for clemency in the wake of a confession from a former prison mate of Fennell which has sparked the most recent skepticism about Reed's guilt.
Arthur Snow, a former member of the Aryan Brotherhood prison gang, signed an affidavit saying Fennell admitted to killing his fiancée in 2010 while the pair were in jail together.
Snow states that Fennell approached him at the Stevenson Unit in Cuero seeking protection from the white supremacist gang from the "blacks and Mexicans" at the prison.
Snow said during one conversation, Fennell started talking about his fiancée with "a lot of hatred and resentment" because she was having an affair with a black man. Towards the end of the conversation, Fennell allegedly told Snow: "I had to kill my n*****-loving fiancée."
Fennell was serving a 10-year sentence at the time for kidnapping and raping a woman while on duty as a Georgetown police officer in a separate incident in 2007.
Snow said he only realized the extent of what Fennell said after he saw a picture of him in a newspaper article about Reed's case years later.
The language used by Fennell towards Snow echoes what he is said to have told fellow Bastrop Sheriff's Officer and friend Charles Wayne Fletcher years earlier.
In another sworn affidavit, Fletcher described how a month before the 19-year-old's murder, Fennell told him that he believed Stites was "f****** a n*****."
Fletcher also said that Fennell was acting "cold, empty and emotionless" at Stites' funeral.
"I was so disturbed by his behavior that it caused me to question whether he was involved in Stacey's death," Fletcher said.
In another affidavit signed by Lee County Sheriff's Office officer Jim Clampit, Fennell also allegedly acted suspiciously at the funeral while stood next to Stites' body.
"Jimmy said something that I will never forget," Clampit wrote. "Jimmy said something along the lines of, 'you got what you deserved.'
"I was completely shocked and floored by what Jimmy said. It did not strike me as something a grieving partner would say to their murdered fiancée."
The graphic below, provided by Statista, illustrates which U.S. states still practice the death penalty.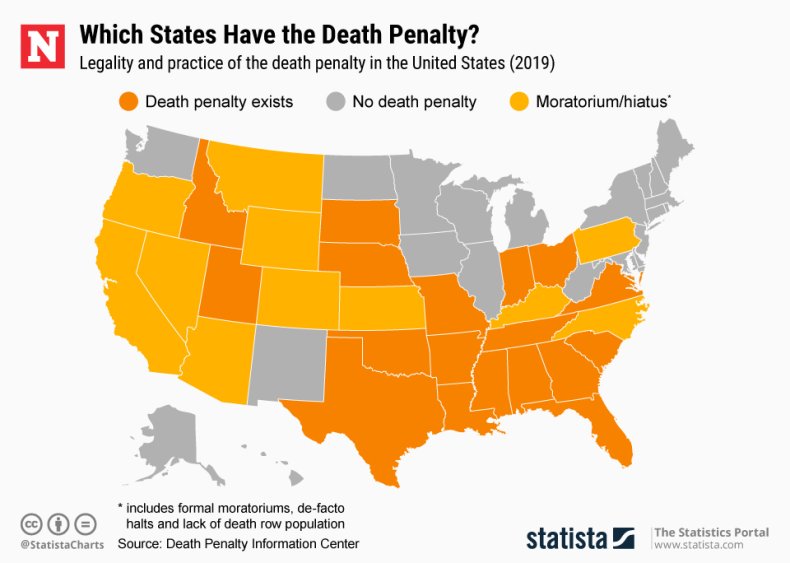 Elsewhere, a life insurance salesman claimed he heard Fennell telling Stites: "If I ever catch you messing around on me, I will kill you and no one will ever know it was me that killed you," while she was filling out an application.
"It was not represented as a joke," the salesman added.
Earlier this week, Heather Stobbs, a cousin of Stites, said she doesn't have "any doubt in her mind" that Fennell is responsible for her murder.
"There is really nothing that can convince me that Jimmy Fennell didn't do this," she told Fox 7 Austin. She said his conviction for kidnap and rape proves that there is a "pattern of behavior" for Fennell.
As well as the confessions and opinions of others, the Innocence Project has said the DNA evidence against Reed must also be discarded. During the original trial, prosecutors said that Stites had been raped just before her murder and the semen found inside of her could not have survived for more than 24 hours.
The defense claims this backs up their case that Reed and Stites had consensual sex the night before she was killed because they were having an affair and that sperm could survive for up to 72 hours.
The Innocence Project also points out that three forensic experts have admitted errors in their testimonies during the investigation more than 20 years ago, including that the original time of death for Stites is inaccurate.
The inmate's brother, Rodrick Reed, told the Dr. Phil show in October that he believes race also played a role in his conviction. Reed was convicted by an all-white jury in 1998.
"I think right out of the gate, my brother didn't have a shot," Rodrick Reed said. "I think this case is a prime example of why we should abolish the death penalty. It is so corrupt, it is racist, it is basically all those things that have played a major role in my brother's case."
In a letter to Abbott and David Gutiérrez, Chair of Texas Board of Pardons and Paroles, obtained by The Texas Tribune, 26 lawmakers urged a reprieve as killing Reed without certainty of his guilt will "erode public trust—not only in capital punishment, but in Texas justice itself."
Fennell's lawyers did not immediately respond to a request for comment. A spokesperson for Abbott also did not respond to a request for comment.