Experts Dub Josy Peukert's Ocean Freebirth Dangerous on Multiple Levels
In a video that has recently gone viral, a woman is shown giving birth not only on a beach but while she was actually sitting in the lapping waves of the ocean. New mom Josy Peukert posted her birthing video on Instagram in February, and her story has now made headlines around the globe, with some questioning if giving birth in the ocean without medical assistance was safe for the mother and baby.
The 27-year-old gave birth to a baby boy on the picturesque shore of Playa Majagual, Nicaragua, because "the conditions were right on the day," she told Jam Press. "I got this idea in my head that I wanted to give birth in the ocean. For weeks I monitored the tide, and so when the time was right for me to give birth I knew the beach would be safe for us," she said.
Her husband, Benni Cornelius, was at her side, armed with towels and a sieve to catch the placenta.
"The waves had the same rhythm as the contractions, that smooth flow made me feel really good," Peukert told Jam Press. "The soft volcanic sand under me reminded me there is nothing else between heaven and earth, just life."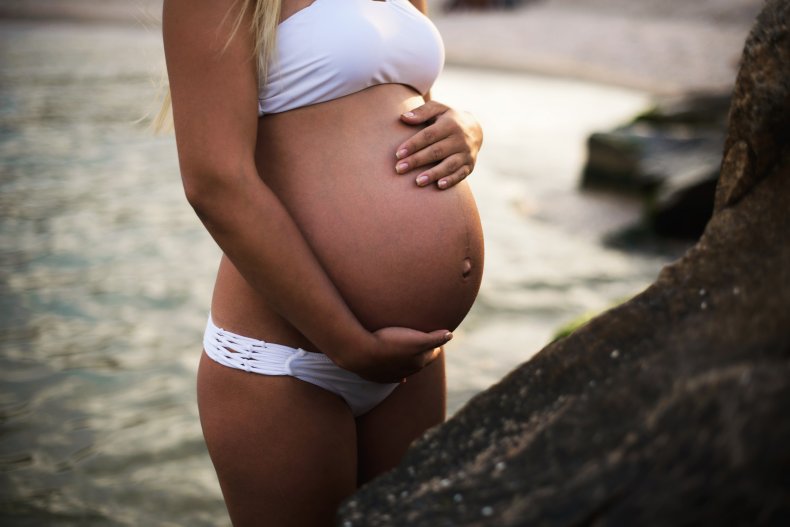 Many people commented on the video, which has over 200,000 views, expressing their concerns about the safety of the baby due to the potentially unsanitary environment. But is giving birth on a beach safe for the mother and the baby?
According to Liesel Teen, a labor and delivery nurse and the founder of Mommy Labor Nurse, no.
"Unassisted birth, also referred to as 'freebirth' or unattended birth, isn't something I ever recommend," she told Newsweek. "Giving birth in the ocean comes with its own set of risks including the temperature of the water, the unpredictability of tides and waves, and risk of infection due to harmful bacteria or pathogens in the water."
Teen took umbrage with two main safety factors in the salt-water birth, the first being the fact it was unassisted.
"I do not recommend unassisted birth under any circumstances due to the increased risk to both mom and baby," she said. "Birth is unpredictable, and even women who are considered low-risk leading up to birth can have life-threatening complications arise during labor that would require medical assistance, including but not limited to: shoulder dystocia, postpartum hemorrhage, failure to transition, umbilical cord complications, meconium aspiration, and fetal intolerance of labor."
If these complications are not quickly identified and treated with proper intervention the risk of neonatal or maternal mortality can become imminent," Teen added
Teen is not necessarily against planned home births for low-risk women where there is a certified nurse-midwife or certified professional midwife present. In planned home births attended by a midwife, they would be equipped to step in should any unexpected complications arise, and they are well versed and trained to advise for a hospital transfer before the situation gets dangerous, Teen said.
The second issue for Teen was the ocean itself. "In planned water births, water temperature is monitored closely to prevent stress to the baby. Water temperatures should be close to body temperature, staying between 97 and 100 degrees. If the water is too cold, which I would expect in the ocean, there is a risk of hypothermia for the baby," she told Newsweek.
"Ocean tides, undercurrents, and waves are unpredictable. This means birthing in the ocean comes with a risk of mom being knocked over or swept away during labor or while holding her baby after they are born," she said.
The ocean also contains bacteria and other microorganisms that can be hazardous to the newborn's health.
"While salt water in many areas is clean, certain areas have contamination from dangerous bacteria such as cryptosporidium, E. coli and shigella. I would not say that all salt water is uniformly safe," Dr. Soumi Eachempati, a former professor of surgery and public health at Weill Cornell Medical College, told Newsweek. "There is no benefit at the time of birth. Any wound needs ongoing care and just assuming the time of birth is enough to cleanse the wound is erroneous. Other forms of pollution from sewage and environmental dangers need also be considered."
"The immune system of a child can definitely be adversely affected if foul bacteria is in the salt water. One also has to be cautious of infections in sand and particularly sandflies for leishmaniasis, and warming seas have also made cholera a concern," Eachempati added.
Newsweek reached out to Peukert for comment.