'The French Dispatch': Léa Seydoux on Her Naked Poses and 'Francophile' Wes Anderson
The French Dispatch is an American's love letter to France, which gives actress Léa Seydoux the right to be more skeptical than most.
Luckily for all involved, the French actress is thrilled with the final results of Wes Anderson's latest movie, and she told Newsweek all about her experience working with the filmmaker on his latest project.
The French Dispatch features a massive ensemble cast that includes Bill Murray, Benicio del Toro, Tilda Swinton, Jeffrey Wright, Timothée Chalamet, Henry Winkler and many more. It's out exclusively in movie theaters on Friday, October 22, 2021.
Posing "Uncomfortably" for The French Dispatch
The movie's structure is unusually split into four sections. The French Dispatch of the Liberty, Kansas Evening Sun (to use its full title) is an American-owned newspaper published in France and throughout the film's run time three separate stories are told by journalists on the magazine. The stories are: The Concrete Masterpiece, Revisions to a Manifesto and The Private Dining Room of the Police Commissioner.
The first article, The Concrete Masterpiece, is where we meet Seydoux's character Simone.
"I really love the segment I am in, and I would have loved to have played Simone even longer," Seydoux told Newsweek.
The Concrete Masterpiece follows the violent, but brilliant inmate Moses, played by del Toro, who is a "sentimental, romantic teddy bear," according to Seydoux. She plays his muse and "tough but sensitive" prison guard Simone. When we first meet the pair, Simone is acting as Moses' life model, a set piece that is recreated multiple times throughout their story, in increasingly bizarre and testing fashion for Seydoux.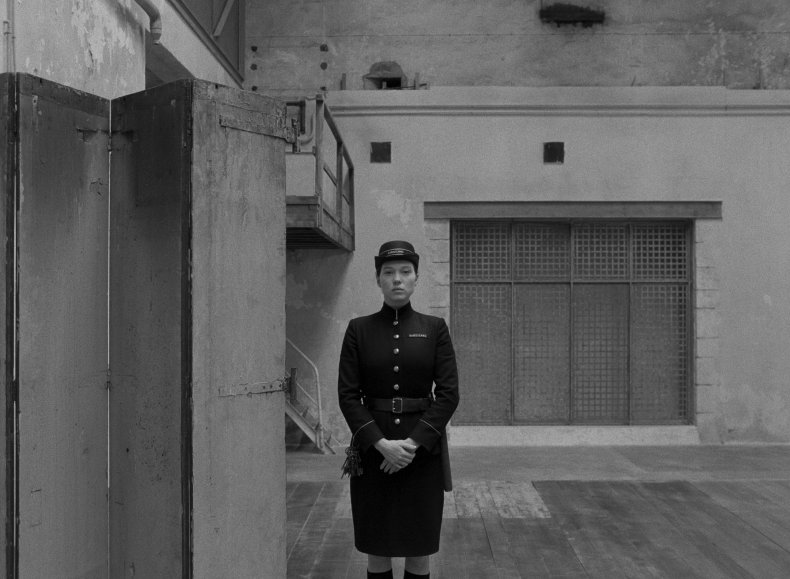 "They were not comfortable," laughs Seydoux, "But it's very playful. With Wes it's never serious. Never serious. And that's what I love about working with him, it all seems to be light but underneath there is a real depth in the characters."
In a sequence involving Seydoux posing naked in a series of increasingly challenging positions, she explains how each one was decided. "Before shooting, Wes makes animated films of what he wants, like an animated mood board.
"So I knew I had to do these poses, and we shot many of them, many different poses. And then in editing he decided to pick the best ones. But to me, I found them hilarious, it all came from his imagination and he's just extremely funny, and it also added a comic dimension to the character I play," she said.
Wes Anderson's "Summer Camp" Sets
Wes Anderson is known to be the type of director, like Christopher Nolan or Quentin Tarantino, who likes working with actors again and again. Tony Revolori, who starred alongside Ralph Fiennes in The Grand Budapest Hotel, returns for a cameo in The French Dispatch.
Revolori describes an Anderson set as like "summer camp," which is why he believes actors often come back to work with him. He told Newsweek: "These guys create this family like atmosphere and you jump at the chance just to work with him, doesn't matter what it is because you want to see them again. At least that's my experience."
Revolori's character is a younger version of the character Moses, and he admits it's an accomplishment to play a young del Toro. He joked: "It feels phenomenal. I always wanted people to describe me that way but I never thought it would come to pass, yet here we are."
Appearing for the first time in a Wes Anderson film is actor and comedian Stephen Park who plays the stoic chef and police officer Lt. Nescaffier in the third act, The Private Dining Room of the Police Commissioner.
Park describes Anderson's directing as "extremely detail-oriented." Speaking to Newsweek, he said: "He is paying attention to rhythm, to the position of your head, everything that is happening in the frame.
"When you start to see him composing everything in the frame, you start to realize, oh that's a Wes Anderson movie," Park said.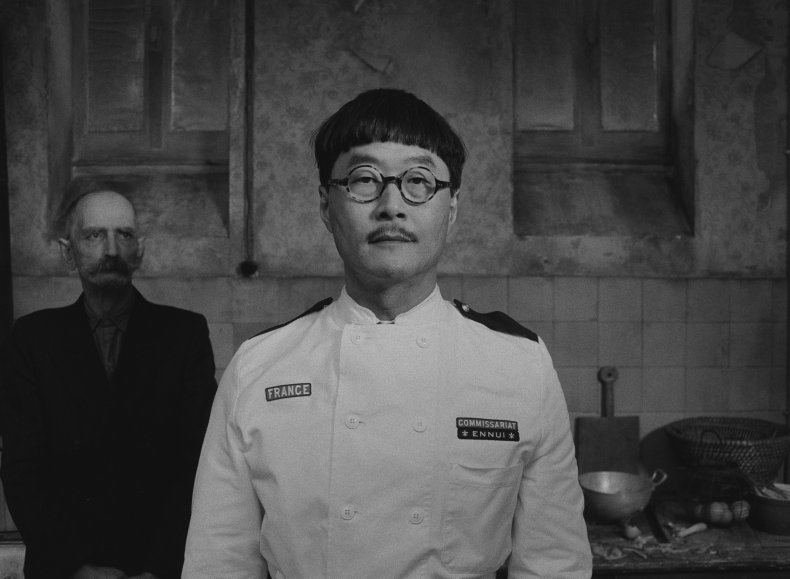 Henry Winkler also makes a brief appearance in the movie alongside Seydoux and Revolori in the first segment. He told Newsweek he jumped at the chance to work with Wes Anderson, and would do so again, and that the team behind the scenes heightened his experience on The French Dispatch.
He said: "Starting in the morning, everybody gets made up and dressed in the makeup room at the same time, like the theater." Once he and the impressive cohort of co-stars were ready, things got less comfortable out on set.
Winkler continued: "There are no sound stages in this small town in France. So we're on windy, open cold warehouses, so cold. We're standing outside on a bridge, a river on either side, the wind coming at you from both sides, like it wants to punch you into oblivion. And the costumers, who were from Italy, felt sorry for us and gave Bob [Balaban] and I hot water bottles to stand on to have some warmth. I mean it was amazing."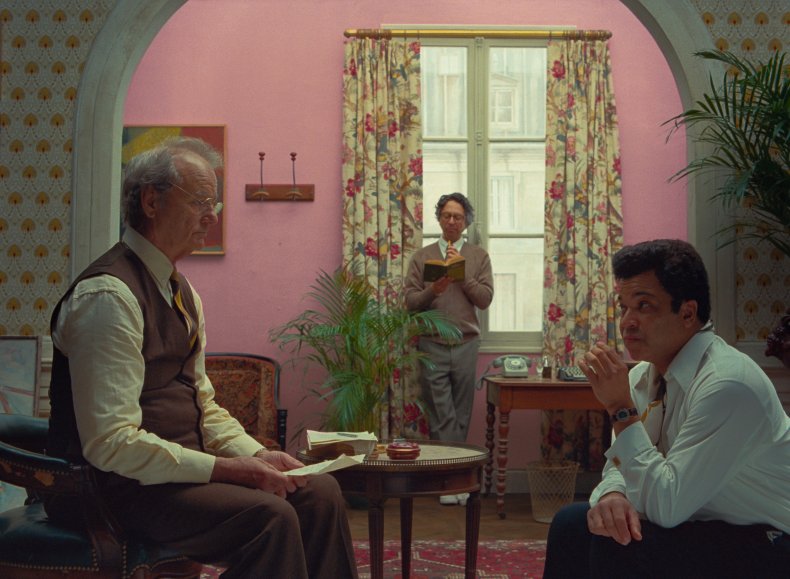 Wes Anderson: A certified "Francophile"
The French Dispatch was shot in Angoulême, a town in southwest France in late 2018 to early 2019. Wes Anderson's affection for France and his respect for French sensibilities are reflected onscreen, and also noticed by Seydoux. "I think we share the same passion for French cinema so I felt very comfortable being in his world."
While he's paying homage to a French town, Seydoux reminds us it's perhaps his intention to reflect reality. She said: "It's a fiction. He's not trying to, you know, replicate something. It really comes from his imagination so I never asked myself if it was the right vision. It's just Wes and he's a Francophile.
"He lives in France so he knows about the French culture, he speaks French, so he knows what he's talking about. He's extremely precise, you can tell when you watch his films."
After facing over a year of delays due to the COVID pandemic, The French Dispatch is finally going to be released in movie theaters in the United States.
Audiences can finally see Wes Anderson's 10th movie from Friday, October 22, 2021.