Why Nobody Knows What Will Happen in France's Presidential Election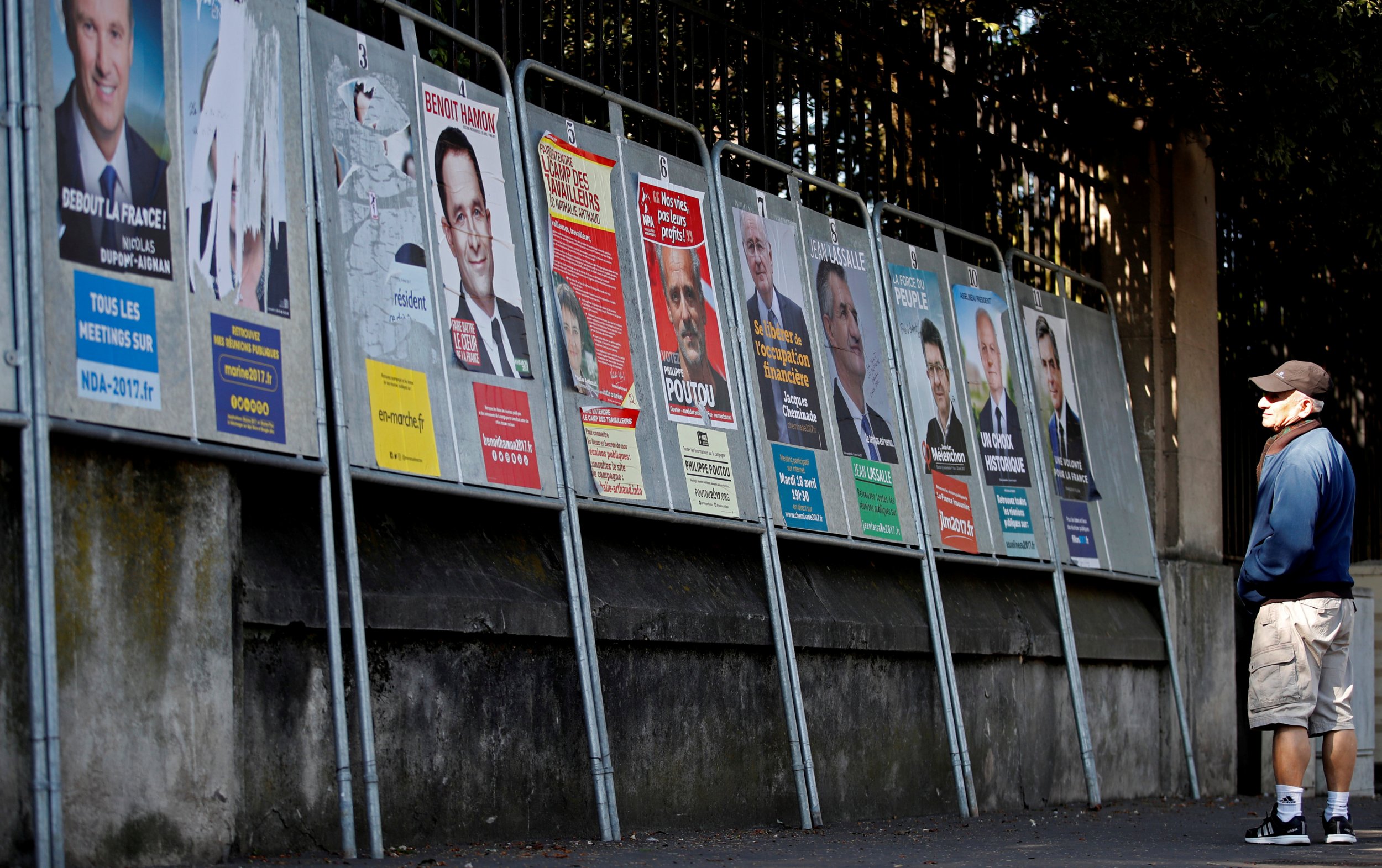 Campaigning draws to a close on Friday ahead of the first round of France's fraught presidential elections on Sunday—and nobody knows what will happen next.
The contest has broken every rule, and after much jockeying for position, is now a four-horse race. The most mainstream candidate who still has a chance of victory is the center-right Republicans' Fran ç ois Fillon, in joint third place on about 19 percent support, and even he stands out as a Thatcherite in statist France. His rivals are Jean-Luc Mélenchon, a leftist on 19 percent support, centrist Emmanuel Macron, whose En Marche party is one year old, with about 24 percent, and far-right populist Marine Le Pen, with about 23 percent.
Only two candidates can make it through to the election's second and final round, set for May 7, but this close to the election, it's still hard to say with any confidence which two it will be. After high-profile failings in the U.S. and the U.K. in 2016, pollsters and pundits are likely to come under fire in France too if they call the race wrong. But there are several reasons why nobody would envy them the task.
The shooting of a policeman on the Champs-Élysées Thursday night in Paris, claimed by the Islamic State militant group (ISIS), may influence some voters' decisions. Although terror incidents have historically boosted Le Pen's National Front, Thursday's attack could also hand votes to former prime minister Fillon, who has painted himself as an experienced leader in dangerous times.
But even without that, there are broader problems with predicting the vote. One, says Philippe Marlière, professor of French and European politics at University College London, is the collapse of France's mainstream parties. The center-left Socialists, the current governing party, has just eight percent support. Fillon's Republicans, though faring better, was once the outright favorite to win before the candidate was hit by allegations, which he denies, that he improperly paid his British wife Penelope and two of his children hundreds of thousands of euros of public money for assistance.
Read more: why the French election is exciting even if you aren't French
"In any country where your two dominant parties collapse," Marlière says, "that creates a lot of uncertainty. Because whenever you have a completely new situation, the voters will find it more difficult to transfer their vote to another candidate or party."
The hollowing out of the main parties has helped drive the rise of Macron, who has picked up support from former Socialists and Republicans alike. But since neither he nor a candidate like him has run any time recently, his supporters are highly unpredictable.
"We don't know exactly how his voters will react during the very end of the campaign," says Mathieu Gallard, a research analyst at the pollster Ipsos France. A last minute flight away from Macron could benefit several other candidates or none.
The collapse of familiar parties has also left many voters unsure who to support. French voters often don't make their mind up until the last minute. But this year around half of French adults are either unlikely to vote, or haven't yet decided who they will choose.
If more voters than usual decide to stay home because no candidate appeals to them, that could affect the outcome. Gallard says that both Fillon, whose supporters are older and therefore more likely to vote, and le Pen, whose supporters are very committed, would benefit from a low turnout across the board. Mélenchon, on the other hand, might benefit from a slightly higher turnout.
Meanwhile, the American elections analyst and founder of the 538 website Nate Silver has raised concerns about the striking similarity of results across France's different polling companies. Silver tweeted: "Polls shouldn't be this consistent unless there's massive herding," meaning that polling companies may be correcting outlying results by checking them against other pollsters' results to avoid recriminations if proved wrong.
It's impossible to know for sure if this is going on, but Gallard, the Ipsos pollster, denies it outright. Unlike U.S. pollsters whose sampling is more randomized, he says, French pollsters custom-build their samples to be representative of the wider population and, since each pollster's sample is built on similar lines, they are likely to be very similar when it comes to results. French companies also sometimes adjust their data based on how voters have behaved in the past.
Both of these factors, Gallard says, leads to very uniform results without any massaging of data by individual companies. Different pollsters also had quite similar results at the end of the 2012 campaign.
For such a crucial election to be so unpredictable is nerve-wracking. Gallard, for one, says he'll be watching on Sunday with baited breath. "After Brexit, Trump… there is a lot of pressure, in France too, on pollsters," he says. But whichever two candidates make it through will have an even tougher job pulling together support from across the board in such unpredictable times. That means the election's second round could be even more nail-biting.