Fiscal Kombat: French Left-Winger Jean-Luc Melenchon Releases A Videogame As A Campaign Ad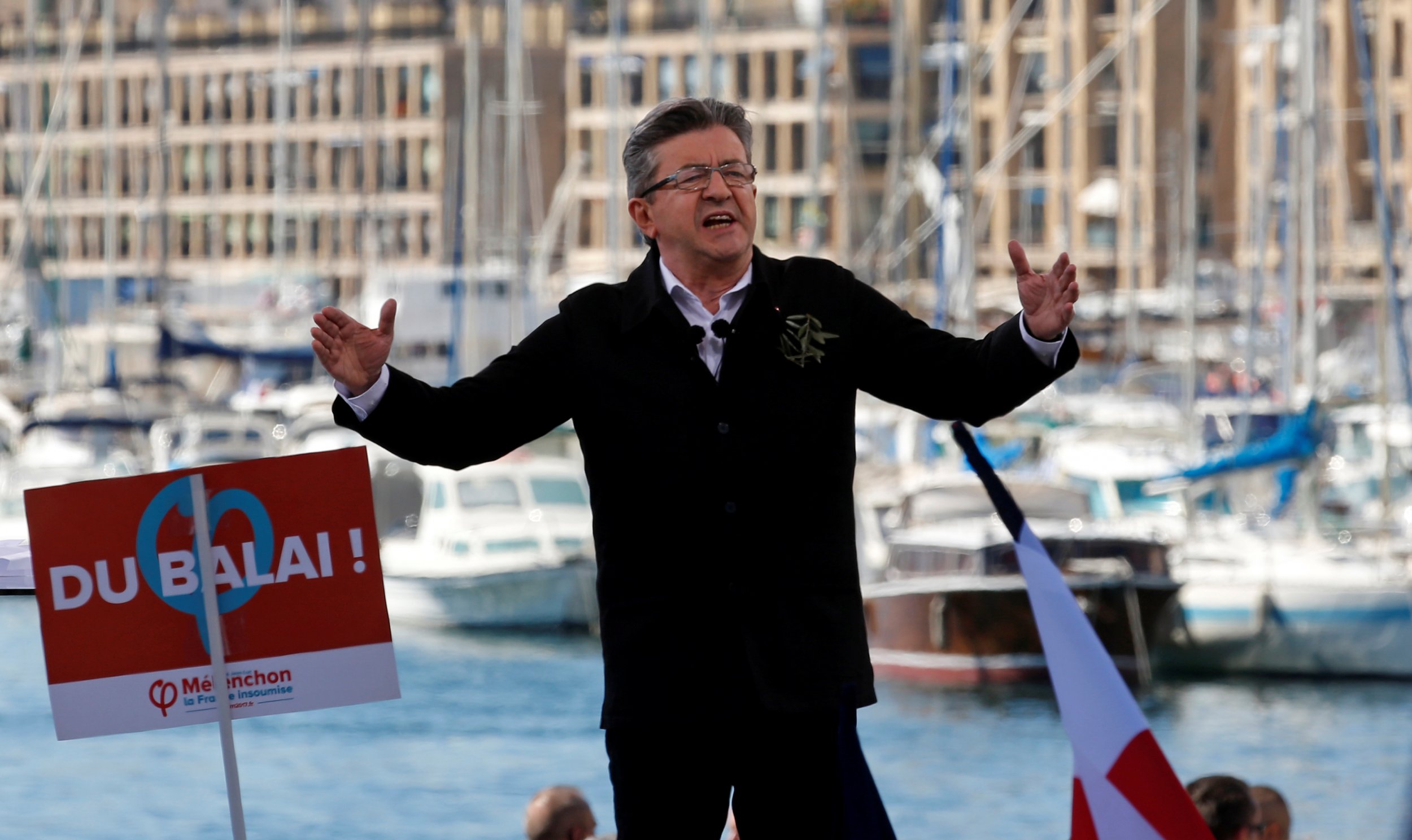 In an election that's all about radical change, it takes a lot to look like a maverick. But releasing an 8-bit style online videogame, in which players take control of your character to shake down greedy financiers and politicians, might just do it.
Nope, you haven't accidentally flicked from Newsweek to ClickHole. French leftist Jean-Luc Mélenchon, the presidential candidate for the new political movement Unsubmissive France, has done just that.
His game Fiscal Kombat, a pun on 1990s classic Mortal Kombat , sees a pixelated Mélenchon wandering a series of side-scrolling beat-em-up environments. Players can pick up their foes, shake them to get their cash, and then hurl them away.
The game features a series of figures from French finance and politics representing the 'powers of money.' IMF chief and former finance minister Christine Lagarde, fellow presidential candidate and former economy minister Emmanuel Macron, and businesswoman Liliane Bettencourt are among those in the firing line.
But, just like overthrowing capitalism, it's genuinely quite challenging. Full disclosure: on your author's first playthrough, he was unable to beat the first boss, former French budget minister Jérôme Cahuzac—or, as the game has him, 'Jérôme the untouchable.'
The game was released last week as hype started to build around Mélenchon. Originally dismissed as a fringe candidate, many observers thought the Member of the European Parliament would only loom large in the race if he formed a pact with fellow leftist, the Socialist candidate Benoît Hamon.
But several polls now place 65-year-old Mélenchon at around 17 percent support, meaning he is vying for third place in the April 23 first round with François Fillon, the center-right Republican candidate and sometime frontrunner. The top two candidates from that round go on to a second head-to-head on May 7.
A former member of the mainstream left Socialist party, Mélenchon is the founder of the more radical Left Party and ran for the presidency in 2012 as a figurehead for a leftist coalition.
But now he's going his own way. Last year, he founded Unsubmissive France, which has learned from new left-wing parties, such as Spain's Podemos and Greece's Syriza, and adopted low barriers to membership, with an emphasis on grassroots activism and a taste for maverick communications, including a series of viral YouTube videos.
Mélenchon's policy programme is uncompromising. On the economic side, it's strongly redistributive and interventionist: Mélenchon would introduce a maximum salary for business people, cut down on partnerships between the private and public sector, break up investment and retail banks, and immediately raise tariffs on goods from countries with 'limited social rights.' He is a staunch environmentalist and would aim to have France use 100 percent renewable energy by 2050.
Mélenchon is also a Eurosceptic. He doesn't want to leave the bloc, but his government would immediately disobey EU treaty obligations in areas such as privatization and budget deficit rules.
He's inexperienced in government and unrestrained in his views and rhetoric. But the French public seem to like his unvarnished style. In the last presidential TV debate, Mélenchon was the only candidate who more social media users mentioned positively than negatively, according to the social media monitoring company Brandseye.
Mélenchon still has some way to go to rival the election's frontrunner, centrist Emmanuel Macron, or the second place far-right candidate Marine le Pen of the National Front. But in a country that seems wholly sick of traditional politicians and conventional answers, it would be foolish to pronounce his game over just yet.