French President Calls to Protect Lebanon From Chaos, as Countries Pledge Nearly $300M in Aid Following Explosion
French President Emmanuel Macron urged collaboration between world leaders to support Lebanon following last week's devastating explosion and mass protests that erupted in its aftermath.
"We must all work together to ensure that neither violence nor chaos prevails," said Macron during a virtual relief summit held on Sunday, which saw representatives from more than 30 countries and international institutions commit to providing Lebanon with financial aid and resources.
Pledged donations amounted to nearly $300 million, Al Jazeera reported. The summit, hosted by France and the United Nations, involved leaders from the U.K., Germany, Spain, Switzerland, the U.S., Qatar, Kuwait, Denmark and Norway. President Donald Trump attended the conference on behalf of the U.S.
"Our offer of help includes supporting a credible and independent impartial investigation of the explosion that took place on 4 August," Macron wrote on Twitter Sunday, noting that an inquiry into the explosion's cause "is a strong and legitimate expectation" of Lebanon's population. "It is a question of trust," he added.
Acknowledging concerns voiced by protesters in Lebanon's capital city, which include immediate access to healthcare, food, education and housing, Macron called on the nation's leaders to take action.
"It is up to the country's authorities to act so that the country does not sink, and to respond to the aspirations that the Lebanese people, legitimately expressed at this very moment in the streets of Beirut," Macron said during Sunday's aid summit. His comments seemed to address calls for substantive relief efforts as well as suspicions about government corruption preventing external aid from reaching those in need. Funds pledged during the summit will be distributed through the U.N. and other international organizations to minimize risk of misappropriation, Al Jazeera reported.
Thousands of demonstrators decried the Lebanese government during protests in Beirut on Saturday. Photos shared to social media showed protesters hanging cardboard figures of Lebanon's politicians at makeshift gallows amid outrage over last week's deadly explosion. One demonstrator carried a sign that read: "My government murdered my people."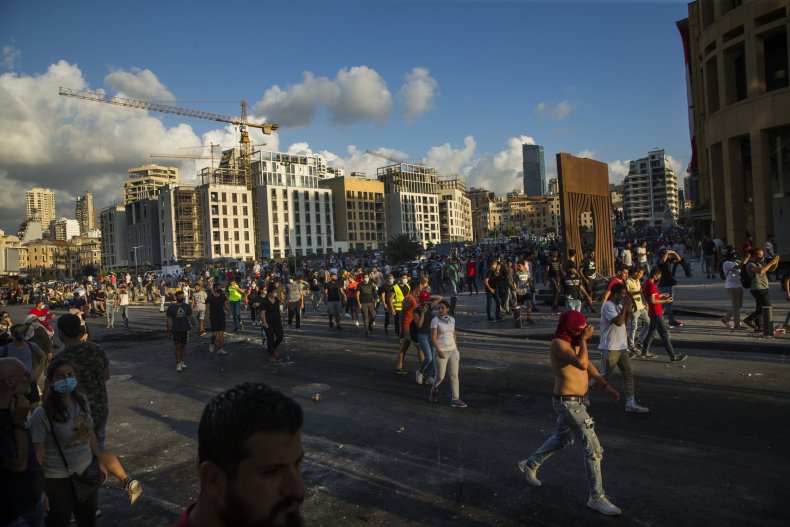 The catalyst for Tuesday's explosion at the Port of Beruit remains under investigation by Lebanese officials, although preliminary evaluations pinpointed an improperly stored stockpile of roughly 2,700 tons of ammonium nitrate as its primary source. The blast sent tremors through Beruit with forces equivalent to that of a 3.3 magnitude earthquake, killing at least 150 people and leaving thousands more seriously injured. Severe damages to the city's infrastructure ignited fears about the explosion's lasting economic and humanitarian implications.
Newsweek reached out to Macron's office and the United Nations for additional comments, but did not receive replies in time for publication.
Correction 7:46 PM ET, with the proper spelling of Emmanuel Macron's name.