Lebanese Protesters Hang Effigies of Political Leaders as Massive Demonstrations Rage Following Beirut Port Blast
Thousands of enraged Lebanese demonstrators descended on Beirut on Saturday, erecting nooses to hang effigies of Lebanon's political leaders, and calling for the government to resign following the Beirut Port blast that left more than 150 dead, thousands injured and hundreds of thousands homeless.
"Hang the nooses," many angry and frustrated Lebanese wrote on social media. In Beirut's iconic central Martyrs' Square, demonstrators erected a makeshift gallows with nooses to string up effigies of the nation's political leaders, including Lebanon's President Michel Aoun, former Prime Minister Saad Hariri, Speaker of Parliament Nabih Berri and Hezbollah leader Hassan Nasrallah.
"This. This is anger," Lebanese journalist Kareem Chehayeb tweeted.
At least one protester carried a sign reading: "My government murdered my people," according to an image shared on social media. Lebanese journalist Timour Azhari, Al Jazeera's Beirut correspondent, described the demonstration as the "largest participation in rioting that I've seen so far."
By early Saturday evening, demonstrators had managed to storm and occupy several government buildings, including the Ministry of Foreign Affairs, Ministry of the Economy, Ministry of Environment, Ministry of Energy and Water and the Association of Banks. At the foreign ministry, protesters declared the building the "headquarters of the revolution."
Newsweek reached out to Lebanon's Interior Minister Mohamed Fehmi for comment, but he did not respond by the time of publication.
Beirut's port exploded on Tuesday, in a massive blast that was comparable to a 3.3 magnitude earthquake. The soundwave from the explosion could be heard across the small Mediterranean country and as far away as Cyprus, some 160 miles away. Glass shattered throughout Beirut as many old buildings crumbled, leaving an estimated 300,000 residents homeless.
Although the cause of the explosion remains under investigation, initial assessments suggested that a stockpile of more than 2,700 tons of improperly stored ammonium nitrate caught fire from fireworks stored in the same hanger at the port, which were possibly set off by welding nearby. Aoun suggested that there was also "a possibility of external interference through a rocket or bomb or other act."
But Lebanese demonstrators are outraged by the fact that the highly explosive material was stored improperly at the port for six years. Whether or not there was intentional sabotage, they largely see the blast as the result of endemic government corruption and ineptitude.
Dr. Hilal Khashan, a professor of political science and public administration at the American University of Beirut, told Newsweek that the "explosion will restart a new wave of the uprising, and I suspect that it will turn violent." He stressed that "Lebanese politicians steal public assets compulsively and without compunction."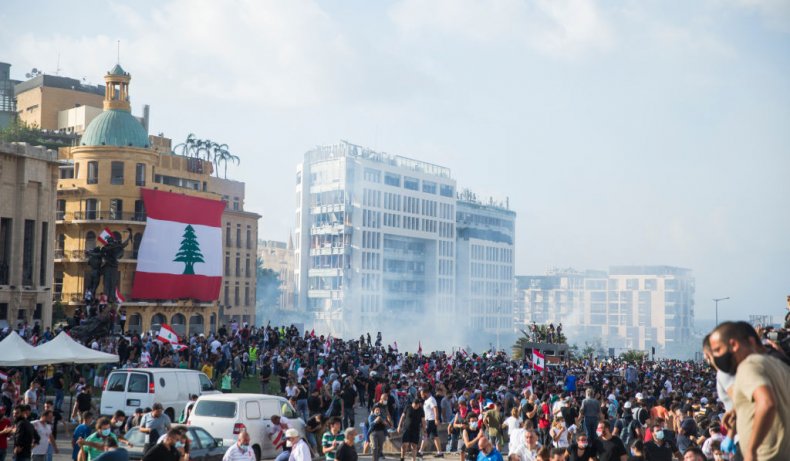 The blast came as Lebanon's economy was already collapsing due to a severe dollar shortage following decades of mismanagement by the country's ingrained political elite. Inflation has soared as fuel shortages have exacerbated daily power outages and grocery stores have struggled to stock their shelves. Reports have suggested that the majority of Lebanon's population has sunk below the poverty line, as analysts warn of severe food insecurity throughout the country. The port explosion destroyed a large stockpile of grain, escalating the concerns significantly.
"The threat of food insecurity and hunger have become far more palpable than before and in far more urgent need to address," Maha Yahya, director of the Carnegie Middle East Center, told Newsweek.
Demonstrators on Saturday attempted to break down the makeshift barricades surrounding the Lebanese parliament building in downtown Beirut. Security forces responded to the demonstrators with large amounts of tear gas and rubber bullets.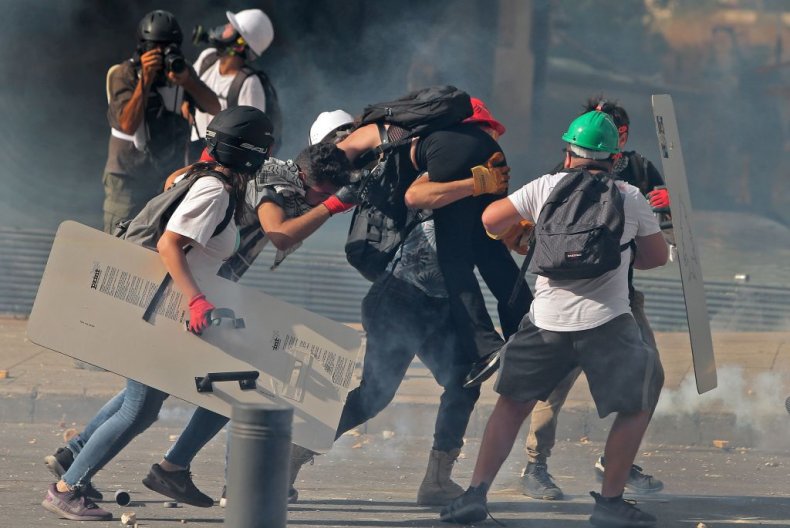 Local media broadcast footage of injured demonstrators bleeding profusely as others attempted to bandage their wounds. The Lebanese Red Cross reported that more than 140 were wounded and more than 30 had been taken to the hospital. Dozens more were treated at the demonstrations.
At least five members of parliament have announced they will resign.
"There's no point being in Parliament anymore, it's a mafia. And someone should show them how to do it," independent MP Paula Yacoubian told Al Jazeera on Saturday.
Updated August 8, 2020 at 2:06 p.m. E.T.: This article was updated to report that numerous Lebanese government buildings were occupied by demonstrators on Saturday.