French President's Meeting With Mike Pompeo Will Be Conducted 'in Complete Transparency' With Biden Team
A meeting next week between the president of France and the U.S. secretary of state will be conducted "in complete transparency" with U.S. President-elect Joe Biden's transition team—despite efforts by President Donald Trump's administration to hinder a smooth transfer of power.
French President Emmanuel Macron is scheduled to meet with Secretary of State Mike Pompeo on November 16 as part of the top U.S. diplomat's seven-nation trip, according to international news network France 24.
Macron's Elysee Palace office said in a statement that the meeting will be conducted "in complete transparency towards the team of president-elect Joe Biden," France 24 reported. Its statement comes days after Pompeo raised eyebrows by claiming there would be a "smooth transition to a second Trump administration."
The Associated Press and other national media outlets on Saturday declared Biden as the presidential race's predicted winner. The Democratic candidate holds 290 electoral votes and 77.6 million popular votes, compared to Trump's 217 and 72.3 million.
Macron joined other world leaders in congratulating the president-elect on his projected victory, speaking with Biden by phone Tuesday to discuss how the two nations would foster international cooperation on major global issues, France 24 reported.
But Trump has refused to concede the election, instead repeatedly claiming without evidence instances of widespread voter fraud and other irregularities which affected the results. Pompeo has joined the president and other members of the Republican Party in refusing to accept Biden's predicted victory, echoing Trump's determination of recounting votes.
During a news conference Tuesday, a reporter asked Pompeo if the State Department was preparing to collaborate with Biden's transition team and, if not, how that might affect the department's responsibilities when a new administration takes power.
"There will be a smooth transition to a second Trump administration," Pompeo responded. He shook his head and chuckled before continuing his answer, making it unclear how serious he intended the first part of his answer to be. "We're ready. The world is watching what's taking place. We're going to count all the votes. When the process is complete, there will be electors selected—there's a process. The Constitution lays it out pretty clearly."
Pompeo said that regardless of who is inaugurated on January 20: "I'm very confident that we will do all the things that are necessary to make sure that the government, the United States government, will continue to perform its national security function as we go forward."
Pompeo avoided directly answering reporters' questions about whether his department plans to begin communicating with Biden's team and whether he believes the election was marred by widespread voter fraud.
But the Trump administration is preventing Biden's team from accessing messages from foreign leaders addressed to the president-elect, reported CNN Wednesday. The State Department typically receives all communications for the President-elect, hence why many countries started sending messages to Biden through the department over the weekend, according to CNN.
Meanwhile, Biden has recruited a vast network of allies to work around the Trump administration's efforts to block a smooth transition, The Washington Post reported. A team, led by a former senior State Department official, is handling calls from foreign leaders—all without the benefit of a secure government line or language interpretation services, which the State Department typically provides, according to the Post.
Newsweek contacted the State Department for comment, but did not hear back in time for publication.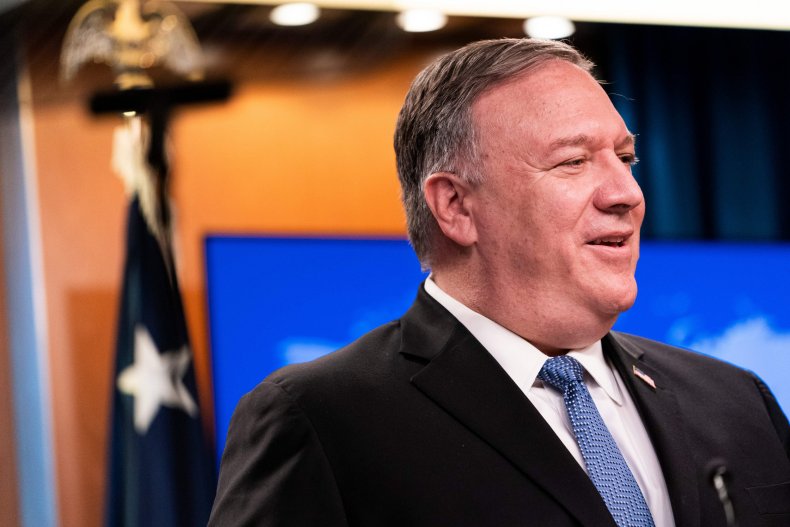 Pompeo is expected to depart the U.S. on Friday for a seven-day trip where he is scheduled to visit France, Turkey, Georgia, Israel, the United Arab Emirates, Qatar and Saudi Arabia.
During his visit to France, Pompeo and Macron are expected to discuss U.S. involvement in Iraq and Afghanistan, according to French Foreign Minister Jean-Yves Le Drian. French officials will likely urge the U.S. to keep its troops in both countries, despite Trump's October 7 declaration via Twitter that he wanted all U.S. troops home from Afghanistan by Christmas Day, according to France 24.