The 'Friday Night Massacre' Spells the Downfall of William Barr | Opinion
Last week, we wrote an article in Newsweek and a letter to the House Judiciary Committee calling for Attorney General William Barr to keep a longstanding promise to testify before Congress. After the "Friday Night Massacre," in which Barr attempted to fire Geoffrey Berman, the United States attorney for the Southern District of New York, that appearance is now a full-blown emergency.
After Berman refused to resign, Barr issued a public letter on Saturday stating that President Donald Trump had fired him. "I have asked the President to remove you as of today, and he has done so," Barr wrote. Trump, however, declined to confirm this decision, insisting later that day that it is "not my department." He added, "I'm not involved." It is not even clear, therefore, that Berman has been fired and, if he has been, who fired him. Someone is not telling the truth.
It is now more imperative than ever that Trump's strategist-in-chief immediately explain himself and his relationship to the president's agenda. In particular, Barr needs to tell Congress and the American people why he believes the president has the right to eliminate high-ranking federal officials with impunity, including those engaged in politically sensitive investigations of him or his associates.
Yet Barr, not one given to heroics, is in a bind. He cannot render truthful testimony without risking self-incrimination or else incriminating the president. Unless, like Ebenezer Scrooge, Barr is visited by the ghosts of Watergate casualties John Mitchell, Elliot Richardson and Robert Bork, and wakes up willing to divulge his role in Berman's firing and other questionable recent executive branch actions, he should resign—and start consulting with his personal attorney.
It appears the "Friday Night Massacre" will spell the downfall of William Barr.
The House Judiciary Committee is now preparing to subpoena Barr to require his testimony before them. Assuming the attorney general does appear, as he must, there are questions Congress urgently needs answered.
First, why did Barr, and presumably Trump, want to get rid of Berman? Barr offered no explanation, not even pretextual, in his initial statement. Why did Berman represent such a threat that he had to be summarily dispatched without even the fig leaf of a legitimate basis?
Berman was investigating at least half a dozen politically sensitive matters and Trump associates, including Giuliani and Lev Parnas; Jeffrey Epstein and Prince Andrew; Deutsche Bank loans to Trump; a bank named Halkbank owned by the Turkish government that Trump had previously discussed with President Recep Tayyip Erdogan; illegal use of money by the presidential inauguration committee; further activities relating to Russia and the Trump campaign; and, of course, Michael Cohen and the Stormy Daniels payoffs by "Individual-1," aka Trump.
When Trump fired James Comey from the FBI in 2017, it was clear the president was trying to upend an investigation the FBI had undertaken into the Trump campaign's contacts with Russia. That did not work out terribly well for the president, since his attempts to impede an investigation into his own campaign resulted in the appointment of a special counsel, Robert Mueller, and Congress robustly supported allowing that investigation to come to fruition. Firing Berman is similarly unlikely to work out well for Trump.
Attempting to sabotage an ongoing investigation by firing the official in charge is obstruction of justice, a crime under federal law. That interpretation of the obstruction statute, 18 U.S.C. § 1512(c)(2), is clearly laid out in Part II of the Mueller report. Mueller did not definitively conclude that Trump committed a crime by firing Comey, but he suggested that Trump could potentially be prosecuted for these acts of obstruction of the Russia investigation after he leaves office. Having led the administration's rollout of the Mueller report and its redactions, Barr knows this all too well.
Second, the committee should ask Barr why he thought he had the authority to fire Berman. It seems likely that, pursuant to 28 U.S.C. § 546(d), the statute under which Berman was appointed, only the district court may fire Berman, given that he was appointed by the district court to fill a vacancy until the permanent position was filled. The attorney general likely has no express ability under Section 546 to fire an acting U.S. attorney appointed in this way. That is a complex issue of statutory interpretation and constitutional law, one it would have been most appropriate for the district court to address. But if Barr knowingly attempted to fire, or asked the president to fire, Berman without proper authority, that would be an abuse of power.
Third, the committee should ask Barr about the Hatch Act, 5 U.S.C. § 7323, which prohibits federal employees from using their official positions to influence a partisan election. One of us has already filed a Hatch Act complaint against Barr in connection with his involvement in the Ukraine scandal, as well as the attack he ordered on peaceful protesters in Lafayette Park to enable Trump to brandish a Bible outside St. John's Church for a campaign-style photo op. Firing Berman to obstruct politically sensitive investigations in Manhattan fits right into the Trump-Barr election year playbook. For that reason alone, it may be illegal.
The "Friday Night Massacre," as it will henceforth be known, comes on the heels of efforts by Barr to intervene on behalf of Trump cronies in prosecutions pending in another critically important federal prosecutor's office, the District of Columbia. That office has prosecuted Michael Flynn and Roger Stone, who have already been found guilty of felonies in the Russia investigation. In the Flynn case, Emmet Sullivan, the federal judge, and John Gleeson, a retired federal judge appointed as amicus by the court, as well as nearly 1,200 former federal prosecutors in an amicus brief, have all deemed Barr's conduct to be a departure from well-settled Department of Justice practices and a threat to the rule of law.
As we have explained previously in The New York Times, there is no constitutional mandate forbidding the criminal investigation of a sitting president. Still less is there any principle preventing a state or federal prosecutor from conducting a criminal investigation into the actions of a sitting attorney general.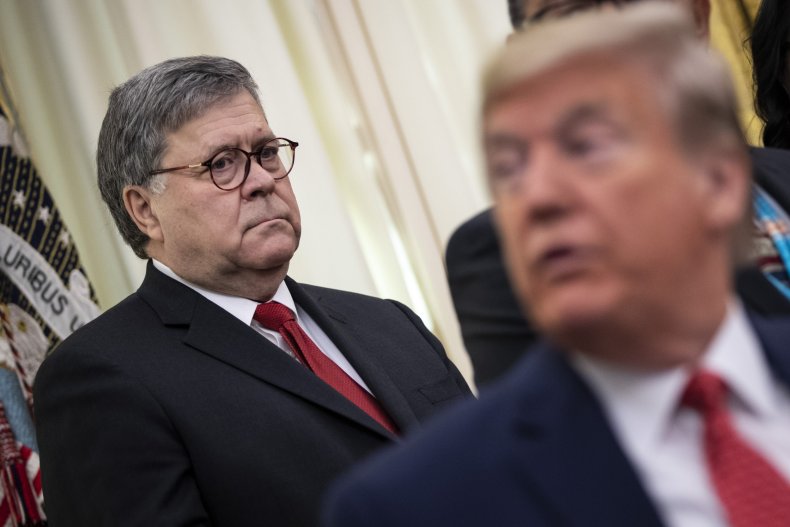 The independent guardrails on the current administration are quickly disappearing, however, whether through the appointment of political cronies or the intimidation of the law-respecting officials who remain. Banking on anyone currently in the executive branch to open a criminal investigation into Trump's and Barr's obstruction would be like buying shares in polar ice floes. Yet both could be prosecuted after they leave office under a new administration, making it imperative that Barr clarify before Congress where his responsibility for recent actions ends and the president's begins and what they both intended in taking those actions.
If he does decide to testify, Barr may well choose to invoke his Fifth Amendment right against self-incrimination in testimony before the House Judiciary Committee, an obvious risk given his undoubtedly sophisticated knowledge of federal law. But Congress should make no mistake about the implications of such a move: If he must plead the Fifth, he will have no choice but to resign.
In the case that, despite appearances, there was no intent on the part of Barr or Trump to obstruct justice in firing Berman, Barr must immediately come before Congress and defend his and the president's actions. But if, to the contrary, this sorry chapter in the history of our country was motivated by a desire to impede any of the criminal investigations Berman was conducting, Barr must resign today. The nation's top law enforcement officer simply cannot serve the country if he is a potential target of a legitimate federal criminal investigation.
Claire O. Finkelstein is the Algernon Biddle professor of law and professor of philosophy at the University of Pennsylvania, where she is the faculty director of the Center for Ethics and the Rule of Law. Richard W. Painter is a professor at the University of Minnesota Law School and was the chief White House ethics lawyer under President George W. Bush. He is the author (with Peter Golenbock) of American Nero: The History of the Destruction of the Rule of Law, and Why Trump Is the Worst Offender. Their views may not reflect those of their organizations or affiliations.
The views expressed in this article are the authors' own.