'Friends' Fans Hope Jennifer Aniston, David Schwimmer Romance Rumors Are True
Friends fans are abuzz with excitement following claims that co-stars Jennifer Aniston and David Schwimmer have embarked on a real-life romance.
Aniston and Schwimmer—whose respective characters Ross Geller and Rachel Green dated on and off during the show—confessed during May's Friends: The Reunion that they once harbored real-life crushes on one another.
And this week, Closer magazine reported that the screen stars' reunion on the TV special led to them communicating privately, before Schwimmer allegedly flew from his home in New York City to spend time with Aniston in Los Angeles.
When contacted by Newsweek, a representative for Schwimmer denied the report, while a spokesperson for Aniston said: "The story is a complete fabrication with no truth to it."
The claims sparked a meme-sharing frenzy on Twitter, with fans of the beloved sitcom hoping for confirmation that the stars had become Hollywood's newest power couple.
"If David Schwimmer and Jennifer Aniston are legit dating I think this is the one chance we have as a planet for world peace," tweeted @McGarveyDraws.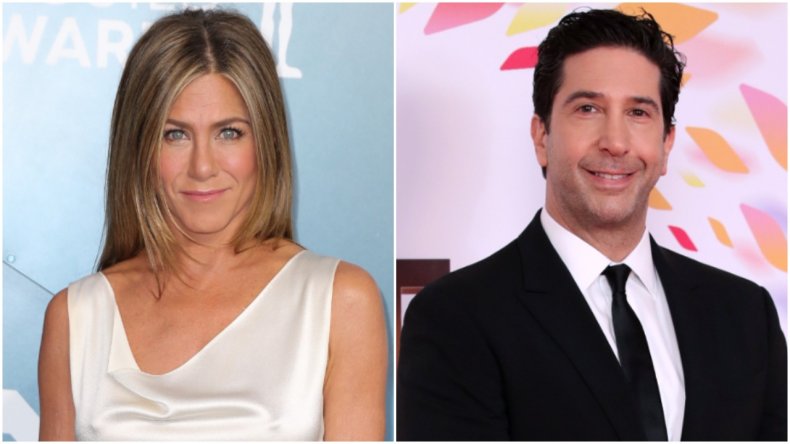 Sharing a gif of Ross telling Rachel he's "so in love" with her on Friends, @Lynsey1991 wrote: "Jennifer Aniston and David Schwimmer dating is the uplifting third act plot twist 2021 needs."
Embracing more Friends nostalgia, @wander_woman_7 posted a photo of the Friends cast eavesdropping at a door, adding the caption: "The internet trying to find out if David Schwimmer and Jennifer Aniston are really dating."
Twitter user @UWhaaM8 looked ahead to global celebrations, should the claims be confirmed, stating: "Petition to have worldwide street parties if it's confirmed that Jennifer Aniston and David Schwimmer are actually dating."
Posting a gif of Friends characters Rachel (Aniston) and Phoebe Buffay (Lisa Kudrow) excitedly jumping up and down, @xAaBbx03 added the description: "The world collectively losing their s*** over Jennifer Aniston and David Schwimmer is honestly the best thing that's happened all year."
"Hearing rumours that Jennifer Anniston and David Schwimmer are dating and it's the fairytale Ending we ALL needed... i hope it's true!!!" @KatieWardil wrote next to a gif of Rachel and Ross hugging.
User @maleedus shared a series of photos of Ross and Rachel's romantic moments, writing: "Jennifer Aniston and David Schwimmer dating is the real life ending of Ross Geller and Rachel Green. He's her lobster," adding a lobster emoji.
During Friends: The Reunion, Aniston and Schwimmer admitted that their romantic feelings for one another remained unfulfilled as the timings of their relationships with other people forced them to keep things platonic.
"The first season I had a major crush on Jen," Schwimmer said. "And I think we both, at some point, were crushing hard on each other but it was like two ships passing because one of us was always in a relationship and we never crossed that boundary. We respected that."
Agreeing with Schwimmer, Aniston went on to reveal that their first kiss happened onscreen during Season 2 episode "The One Where Ross Finds Out."
She said: "I remember saying at one point to David, 'It's going to be such a bummer if the first time you and I actually kiss is gonna be on national television!' Sure enough, the first time we kissed was in that coffee shop. So we just channeled all of our adoration and love for each other into Ross and Rachel."
Aniston and Schwimmer reunited with their co-stars Lisa Kudrow, Courtney Cox, Matt LeBlanc and Matthew Perry for the special, 17 years after their beloved sitcom came to an end in 2004, following a hugely successful decade-long run.