Friends may have finished more than two decades ago, but nostalgia for the New York-based sitcom is as high as ever.
The obsession with the TV show saw the original cast members, Jennifer Aniston (Rachel Green), Courteney Cox (Monica Geller), David Schwimmer (Ross Geller), Lisa Kudrow (Phoebe Buffay), Matthew Perry (Chandler Bing) and Matt LeBlanc (Joey Tribbiani), reunite for a special earlier this year.
Friends: The Reunion, also known as "The One Where They Get Back Together," was finally broadcast on May 27, after being delayed due to COVID.
The actors chatted and reminisced about their 10-year stint on our screens, which shows no sign of abating after the entire 10 seasons were made available to watch on Netflix.
And now that we have every episode available to watch at our fingertips (because who has a VHS or DVD player anymore), fan theories and blooper reels are rife as viewers dissect every episode.
One heartwarming Easter egg, which you may not have noticed before, was included in episode 24 of season 7, and pays tribute to Jennifer Aniston's real dad, John Aniston.
Called The One with Monica and Chandler's Wedding: Part 2, unsurprisingly it follows the happy couple's ups and downs as they get ready to exchange vows.
Joey, an ordained minister, is held up filming, forcing Rachel to hunt down an officiant at the last minute. While desperately searching, she comes across a sign for another wedding, saying: "Anastassakis Papasifakis wedding."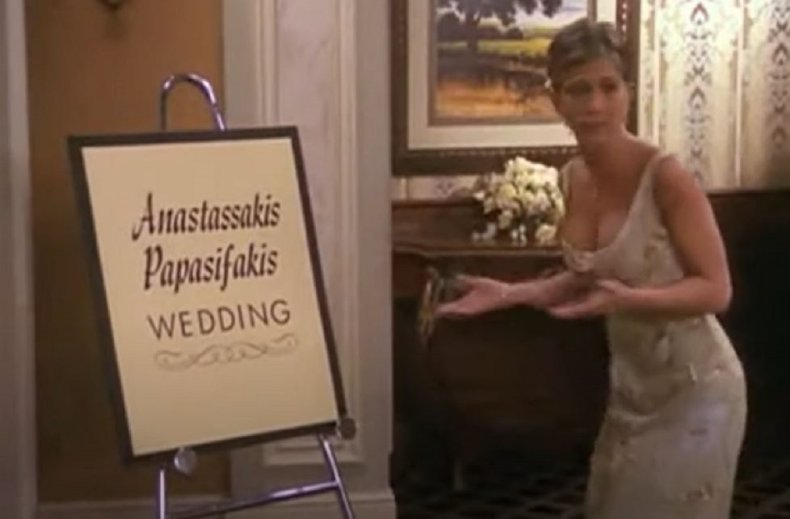 She manages to convince the Greek Orthodox minister to marry Monica and Chandler, but luckily Joey arrives in the nick of time to get the job done.
But it turns out Aniston has a much deeper connection to the names on the sign, as the former is in fact the last name of her father, who was originally called Yannis Anastassakis.
The 88-year-old was born on the Greek island of Crete, but his family moved to the U.S. when he was a toddler, and anglicized their names.
Acting runs in Aniston's blood, as her dad is also a star of the screen, playing Victor Kiriakis in Days Of Our Lives—the same show Joey had a part on in the sitcom—as well as Search for Tomorrow.
The subtle reference is also detailed on the IMBD page for the episode, which says under trivia: "Thinking Joey will be a no-show at the wedding because he is so late, Rachel goes to find another minister and finds a Greek Orthodox wedding going on the bride and grooms last names are Anastassakis and Papasifakis. Anastasakis was Jennifer Aniston's father, John Aniston's last name before he legally changed it to Aniston."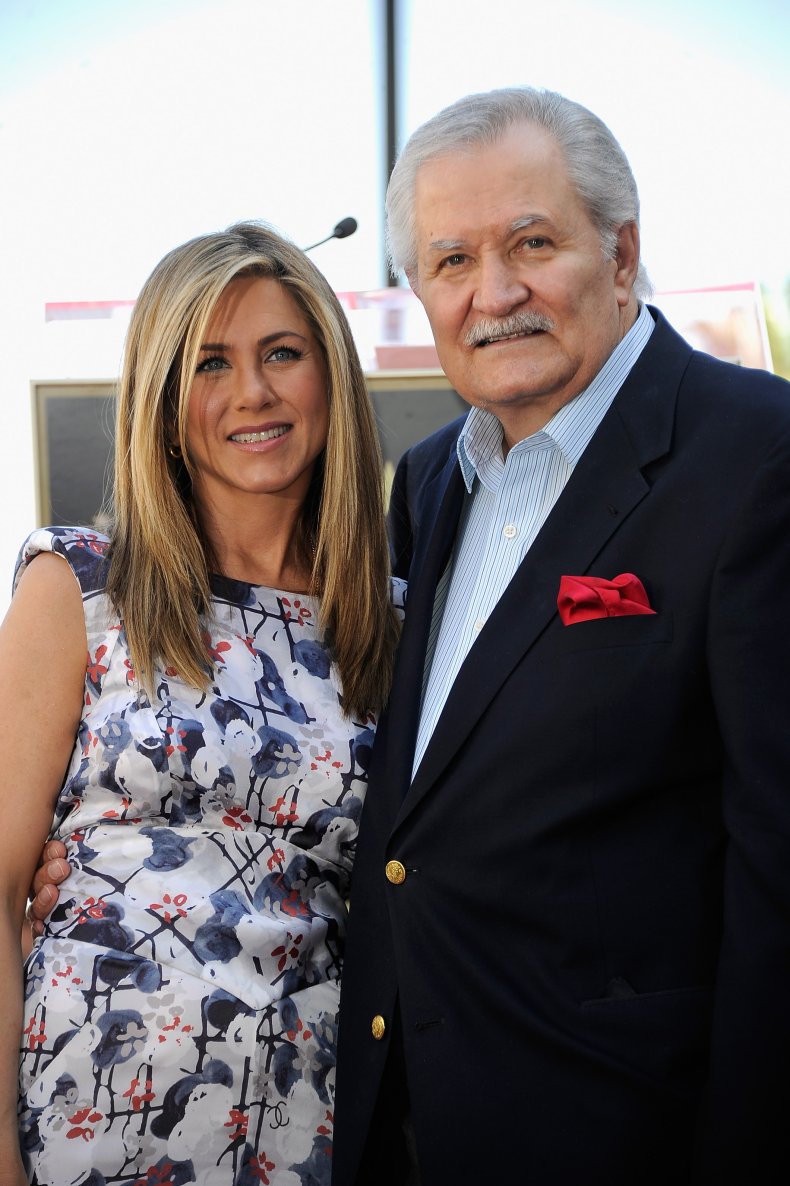 The episode first aired in 2001, and over the years the homage has been spotted by fans. Earlier this week, Redditor AdamWestsButtDouble shared the find online, posting in the aptly named Friends TV Show forum.
Alongside a snap of Rachel and the sign, they said: "Fun fact from 'The One with Monica and Chandler's Wedding': Anastassakis is Jennifer Aniston's original family name."
They weren't the first ones to share it on the site, as Pajinkle posted the same trivia, albeit with a different photo, in the thread How You Doin, in 2019.
They wrote: "Cool fact I just noticed! The wedding sign in S7E24 features Jennifer Aniston's Greek surname, Anastassakis. I love how Rachel just pronounces it flawlessly."