Children's movies are often filled with innuendo and adult humor that is lost on kids, yet this makes it fun for parents to watch as they sit through yet another cartoon.
But one film fan is on a mission to share all the X-rated details in films which you probably missed the first time around, prompting people to claim they need therapy as she "ruins" family classics.
TikToker Kathy Martinez has a series online called "childhood films filled with adult jokes."
Martinez, from L.A., recently shared a scene from the 2001 hit Shrek, which she captioned: "Did anyone else catch that?"
The short clip shows Lord Farquaad, voiced by John Lithgow, chatting to his magic mirror in bed.
The diminutive ruler recently selected Princess Fiona, voiced by Cameron Diaz, as the maiden he's going to rescue and then marry.
Enamored with her beauty, Lord Farquaad requests the mirror replay the short clip of her.
"Mirror mirror, show her to me, show me the princess," he says while reclining topless in his circular zebra-print bed, while sipping a martini.
The mirror pulls a disgusted face while rewinding the tape, as Lord Farquaad says: "Ah, perfect."
But Martinez notices that as the ruler gazes upon his assumed wife-to-be, he seems to get visibly excited.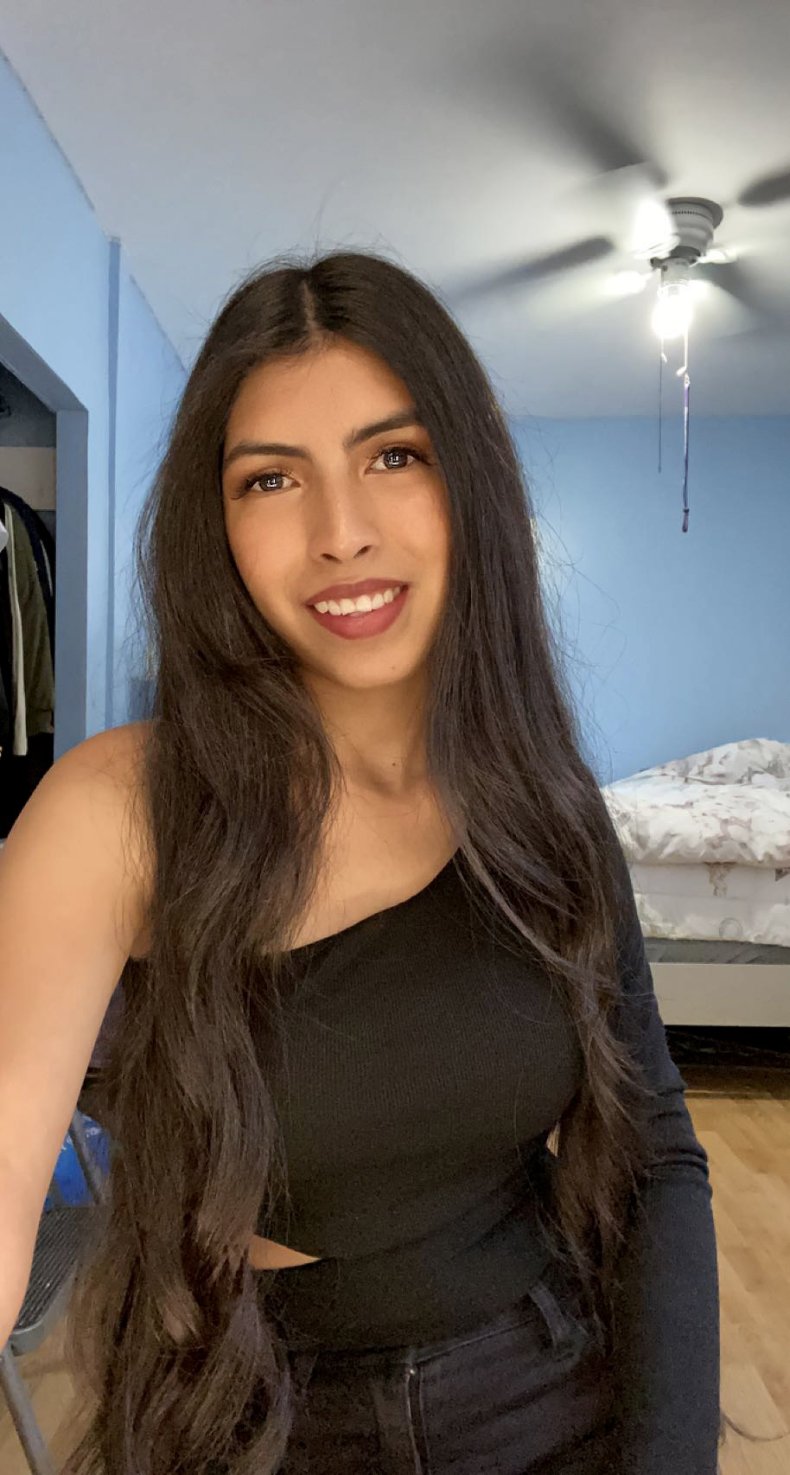 A bulge appears under the covers, prompting Duloc's ruler to pull a shocked face as he peers underneath the blanket
Martinez admitted she thought Lord Farquaad merely spilled his drink when she was younger, and she's not alone.
Speaking to Newsweek, the 22-year-old film student said: "I decided to begin this series after I saw a TikTok asking what is our favorite film from our childhood that is filled with adult jokes that we now understand since most of us are now adults. I decided to start off with the Cat in the Hat movie starring Mike Myers, as well as his other famous film Shrek. My brother and I constantly watch the Shrek series, at least once a week or so.
"He is one of my favorite actors and comedians that I had been aware of his adult-rated jokes in these children and family films from a young age. I started it off as a joke, not really thinking anyone would actually watch or pay attention to what I was showing, but many people found it entertaining so I kept going.
"So, watching movies has been like a full-time thing for me, and now being able to point out these jokes for those who haven't realized there are adult-targeted jokes in kid films whether they are a grown adult or even younger than myself."
The clip has been watched more than 8 million times, as people accused Martinez of stealing their innocence.
TikToker Cali: "My last 1% of innocence I had, just left my soul."
Brown Eyes pointed out: "The fact that they actually put time to animate that."
Somania admitted: "What I was younger I thought he spilt his drink."
Tweeted joked: "I know what I will being up in my next therapy session."
WeNdy wrote: "I'm not at all innocent. But I am traumatized from seeing this and understanding this now."
Number 8 shared a theory, saying: "I always thought the blanket was just falling."
Lone Wolf added: "Now that I'm older, I realize how uncomfortable the mirror must've felt."
Altheaaa complained: "Why why that ruined my perfect childhood."
While Laura commented: "Just remember there was a person in the studio who came up with that."
Shrek was a smash hit following its release in 2001, and it picked up a number of awards including the Oscar for Best Animated Feature.
The initial release was followed by Shrek 2 in 2004, Shrek The Third in 2007, and Shrek Forever After in 2010, while a spinoff, Puss in Boots, was released the following year.